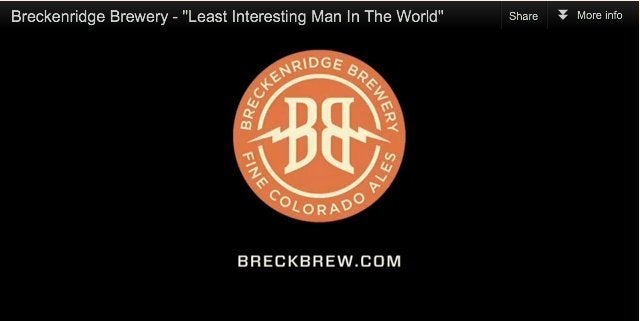 With Colorado's legislative session slated to wrap up Wednesday at midnight, the crush is on for lawmakers to act. Of the handful of highly anticipated bills this year, most eyeballs now rest on Senate Bill 2, the civil unions bill Hickenlooper may even call a special session for, if needed.
Less noticed, but worthy of our attention, is the fate of House Bill 12-1347. Rep. Jim Kerr (R-Littleton) introduced the bill earlier this session to raise the brewpub production cap to 300,000 barrels per year. Currently, licensed brewpubs cannot produce more than 60,000 barrels per year.
Unfortunately for Breckenridge Brewing, which expects to hit 60,000 barrels of production this year, HB 1347 is unlikely to even see debate on the House floor, though it had unanimously passed out of committee several weeks prior. The Denver Business Journal reports Steve Findley, executive director of the Colorado Beer Distributors Association (CBDA), a lobbying group that opposed the legislation, said breweries that reach a certain size should not be entitled to advantages typically reserved for restaurants.
The impact? Instead of building a $15 million brewing facility near Denver, with capacity to brew up to 200,000 barrels per year, and create 30-60 metro jobs, the brewery is now considering locations on the East Coast.
Emails to Kerr and Findley for comment were not immediately returned at the time of publishing.
According to The Denver Business Journal, Rep. John Kefalas (D-Fort Collins) also expressed concern the bill would give Breckenridge Brewing unfair advantages over other brewers in the state who are not licensed as brewpubs.
MillerCoors and Anheuser-Busch operate in Colorado under manufacturing licenses, which are different than brewpub licenses. Manufacturers can sell directly to retail through beer distributors in the state. Both MillerCoors and Anheuser-Busch have major financial interest in distributorships here, according to Rep. Beth McCann (D-Denver).
"We will be evaluating all of our options over the next couple of days," said Breckenridge Brewing brewmaster and operations manager Todd Usry to Westword. A statement on the brewpub's website elaborates, "Breckenridge Brewery is proud of its Colorado heritage and is thankful for the interest in its future plans. We're exploring all of our options as we continue to grow our business in Colorado and across the US. We look forward to sharing more information on our plans as they progress."
In the meantime, as the clock winds down on Colorado's 68th General Assembly, a session that opened with an emphasis on jobs has apparently also succeeded in moving them elsewhere.
Calling all HuffPost superfans!
Sign up for membership to become a founding member and help shape HuffPost's next chapter
BEFORE YOU GO