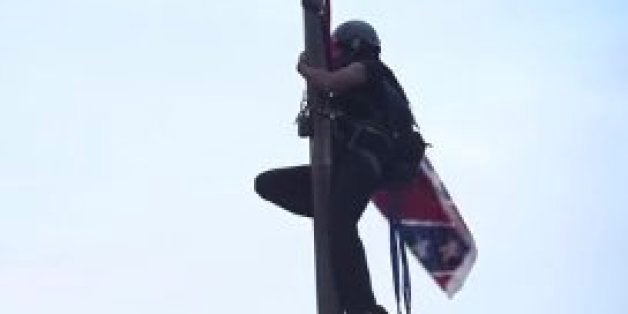 In a statement sent to The Huffington Post, Rev. Dr. William J. Barber II called Newsome a "committed, trained, non-violent messenger of the truth" and praised her for taking down the flag.
"[Newsome] stands in a long tradition ... Fannie Lou Hamer, Rosa Parks, and more recently hundreds of protesters in Moral Monday ... were all considered, at first, criminals for their acts of conscience," he said. "We stand in solidarity with her, and the deep commitment which she has to justice, love, and true inter-racial community. We stand with her as she is our family."
Barber is a prominent organizer of the Moral Mondays movement, which stages acts of civil disobedience in response to the North Carolina government's cuts to social programs, restrictions on abortion rights, proposed voting rights changes and mishandling of other issues.
Newsome, 30, faces a charge of defacing monuments on state Capitol grounds, an offense that carries a possible fine of up to $5,000 and up to three years in prison, according to The Associated Press. James Ian Tyson, 30, a man who accompanied her, faces the same charge.
The North Carolina woman got about halfway up the 30-foot pole when police told her to come down, but she continued climbing and proceeded to remove the flag, which was padlocked in place.
"The flag is vulgar. Its removal is not only a small step, but an important symbolic one. Its vulgarity and representation of the racist, immoral defense of all slavery and Jim Crow not only should come down, but should have never been put up," Barber wrote.
Popular in the Community