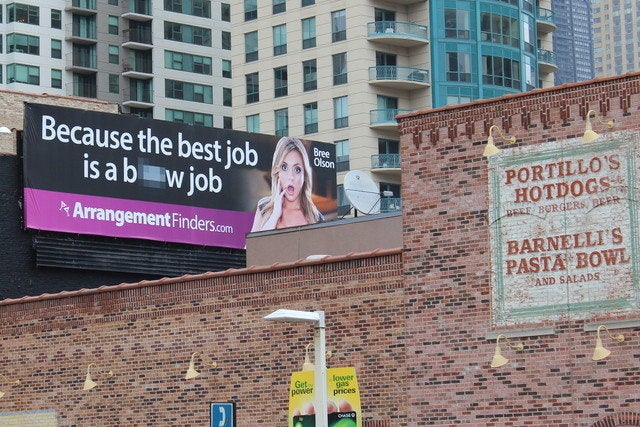 Opponents to a racy River North billboard would not let the controversy blow over, and as of Tuesday, the raunchy ad starring an ex-porn star best known as one of Charlie Sheen's "goddesses" has been removed.
"It was a very basic conversation," Reilly told DNAinfo Tuesday, noting that he had reason to believe the company behind the ad was compensated for its early removal. "I said I can't make him take it down, but I'd appreciate it if you'd be a good neighbor."
The outdoor ad had raised the ire of several residents and business owners in the area, with DNAinfo reporting the day after the ad's installation that Portillo's restaurant found the ad's content "disgusting." The restaurant had particular gripe with the billboard, which stood directly over the hot dog joint's 100 W Ontario outpost.
"We don't own the sign, and the owner thinks it's disgusting," said Patty Sullivan, spokeswoman for Portillo's, told DNAinfo last week. "I don't think there's anything we can do about it."
It has been taken down less than a week since Fox Chicago first reported the news, noting in its broadcast that the ad was clearly visible from several kid-friendly restaurants including Portillo's and the Rock N Roll McDonald's in the busy River North entertainment district.
Popular in the Community