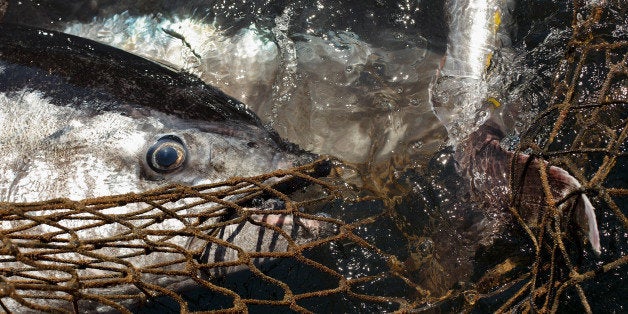 This post was co-authored with Elizabeth Brown.
Starting January 1, fishing within two bluefin tuna breeding hotspots in the Gulf of Mexico with a particularly destructive kind of fishing gear during their peak breeding months (April-May) will be prohibited by federal rule. The technique uses fishing lines up to 40 miles long with hundreds of baited hooks. It's called long-lining. Finally, half a century after this method was used to invade their breeding grounds and deplete them to remnants of their former abundance, bluefin tuna that come to the Gulf of Mexico to breed will have a safe haven. The new rule will also prohibit longline fishing for five months (Dec.-April) in an area off Cape Hatteras, North Carolina where bluefin gather to feed.
Ironically, intentional fishing for Atlantic bluefin tuna with longline gear has been prohibited in the U.S. for years. Despite this, bluefin tuna have continued getting caught by longline fishing gear. Fishermen use longlines to catch yellowfin tuna and swordfish. But the gear is very indiscriminate, incidentally catching high number of bluefin each year and many other non-target species (sharks, sea turtles, marlins).
Longline fishermen catch much of this bluefin tuna in the Gulf of Mexico, where bluefin have come to breed, and in a few other hotspot areas where bluefin gather at certain times of the year. This incidental catch has contributed to the decline of this species. And it is particularly harmful in the Gulf of Mexico, because the Gulf is their only known breeding area on our side of the Atlantic Ocean.
Fishermen have been allowed to keep and sell some bluefin tuna, but must discard many of the bluefin they catch back to sea, though they come up dead -- a giant, unnecessary waste of a magnificent fish. If left alone in the wild, bluefin tuna can grow to the size of a small car. They are also one of the fastest and deepest diving fish in the sea.
To solve this problem, fishery managers at the National Oceanic and Atmospheric Administration (NOAA), along with scientists, conservationists, and fishermen have been working together for years to develop measures that will protect bluefin tuna, while still allowing for other fishing opportunities. Many of you have also written to NOAA and weighed in. Thanks to this hard work, we now have a final rule that will provide strong protection for Atlantic bluefin tuna.
Additionally, the new rule puts a limit or cap on the amount of bluefin tuna longline fishermen can kill each year. Once their fishery reaches its limit, all boats involved in U.S. long-lining will have to stop fishing. And to ensure all bluefin tuna catch is accurately recorded and accounted for, all longline fishing vessels must have video monitoring systems.
Together these measures will greatly reduce the amount of bluefin tuna killed each year. The new rule creates a strong incentive for longline fishermen to avoid bluefin all-together. It should also encourage fishermen to switch to more selective fishing gears that catch fewer bluefin and non-target species.
The new rule is a big step in the right direction for Atlantic bluefin tuna and a great victory. But there is still more to do. Because of a long history of overfishing, Atlantic bluefin tuna remain at a low abundance compared to their historical numbers, and full recovery requires international collaboration. Still, the situation for Atlantic bluefin tuna will be much improved in 2015!
REAL LIFE. REAL NEWS. REAL VOICES.
Help us tell more of the stories that matter from voices that too often remain unheard.