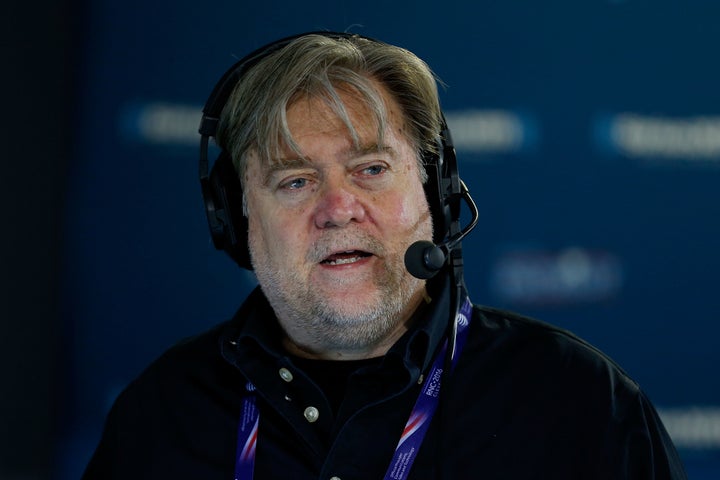 CLEVELAND ― For Breitbart News Executive Chairman Stephen Bannon, this week's dramatic shake-up at Fox News could be good news for his "populist, nationalist site."
"I think the Murdochs are going to have radical changes at Fox, and we believe that we're going to be the beneficiaries of all that," Bannon told The Huffington Post.
Fox News CEO Roger Ailes is currently negotiating his exit in the wake of a sexual harassment scandal and it's unclear who will succeed the mastermind behind the conservative network's rise over the past two decades. Parent company 21st Century Fox may stay the course, given the channel's continued ratings dominance, or install a top executive who would depart from Ailes' vision.
Bannon, whom Businessweek dubbed "the most dangerous political operative in America," said he already considers Fox to be "not nearly as right-wing or conservative as Breitbart." And he expects the channel to veer left post-Ailes as James and Lachlan Murdoch ― who now run the media giant with 85-year-old father Rupert ― increasingly exert control.
"Whatever happens with Roger Ailes, whether he leaves tomorrow or he leaves when his contract runs out, there's no doubt that they're going to select people like [ABC News veteran and current Fox News executive Michael] Clemente, people from mainstream media and that is going to be a [shift toward] center, center-left," he said. "We think it's the single biggest business opportunity for Breitbart."
Breitbart sided with GOP presidential nominee Donald Trump last year during the business mogul's public spat with Fox News after anchor Megyn Kelly challenged him during the first Republican debate with a question about his past sexist remarks. Trump has since made amends with Fox, which is now his primary TV platform, and Breitbart has appeared to as well. The site recently published Fox News host Kimberly Guilfoyle's defense of Ailes as he became dogged by sexual harassment accusations.
Launched by the late Andrew Breitbart, the namesake site has been one of Trump's biggest media boosters this election. Critics dub the site "Trumpbart," given its enthusiasm for Trump's positions and readiness to attack any perceived enemies in the media and Republican establishment. Several staffers quit earlier this year, saying they believed the site wasn't adequately supporting then-reporter Michelle Fields after she was grabbed at an event by Trump campaign manager Corey Lewandowski. Fields now writes for HuffPost.
Bannon rejects the critique that the site has hitched itself to Trump out of self-interest, arguing instead that Breitbart has long advocated hard-line positions on immigration and trade that tend to dovetail with Trump's views. Trump's speech entering the race in June 2015, he said, "really talked about the themes that have been on Breitbart."
"His thing on illegal alien crime was literally taken off the pages of Breitbart," Bannon said, adding that "whoever put it in front of him, he was speaking of many of the themes we've been covering for years."
"It's not that Trump's late to the party," Bannon added. "But he kind of came and picked up those themes."
Breitbart's pro-Trump slant this past year ― a departure from #NeverTrump conservative pundits and outlets such as National Review, Weekly Standard and RedState ― has been good for business. The site nabbed a record 150 million pageviews in June. On Tuesday, it reached its single-day record with 8 million.
Given the hunger for Trump-related content, management understandably brought a large contingent to Cleveland to churn out reports and broadcast on the ground. Bannon said Breitbart has 35 reporters, editors and columnists there, along with a 10-person production crew. In addition to Bannon's morning radio show, the site is livestreaming throughout the convention.
"I think it's a big moment for the grassroots-oriented, populist, nationalist wing of the conservative movement," Editor-in-Chief Alex Marlow told HuffPost.
Breitbart is also employing an eight-person security force, including four ex-Navy SEALs, for the Republican convention. He said the security team is there to protect reporters covering protests and technology editor Milo Yiannopoulos, a conservative provocateur who was permanently banned from Twitter Tuesday for harassing Ghostbusters star Leslie Jones.
Marlow said Yiannopoulos, who wrote a negative review of the film on Breitbart, had not incited followers to tweet racist statements at the actress. "I think what they're suggesting is he commanded them and marshaled them to attack this person," he said. "There's zero evidence of that."
Regardless, the Twitter controversy plays squarely into a storyline of political correctness run amok that's been long amplified by Breitbart online ― and Trump on the campaign trail. On Wednesday evening, Breitbart was running more than a dozen stories related to the Yiannopoulos controversy on its homepage.
Related
Popular in the Community