UPDATE: 2:45 p.m. ― On Tuesday afternoon, Milo Yiannopoulos announced his resignation from his post as senior editor of Breitbart News.  
"Breitbart News has stood by me when others caved," he said in a statement. "They have allowed me to carry conservative and libertarian ideas to communities that would otherwise never had heard them. They have been a significant factor in my success. I'm grateful for that freedom and for the friendships I forged there."   
Milo Yiannopoulos' recently surfaced comments about sexual relationships between older men and minors are "indefensible" and "appalling," Breitbart News Editor-in-Chief Alex Marlow said on Tuesday, though he stopped short of severing ties with the Breitbart senior editor and right-wing provocateur. 
"It's all very upsetting and something we take very seriously at Breitbart," Marlow said on the site's daily Sirius radio show. He said Yiannopoulos would address his future with the site at a Tuesday afternoon press conference. 
Over the past 24 hours, Yiannopoulos has lost a major book deal with Simon & Schuster and a high-profile speaking slot at this week's Conservative Political Action Conference, an event featuring speeches by President Donald Trump and Vice President Mike Pence.
His career began unraveling this past weekend after the Reagan Battalion, a conservative site, circulated a 2016 interview he gave on the Drunken Peasants podcast. During the interview, Yiannopoulos defended the notion of sexual relationships between 13-year-old boys and older men and, in addressing his own abuse claims, joked about how a priest taught him to give oral sex. 
Those remarks were apparently a step too far beyond the routine misogyny and bigotry that have propelled Yiannopoulos from Internet personality to increasingly mainstream conservative author and commentator. Until now, his incendiary attacks and outrageous antics had been good for business. 
He has mocked Muslims, Black Lives Matter protesters, women and transgender people, the latter of whom he described Friday night on HBO's "Real Time with Bill Maher" as suffering from a "psychiatric disorder." He's written approvingly about the "alt-right," a meme-filled movement with ties to white supremacy and anti-Semitism. And he was permanently suspended from Twitter last year after his followers barraged Ghostbusters star Leslie Jones with abusive and racist tweets.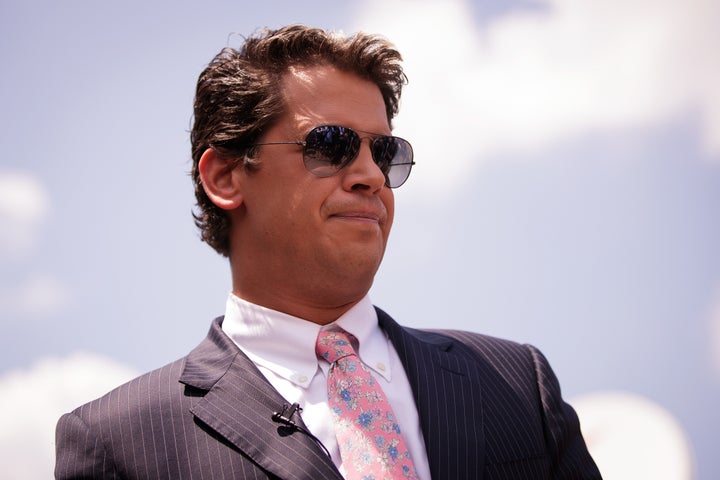 Yiannopoulos' latest controversy, however, prompted both CPAC and Simon & Schuster ― that latter already dogged by criticism for giving him a $250,000 advance ― to break ties with him on Monday. CPAC rescinded its invitation "due to the revelation of an offensive video in the past 24 hours condoning pedophilia," Matt Schlapp, chair of the American Conservative Union, said in a statement.
Yiannopoulos denied that charge in a Facebook post on Monday. 
"I am a gay man, and a child abuse victim," he wrote. "I would like to restate my utter disgust at adults who sexually abuse minors. I am horrified by pedophilia and I have devoted large portions of my career as a journalist to exposing child abusers."
Though Yiannopoulos claimed the videos were "edited deceptively," he acknowledged being "partly to blame" for the impression they left. Being a victim, he said, "led me to believe I could say anything I wanted to on this subject, no matter how outrageous." 
"But I understand that my usual blend of British sarcasm, provocation and gallows humor might have come across as flippancy, a lack of care for other victims or, worse, 'advocacy,'" he continued. "I deeply regret that. People deal with things from their past in different ways."
Breitbart News has vigorously defended Yiannopoulos during previous controversies, running more than a dozen stories about Twitter's decision to ban him last July. The site closely covers Yiannopoulos' escapades, which are favorably framed as part of ongoing battle against excessive political correctness in the media and on college campuses. On Sunday, the site published an interview with Yiannopoulos with the headline "Milo: One Gay Brit Has Done More For Conservatism Than 30 Years of Establishment Conservatives."
Marlow did not respond to The Huffington Post's request for comment on Monday, but did address the controversy Tuesday on air. 
"Many of you love Milo. Many of you are confused by Milo," Marlow said. "But all of you have an opinion about him, for the most part. And he was in the news for unfortunate reasons yesterday."
Marlow said Yiannopoulos' comments were "very troubling and upsetting," though he clarified that Yiannopoulos said he had never had inappropriate contact with a minor as an adult. He also said Yiannopoulos' claims of being abused as a child are relevant context for his remarks. 
While Marlow repeatedly disavowed Yiannopoulos' comments, he also took aim at liberals, who have normalized similar behavior, he claimed. The circulation of the podcast video appears to be a "coordinated hit" by members of the left, the Republican establishment and the "Never Trump" movement, Marlow added.
Yiannopoulos had just come off a chummy interview with Maher on Friday, would have addressed the conservative faithful at CPAC this week and had a likely best-seller coming in June. Since the podcast interview wasn't recent, Marlow suggested these anti-Yiannopoulos forces waited "until they could do the most damage to his career and to Breitbart, and by proxy, people like Trump and [Steve] Bannon," he said, referring to the former Breitbart chairman who is now the president's chief strategist. 
Yiannopoulos indeed has ties to the Trump White House. In addition to previously working for Bannon, he has received praise on Twitter from Dr. Sebastian Gorka, a former Breitbart writer and current deputy assistant to the president. 
But Trump himself did perhaps the most to elevate Yiannopoulos' profile nationally. When violent protests at the University of California, Berkeley led to the cancellation of Yiannopoulos' scheduled appearance earlier this month, Trump threatened the university's funding in a tweet to his more than 20 million followers. 
Calling all HuffPost superfans!
Sign up for membership to become a founding member and help shape HuffPost's next chapter
BEFORE YOU GO