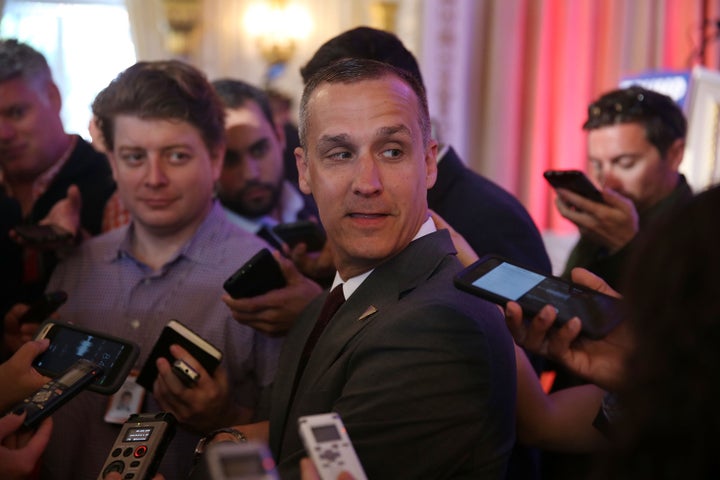 NEW YORK -- Breitbart reporter Michelle Fields filed a police report Friday morning against Corey Lewandowski just as her own news outlet cast doubt that Donald Trump's campaign manager had roughly grabbed her after Tuesday night's press conference in Jupiter, Florida.
Washington Post reporter Ben Terris says he witnessed the event, and was the person to inform Fields that it was Lewandowski who grabbed her and pulled her back. He wrote Thursday that the campaign manager "yanked [Fields] out of the way" and described how "finger-shaped bruises formed on her arm."
So far, no other witnesses have come forward. Another attendee at the press conference, New York Observer editor Ken Kurson, told The Huffington Post he didn't see Lewandowski assault Fields.
"I was five feet away from the alleged incident and didn't see anything," Kurson said. "I was literally looking right at Corey when it supposedly happened."
The Observer is owned by Trump's son-in-law Jared Kushner, who was walking near Trump when the alleged incident took place. Kurson, who is shown wearing a blue V-neck sweater and a backpack in a Vine taken around the time of the alleged incident, said that "if this happened, I think I would have seen it."
The wild back and forth over the assault allegations comes at a time when Trump's campaign is under heightened criticism for the rowdiness and violence at his rallies and for the severe restrictions placed on reporters trying to cover the protests. A Secret Service agent recently roughed up a Time magazine photographer who left the campaign's designated "press pen" to cover demonstrators being ushered out of an event.
But to believe Fields concocted a story about being grabbed is to ignore several pieces of evidence, including contemporaneous audio between her and Terris. Fields also tweeted a photo of her bruised arm on Thursday in response to the Trump campaign denying her allegations.
Jupiter's police department said Friday that it is investigating allegations that a battery occurred on Tuesday at Trump National Golf Club, where the press conference was held.
Fields filed a police report on Friday, which the Jupiter Police Department provided to HuffPost. The alleged crime listed on the report is simple battery.
What's still missing in the swirl of allegations and pushback is video from a direct angle showing exactly what happened. That has left reporters and members the public analyzing all video clips emerging from Tuesday's event.
Many Trump supporters, predisposed to distrusting the media, have seemingly dismissed the allegation -- even though it comes from a reporter who works at a conservative site that has generally been supportive of the Republican front-runner. Fields even mentions to Terris on the audio recording how strange it seems for Lewandowski to be "going after a Breitbart reporter, the people who are nicest to you."
The Daily Beast reported Wednesday that Lewandowski privately admitted fault to Breitbart reporter Matthew Boyle, explaining that he thought Fields might be a reporter from a mainstream media outlet. Boyle disputed the Daily Beast report Friday and published text messages between him and Lewandowski in which the latter did not admit grabbing Fields.
"I reached the point where I couldn't do 100 percent of my ability to represent them both for them and me, and when you reach that point, it is time to move on," he said.
Although Breitbart as an institution publicly has stood by Fields, and even called on Lewandowski to apologize, the site published a piece on Friday casting doubt on her story: Joel Pollack suggested that a security official who has a haircut similar to Lewandowski's may have grabbed Fields, based on his analysis of video footage. For this to be true, Terris would have had to have misidentified Lewandowski.
Yet it's clear Terris knew who Lewandowski was, and video shows the reporter talking directly to the campaign manager immediately after the incident would have occurred.
In addition, Terris was specifically looking for Lewandowski that night. He was on assignment to write a profile of Trump's campaign team and told his own paper Friday that he had his "eyes trained on Corey Lewandowski."
"I saw what I saw," Terris told the Post.
This article has been updated with information about Breitbart's spokesman resigning.
Support HuffPost
The Stakes Have Never Been Higher
Related
Popular in the Community