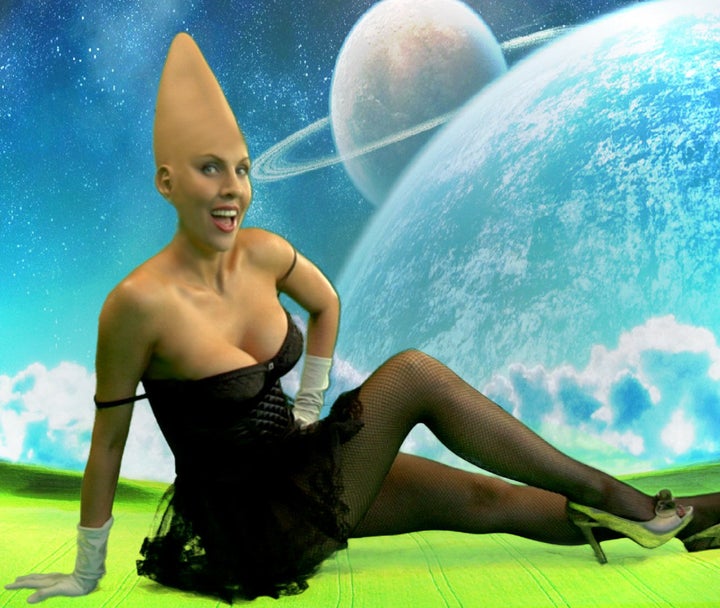 "The truth is out there" was the catchphrase for the mid-1990s paranormal drama "The X-Files," but an actress and former extra on the more recent "Lost" is trying to bring the truth -- or at least alleged encounters with the unknown -- into American homes.
Brenda Carey is the host of "The Brenda Carey Show," an Internet talk show that also airs on public access TV in West Hollywood, Calif. The show, which has been in production for about a year, features interviews with paranormal experts and people who say they had close encounters. There are also reenactments of those brushes with the paranormal using state-of-the-art special effects -- if you've taken a time machine to 1980.
For instance, an episode on out-of-body experiences features a demonstration of astral projection that involves two of Carey's pets floating in mid-air thanks to the magic of antiquated technology.
Another recent episode depicts a strange encounter one of her friends, Los Angeles-based rock guitarist Ronny North, had with the ghost of his dead grandmother.
"He was lying in bed when his dead grandmother came to him," Carey said in a slight southern accent that betrays her roots in the Mississippi gulf coast. "According to him, she was transparently green and only speaking in Spanish -- which he doesn't speak."
North's grandmother died when he was 14 or 15 and the experience took place when he was 32. He hasn't seen his granny again, but other strange stuff has transpired.
"I believe that it happened, but other than her appearing, nothing has happened since, except for some furniture that's been moved around," North said.
Once Carey heard his tale, she wanted to put it on the show, but was shocked at how nonchalant he was about it.
"I was surprised by his reaction. He didn't really try to figure out what she was saying," Carey said. "If it was me, I would have been on a computer trying to get English-Spanish translations."
Blase as he may have been, North was still happy to recreate the experience on Carey's show with a little comedic embellishment.
"In the reenactment, I played his grandmother," said Carey, "and I kept telling him there was a million dollars under his bed -- in Spanish -- and he keeps saying, 'I don't understand you.' It was really funny."
That's the secret to Carey's show. Although she strives to report paranormal information as accurately as possible, she admits that bringing humor to the mix is crucial. Still, it took her some time to realize the show could benefit from comic relief.
"The first two episodes were more serious because I didn't want people to think I was making fun of the guests," Carey said. "At first, I put the humor at the end of the show, but I asked my first guest, Stephen Murrillo, the head of the Los Angeles chapter of the Mutual UFO Network, for advice and he told me humor was fine and added, 'The more cleavage and leg, the better.'"
Working on the show, Carey has learned an important lesson about people who are into the paranormal: Even though many of them face public ridicule, they have a sense of humor about their unusual experiences.
"The die-hard science people do want to make sure the information is serious, but they have great senses of humor," Carey said.
Carey shares that combination of seriousness and humor. On one hand, she's a licensed attorney in Washington, D.C. with a specialty in environmental law. She's also an actor and comedian who proudly mentions her former reign as Miss Hawaiian Tropic Mississippi of 1990.
Oh, and there was the time she was an extra on "Lost."
"I was a featured extra," she explained. "I didn't get any lines, but they referred to my character. I keep it on my resume in case any producers or casting agents are 'Lost' fans."
The gig helped her when it came time to doing special effects for her own show.
"When I saw how they did things on a big budget show, I knew I'd have to accept my limitations," she said.
In fact, she considers her low-grade special effects a virtue.
Each show takes as much as six months to produce because Carey and her husband Brian Acree do everything, including writing scripts, editing episodes and staging those special effects.
Although the show is getting support among paranormal researchers and fans, Carey hopes to attract the interest of a network like the SyFy Channel. But the network executives seem to have been alienated by her lack of professional representation.
"I don't have an agent or manager and these executives are so busy that they view whether you have one as sort of a screening process," she said.
Still, one person who predicts the show's eventual success is North, even though he makes no claim of having psychic powers.
"Everyone who's seen it wonders why it hasn't gotten more attention," he said. "She's good-hearted and the show brings more attention to the subjects."
WATCH A SCENED FROM "THE BRENDA CAREY SHOW":
Calling all HuffPost superfans!
Sign up for membership to become a founding member and help shape HuffPost's next chapter