 Among the parents who are up in arms about the makeover is Brenda Chapman -- not just any mom, but the creator and co-director of "Brave" who based Merida on her own daughter, Emma.
"Merida was created ... to give young girls a better, stronger role model, a more attainable role model, something of substance, not just a pretty face that waits around for romance," she explained, adding that she had given Disney's CEO, Bob Iger, "a piece of [her] mind."
In an interview with Pixar Portal, "Brave" writer and co-director Brenda Chapman stated, "Because of marketing, little girls gravitate toward princess products, so my goal was to offer up a different kind of princess -- a stronger princess that both mothers and daughters could relate to, so mothers wouldn't be pulling their hair out when their little girls were trying to dress or act like this princess. Instead they'd be like, 'Yeah, you go girl!'"
Disney largely glossed over the details of Merida's new look in a statement to Yahoo! Shine: "Merida exemplifies what it means to be a Disney Princess through being brave, passionate, and confident and she remains the same strong and determined Merida from the movie whose inner qualities have inspired moms and daughters around the world."
Some protestors may consider it ironic that the weekend also marked the launch of a new "I Am A Princess" promotional video from Disney, featuring a young female archer who explains: "Everybody can be a princess. You can be normal and do great things at the same time. I'm a normal girl, but I am a princess." Wasn't that the point all along?
UPDATE May 16 -- Several outlets, including Jezebel, Parade and Yahoo! Movies, have reported that Disney has removed the redesigned Merida from its Princesses website and replaced it with the original Pixar version. However, a spokesperson for Disney Consumer Products told The Huffington Post that the made-over Merida never appeared on Disney's Princesses site at all. The rep also pointed to controversial images of the Pixar character that were circulating, and said they were intended for limited use in conjunction with Merida's coronation as a Disney princess on May 11th, and in some instances (including here on HuffPost) appeared to have been digitally manipulated in a way that made the character appear stretched. The spokesperson states that these images have only appeared officially on an invitation to the coronation (embedded below) and as part of Target's National Princess Celebration, but we have also seen her in this group shot. The company did confirm that the new image will appear on product packaging in a limited context, though it was never intended to replace the original in a broader forum.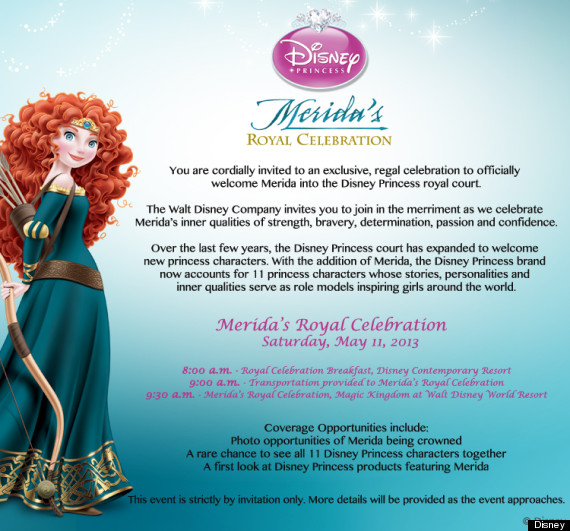 Related