The spectre of foreign powers and their lobbyists distorting America's democratic system may worry ordinary Americans, but it seems that few inside the Beltway share their concerns.
Over more than a decade, a Georgetown University professor has been clandestinely lobbying for Azerbaijan, but the university employing her does not seem able to detect any conflict of interest; a leading think tank and numerous media outlets also appear unconcerned.
A small but oil-rich country between Russia and Iran that is ruled by a tragi-comical dictator, Azerbaijan is notorious for its rigged elections and human rights abuses.

For more than ten years, while Azerbaijan's ruling family has progressively clamped down its opposition, Professor Brenda Shaffer has been publicly arguing that Azerbaijan is about to embrace democracy and freedom, and that it deserves the full support of the U.S.
A closer look at Shaffer's career reveals that she directly or indirectly benefited from Azerbaijan's financial largess throughout her academic career. At present, she works as an 'advisor' to the country's state-owned oil company, SOCAR, a financial relationship that only came into the open when the media got hold of a copy of her SOCAR business card.
Shaffer's lobbying efforts on the authoritarian regime's behalf include the following:
Repeatedly testifying in front of Congress without disclosing her outside interests
Presenting a written testimony to Congress that was apparently commissioned by DCI Group, a lobbying outfit then under contract with the embassy of Azerbaijan in D.C.
Publishing dozens of op-eds in leading newspapers worldwide, including the New York Times, Washington Post and International Herald Tribune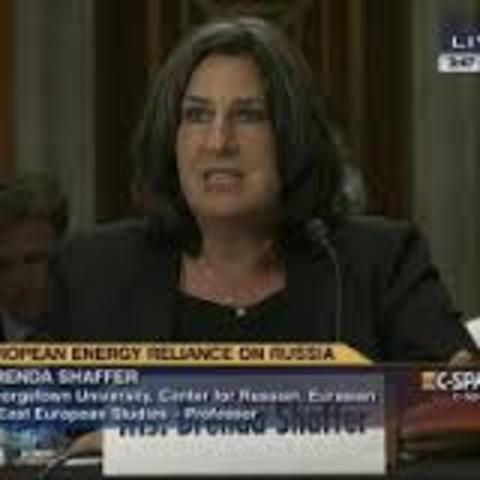 Astonishingly, such stealth lobbying seems to have become accepted behavior in American policy circles.
For example, Georgetown University, which provides academic credibility to Shaffer by having her on board as an Adjunct Assistant Professor, does not seem to detect any conflict of interest. The University has ignored repeatedly calls to disclose Shaffer's SOCAR connection on her faculty page. Instead, the university tells readers that:
Professor Brenda Shaffer is a specialist on energy and foreign policy, energy security policies, Azerbaijan, the Caucasus, Caspian energy and Eastern Mediterranean energy issues. She currently is a Visiting Researcher at Georgetown University's Center for Eurasian, Russian and East European Studies (CERES). Prof. Shaffer is on sabbatical from the University of Haifa, where she is a professor in the School of Political Science... She has given U.S. Congressional testimony on issues related to energy and to the Caspian region. Prof. Shaffer's op-eds have appeared in a number of newspapers and publications...
(Georgetown University did not respond to multiple emails requesting a statement.)
Meanwhile, Brenda Shaffer continues her work as a Nonresident Senior Fellow at the Atlantic Council. Her profile page at the prominent think tank does not mention her SOCAR connection - somewhat ironically, considering that the page contains a section headed "Full Bio".
(Atlantic Council did not respond to an email requesting details on how it manages potential conflicts of interest arising from Shaffer's work for SOCAR.)
Many American editors also seem to see no harm in presenting their audiences with op-eds penned by foreign lobbyists or expertise furnished by talking heads with undisclosed commercial interests:
In 2006, one month after Shaffer was first publicly flagged as a foreign lobbyist by veteran investigative journalist Ken Silverstein, the Herald Tribune published yet another op-ed by her.
Over the past year, several newspapers that had run Shaffer's opinion pieces without disclosing her SOCAR ties have declined to retract them or publish clarifications after I invited them to do so. (The NYT and WaPo are two notable exceptions to this general rule.)
This year alone, at least 20 more media outlets have cited Shaffer as an "expert", despite Shaffer having been (re-)flagged as a stealth lobbyist by journalists Robert Coalson and Casey Michel within the past year.
An American political consultant with an academic background who often works for foreign clients himself offered me an explanation for this indifference to conflicts of interest within the Beltway.
"She just kind of got caught doing what many many people do," he wrote in an email. "All those people want to minimize this too."
Readers who want to learn more about Brenda Shaffer's case and the failure of multiple legal, democratic and ethical safeguards against foreign lobbying can read my two articles for OCCRP, linked in the text above. Researchers and fellow lobbying investigators who want to delve even deeper can read my paper "Distorting Discourse in D.C., How an Undercover Lobbyist Fooled the Beltway", which explores the case in great detail and provides dozens of references. Journalist Casey Michel has also recently written a paper on the topic.