 Brenda Vazquez, a 29-year-old school teacher, used to cross the border bridge between Matamoros, Mexico, and Brownsville, Texas, a few times each week; for work, for shopping, to visit family, and to see friends, she says. But now, the young woman, who claims she was born in the U.S., is stuck in Mexico after signing a document that says she is not in fact a U.S. citizen.
While crossing over the Matamoros-Brownsville bridge to return to Texas in February of this year, Vazquez handed a U.S. border agent her Texan birth certificate and state ID, as she normally did. But instead of allowing her to pass as usual, U.S. Customs and Border Protection (CBP) officer Eliseo Cabrera detained and questioned her for seven hours, according to Vazquez's lawyer Jaime Diez. Cabrera told the young woman that he knew she wasn't an American citizen because she was delivered by a midwife and that she was also not allowed access to a lawyer, Diez says. Vazquez says she signed an admission of non-citizenship due to exhaustion and fear.
"He said, 'You'd better cooperate with me, because if you don't, you're going to jail. I had to lie and say that I was not a citizen. ... I was quite scared. I was crying," Vazquez told CNN.
Requests for comment from Cabrera were directed to Brownsville CBP spokesperson Eddie Perez, who declined to comment on the case or on Cabrera's record, saying the agency could not weigh in on "pending legal action." Perez did note, however, that, "CBP is obligated to ensure that documentation presented to establish citizenship is proper and correct and was issued to the person presenting the documents."
The Vazquez case comes at a bad time for the CBP. Civil rights complaints filed against the federal agency, which describes itself as the "largest law enforcement organization in the nation," have increased substantially in recent years as the number of border crossers has simultaneously decreased. In 2004, lawyers and individuals who had contact with the Border Patrol filed 34 complaints. In 2010, the most recent year for which complete data is available, 65 complaints were made against the agency. Between January and June 2011, 81 new complaint investigations were opened against Border Patrol.
Vazquez's attorney insists that his client's case is not unique. "What is most frustrating to me is that this is not the first case we've brought against CBP for this kind of action. I've had 7 other cases I can recall. Brenda's case is just one more. And it's the same officer we've seen doing most of this stuff," Diez said in an interview with The Huffington Post.
Sisters Yuliana Trinidad Castro and Laura Nancy Castro signed similar statements at the hands of Cabrera in 2009, according to Diez. Like in Vazquez's case, the sisters were told their birth certificates were fake, because they were delivered by midwives. The sisters also claimed they were held for questioning for 13 hours. After a handful of midwives were found guilty of selling false U.S. birth certificates to parents of Mexican-born children in the 1990s, even those children legitimately born in the U.S. and delivered by midwives have often had to fight to prove their U.S. citizenship when crossing the border. The Castro sisters sued the Brownsville CBP, and won.
"The officer continued harassing me, yelling at me, and telling me that I was Mexican and that he was going to deport me," Yuliana Trinidad Castro wrote in her court statement. "After a while, I realized I had no way out since he told me no matter what I did, to him I was Mexican."
Perez, the Brownsville CBP spokesperson, said he also could not comment on the case of the Castro sisters. According to the lawyer Diez, after filing a lawsuit, the Castro sisters were given back their passports.
In 2008, the ACLU sued the federal government on behalf of nine Latinos who were allegedly discriminated against for being delivered by midwives.
"For countless Latinos who were delivered by midwives in the Southwest ... trying to obtain a passport has become an exercise in futility," the ACLU wrote in a statement at the time. "Although midwifery has been a common practice for more than a century, particularly in rural and other traditionally underserved communities, the U.S. government has imposed unsurpassable hurdles on midwife-delivered Latinos to prove their citizenship and eligibility for U.S. passports -- even when their citizenship has already been established in the past."
In a 2009 settlement, the State Department pledged to implement new procedures for such individuals. But Diez says in his client's case, such procedures have been of little help. When Diez requested a copy of Vazquez's birth certificate from the state, for example, he was told that while Texas had her records, it was unable to release a copy of it because of Vazquez's signed confession. Instead, Diez attained Vazquez's twin brother's birth certificate to help prove his client's U.S. citizenship. Diez says his client's brother was also born in Texas, and has never had issues with crossing the border. It would be nearly impossible for one twin to be American, and one twin to be Mexican, he says.
"We live very close to the border. But not that close," Diez said to The Huffington Post.
Muzzafar Chisti, director of the Migration Policy Institute at the NYU School of Law, says that the number of U.S. citizens detained at the border has increased in recent years as enforcement policies have tightened. Although the seven hours the young woman was held in detention is not out of the ordinary for the CBP, Vazquez should have been afforded the right to an attorney, if she requested one, Chisti said.
"Of course she had right to counsel in that situation. If the guard really told her that she did not have the right to counsel, then, he was wrong," Chisti told The Huffington Post. Chisti says the case is more complex because Vazquez herself signed an admission of non-citizenship.
"The part that most complicates this case is that she signed this declaration. It's supposedly voluntary. But she signed it and that changes everything," Chisti said. "The question now becomes if this was or wasn't a coerced admission. But that will have to be determined by the facts."
SLIDESHOW: 10 MAJOR U.S. IMMIGRATION LAWS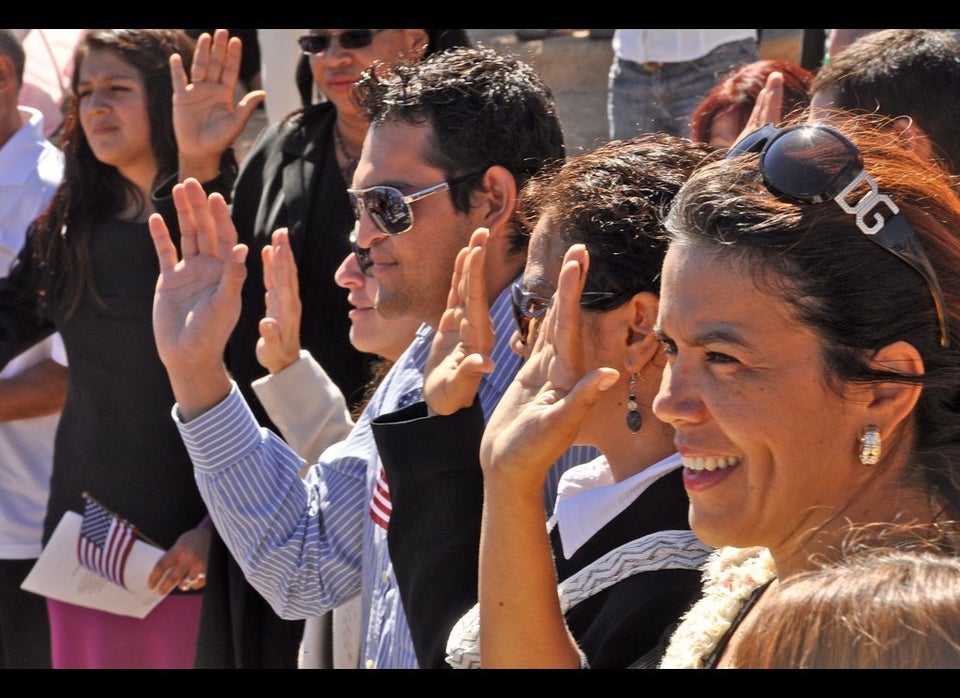 10 Major U.S. Federal Immigration Laws
Popular in the Community