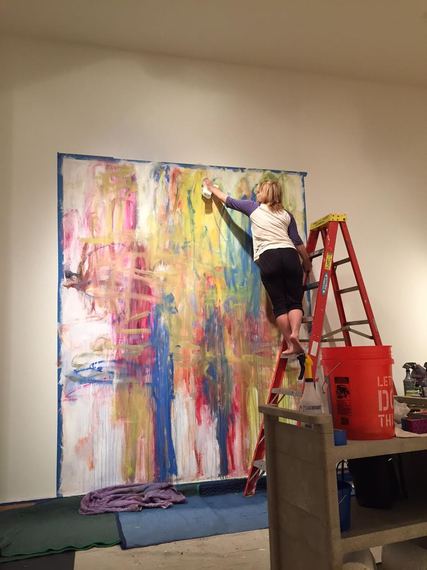 Brenda Zappitell installing her work at the Boca Raton Museum
Brenda Hope Zappitell, an Abstract Expressionist painter whose work will be on view at the Boca Raton Museum of Art beginning July 27th, believes that every experience of her life has influenced the forms and colors that appear in her paintings. Zapitell's works balance a wide range of emotions and realizations, demonstrating her personal conviction that each work manifests a form of inner truth.
I recently interviewed Brenda and asked her about her background, her artistic practice, her influences and her interests.
John Seed Interviews Brenda Zappitell
Tell me something about your early life and experiences. When did you realize that you are an artist?
I did not entirely realize that I wanted to create art until I was 25.
Dancing and doodling were in my repertoire as a child; dance was my main creative outlet for the first 18 years of my life. In college my degree was in social work and after that I attended law school. There was no deep interest in practicing law although I worked as a lawyer for five years; mostly it was just the challenge of doing it. After spending time in an art gallery in Mexico one day in 1990, I thought to myself I feel that: I want to do that! All of this happened looking at a very childlike, expressive painting.
Upon returning home to Florida, after attending classes at the local museum art school painting was so exciting to me that it was difficult to sleep. My thoughts of movement and color would not stop for rest. Pursuing art professionally was not an idea at the time: I only knew that I wanted to continue making art in some fashion. That was 25 years ago.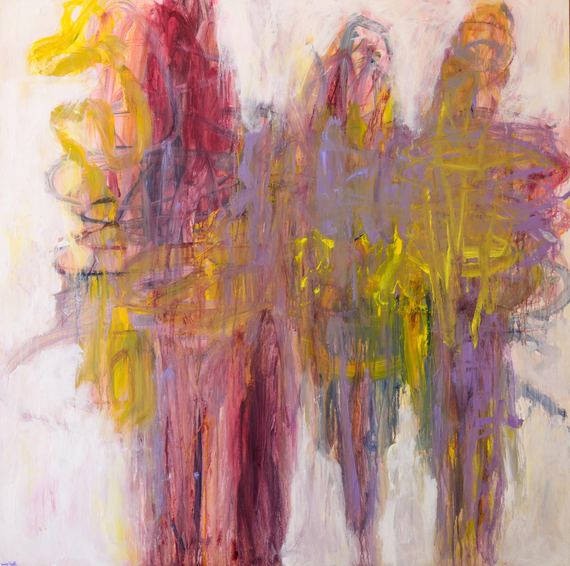 Family, 50 x 50, Flashe and Acrylic with Cold Wax on Panel, 2015
Where did you study? Did you have any particularly important teachers or mentors?
Although mostly self-taught, I attended many classes at the Boca Museum of Art School and some at the Santa Fe Community College as well as going to workshops in Mexico and Taos, NM. There were two teachers that I really connected with; one was at the museum school in Boca Raton in a life drawing class--Barbara Wasserman -- and another at Santa Fe Community College: Jakki Kouffman. It was Jakki who really provided me with the ability to articulate verbally about the work, and that has been a strong force in my growth as an artist.
Have you always favored abstraction?
In some ways: yes, although in the past I painted abstracted faces, figures and also collages with representational elements. At some point all those things felt like a crutch for me in the work. For example, the figure, the faces, or the images used in the collage felt like something to lean on to complete the work. Conjuring it up strictly from my head became something that was strongly desired; that is when I knew Abstract Expressionism was the genre for me.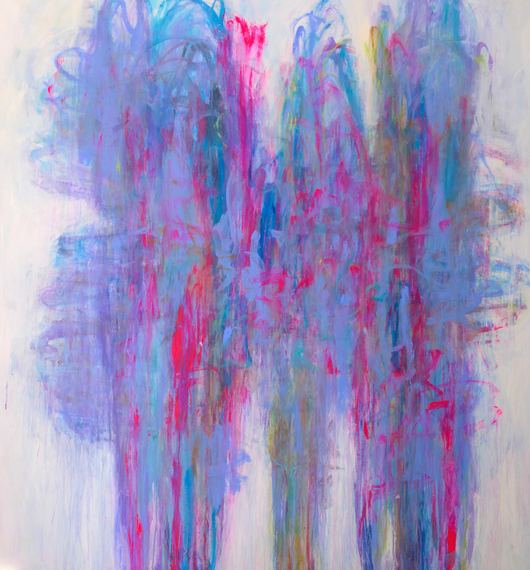 Enchanted By The Sky, 80 x 74.5, Flashe and Acrylic on Linen, 2015
You have mentioned that you are attracted to idea of balance (Yin and Yang). Tell me about that interest and some of the spiritual and philosophical ideas that interest you.
Many of ideas in Buddhism connect for me, although I am not a practicing Buddhist. Mindfulness and meditation have become a strong part of my life and my studio practice.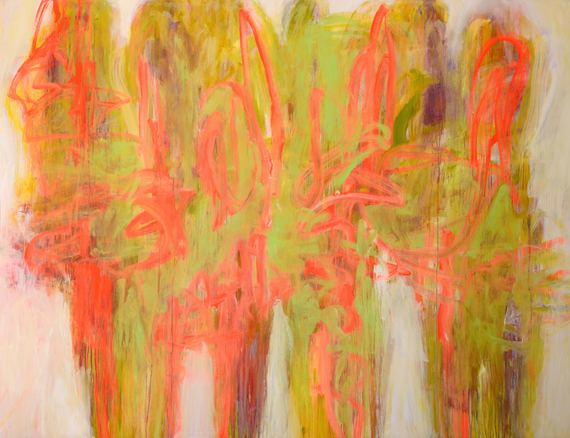 A Moment of Lucidity, 79 x 103, Flashe and Acrylic on Linen, 2015
Tell me more about mindfulness and how it empowers you.
I have started meditating each day before I work and am really finding it to be helpful in and out of the studio. Once your thoughts are managed, the creative flow comes more easily.
Being mindfully present gives you the opportunity to witness the nuances of change in your work and follow those tiny nudges that can change your work entirely. If you are not actually present in the studio and are worried about the future or regretting the past then you have little chance of making authentic work.
Who are some artists you admire and why?
I admire the Abstract Expressionists: especially Joan Mitchell and Willem de Kooning. I relate to their work on an emotional level. I also like many, many other abstract painters but the list is too long to mention.
However, Michelangelo's work is also work I truly love. Italy was one of the destinations for my honeymoon 20 years ago and I have not gotten over the feeling when seeing the Sistine Chapel and the David in person. Dali is intriguing too; there is something about his droopy watches that I have an affinity for.
Then there is Picasso; "Girl Before a Mirror" as well as so many of Picasso's works really appeal to me.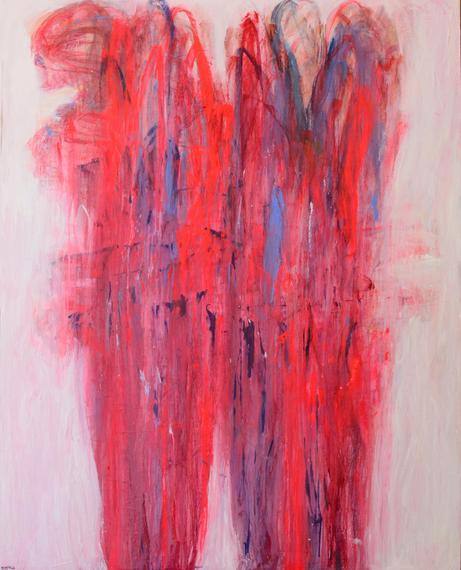 Sunset in Singita, 60 x 48, Flashe and Acrylic with Cold Wax on Panel, 2015
What kinds of emotions and experiences do you feel are present in your work?
I think most of my work gives a joyous and exuberant feeling with a sense of calmness. This is usually how I feel when I produce the work; there are moments of excitement and calm all present at the same time. I honestly believe that everything I experience somehow shows up in the work in some form or another.
How do you start a painting? Do you have images, places or feelings in mind?
My paintings begin with several large gestural marks. There is no image in mind; the work is completely intuitive. When looking at the work during the process or after it is completed, often times I determine where it came from. There is no intention initially; just a discovery process that follows my initial mark-making.
Would you say that your color has any references? Are your color choices related to where you are working?
Color definitely has reference from my feelings, places visited and experiences. However, as mentioned before this is not intentional, just intuitive! Often times, when I start a painting the palette from the previous painting is my starting point. The process of choosing my palette is intuitive most of the time, unless I am working on a commission.
The environment plays a big role in my choice of color. This does frequently reflect the landscape; however it also reflects the things around me, particularly the sky. I would say perhaps, I am a painter of environments.
Here is my personal definition of "environment:" the natural world, as a whole or in a particular geographical area, especially as affected by human activity. I tend to absorb the things around me and then they appear in my color choices in the work. It's as though colors for me have a vibration or a frequency that I feel and respond too.
When do you know when a painting is done?
It's funny that you should ask that: recently I wrote a blog for Professional Artist Magazine titled "When is a Painting Finished?". It is one of those questions that many people are curious about perhaps particularly with abstract expressionist painters.
When a painting is coming close to completion, I generally hang it on a wall in my studio. If upon walking in the following day with fresh eyes when I look at it and feel a sense of energy and calmness at the same time, then it is complete. Sometimes this may take several weeks after finishing the painting. Distance and time help me decide if it is complete.
What are your interests outside of art?
My family -- including my husband and my three children -- are my biggest interests outside of art. I love to travel, read, hike in nature, and practice yoga. I also enjoy writing articles and a blog for Professional Artist Magazine.
My experiences in travel always influence my work; not intentionally, but intuitively. Recently upon returning from a trip to Asia, I painted a painting that felt Asian even though there was absolutely no intention of creating a painting that reflected my trip. When it was finished I looked at it and immediately thought of the colors of Thailand.
Is there anything else that those viewing your work should know about you and your art?
The work I do is a complete reflection of who I am, my inner truth, the way I sense and feel the world. Every work I create is an autobiography of sorts.
Boca Talks: Brenda Hope Zappitell
Date: July 30, 2015
Time: 6:00 pm - 7:00 pm
Related
Popular in the Community