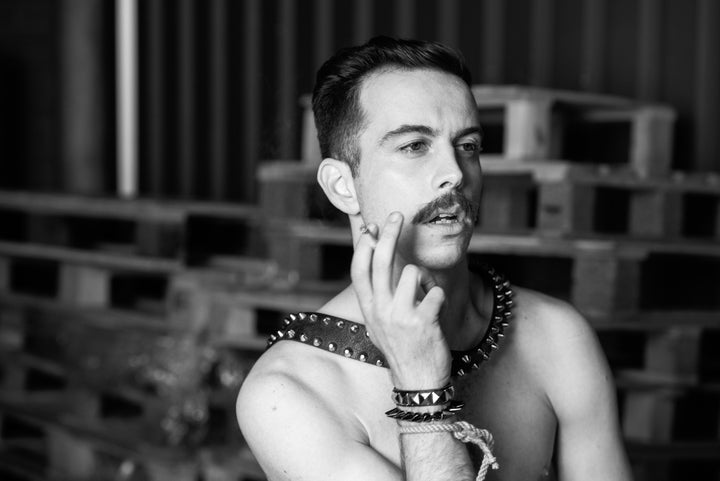 The clip, released Jan. 30 and inspired by Hal Fischer's 1977 essay "Gay Semiotics," features graphic scenes of water sports, fisting and even coprophilia (look it up), but it wasn't the sex that surprised me — it was seeing it showcased in a music video on YouTube.
Granted, it wasn't long before the clip got yanked for violating the video site's community guidelines. But it managed to rack up over 700,000 views in 10 days before it was pulled down. In many ways, that's beside the point. What matters is that for a period of time, however brief, Maclean's explicit celebration of gay sex and sexuality existed right alongside videos by Katy Perry, Kanye West, the Mormon Tabernacle Choir and every other offering deemed innocuous enough to live on YouTube.
Though the video is no longer available for viewing on YouTube, the 29-year-old Australian singer isn't exactly complaining. For him, being able to present a work that challenges both the music video industry's status quo and the shift in political power currently happening around the world is a victory in and of itself.
"Nothing I've shown is particularly new but what was new was the context: a pop music video with fetish porn," Mclean told HuffPost in an email. "The pendulum has globally swung to the right and that's scary. In creating this video we wanted to give a royal fuck you to this concept of moving to a centrist position."
Determined to learn more about one of the smartest, most compelling videos I've seen in years — and the man responsible for creating it — I asked Maclean about the reaction to the "House of Air," his response to those in the queer community who think it's problematic and more.
The Huffington Post: Where did the idea for the video come from?
Brendan Maclean: A rare sunny day in London with a joint or two led me to a sex toy store. Within it was a teeny tiny library which included Hal Fischer's landmark essay Gay Semiotics. He wrote it in 1977 and apparently it's still shocking today. The models were dressed all very Tom of Finland but the photography was very basic, awkward even, kind of like Fischer had just asked his friends to pose, and I loved that so much. I knew I had to create something from that.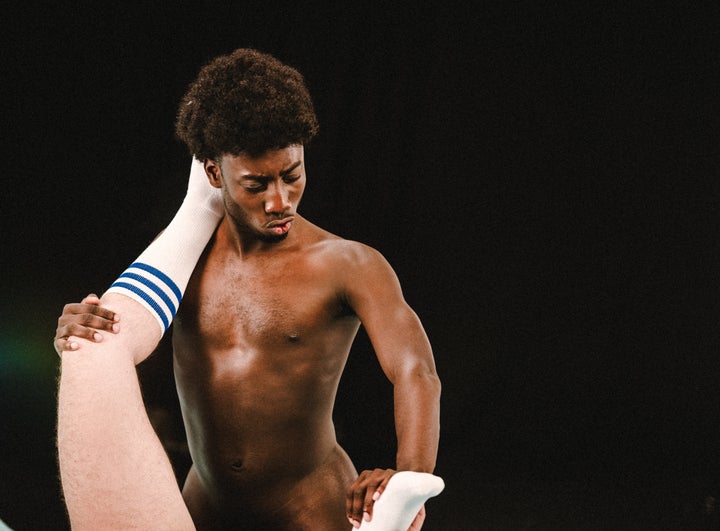 Did you know from the start that you wanted it to be as explicit as it ended up being?
There always had to be a sense of explicitness to it. Did I know my directors, Brian Fairbairn and Karl Eccleston, would hire actual porn stars to feature and have real sex? No. But looking back at the reaction, I wouldn't have it any other way.
What was the reaction to the video like? And what's your reaction to the reaction?
Wasn't it just a reaction and a half? It's funny to think if I'd just made a clip where I was shooting up a mall or stabbing people it probably would have got a couple thousand views and be forgotten about. Unapologetic, joyful kink? How very dare you!
Look ― I get it. I'm not sitting here playing dumb. Many people were just mad I was getting away with having the video on YouTube but let's not pretend the homophobia in the comments had anything to do with platform selection. I know the images we presented can be triggering for people but they are all very real. Nothing I've shown is particularly new but what was new was the context: a pop music video with fetish porn. I will say it's pretty incredible that these conservatives who wish death upon me sat through a blow job, a cum shot, anal, piss play and fisting just to comment on two seconds of rather tame scat play (it was fake poo but it really came out of a butt). It really makes you wonder what they were hoping for...
Talk to me a bit about the political implications of the video. We live in a time when many queer people are more interested in assimilating into non-queer culture than celebrating or honoring or progressing queer culture. What do you make of that?
"House of Air" is pulled almost directly from a 40-year-old essay ― if anything it's a look at queer history. Obviously we're not even ready to embrace the reality of our past, which is concerning. Coming from Australia, filming it in London and watching the rise of Trump in America was hugely impactful on the video.
It's why it ended up being so important that the sex was real ― because some people truly want to tell you what you can and can't do in your bedroom. You want to hurl shit at me and my culture? Well, guess what? I can do it myself and without leaning into bigotry or normalizing the disgusting orange sock puppet that is President Trump.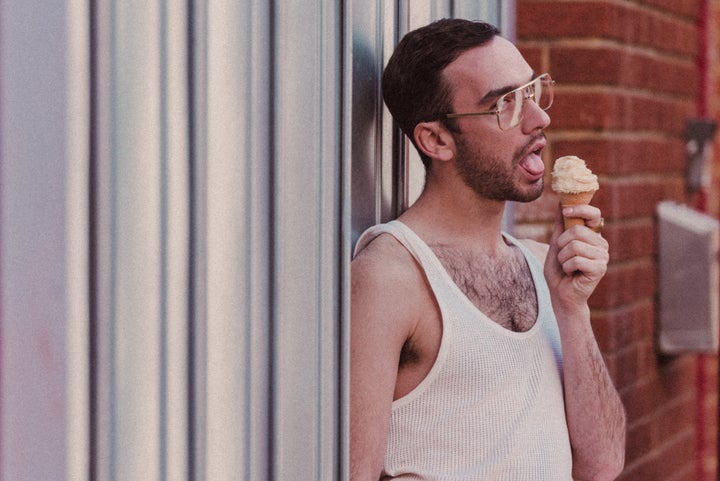 What do you say to those people who claim that the video is doing a disservice to the LGBTQ community or "setting the community back"?
You have to wonder if they've ever been to PornoTube if they really think a four-minute video has the power to set back the culture of an entire sexuality. It's a shortsighted, weak comment. To people who say, "Well great, now you've given them a reason to hate us more" I want to ask do you really think if I'd censored the scat the conversation wouldn't have been about fisting? Censor that and it's about piss-play. Censor that and it's about a blowjob. And guess fucking what: you censor that and put in a hetro-friendly cuddling scene with two guys just kinda smiling at each other and someone will say, "Why do they have to be fags?"
Get a grip. If you don't like this video I've made, go make your own and stop wasting your time and mine.
Do you feel (more) pressure to make art that has an agenda and/or provokes strong reactions in an era where Trump is president of The United States and has selected one of the most anti-queer cabinets in history?
It's been a wake up call. I'm not about to say, "Trump will make Punk great again." Instead let's be honest and admit that a lot of us simply were not paying attention when the corruption wasn't so obnoxiously shoved in our face. I had a comfortable privilege as a cis white guy of not needing to hit back or create provocative art, and now I see that simply is not good enough. I see that I need to march, to donate, to piss off "the man" as it were. And if anything, I'm sorry to people I claimed to be an ally to that I wasn't stepping up earlier.
How do you feel about the way sex is approached / understood / packaged at this moment in history ― both within queer culture and mainstream culture? Are you disappointed? Hopeful?
Maybe it's just me getting older ― my circle of friends and gay uncles and family, both biological and logical, have always had a sex positive attitude. But a lot of this project was a reaction to the vanilla depiction of gays. Why are we always just hugging or proposing in marriage equality ads or when it's a political commercial the queers are always doctors and scientists saying, "Hey! We're all normal, just like you." We're not normal, we're fucking fantastic and weird and things we do in bed might not make you comfortable, but guess what Janet, we didn't make "Rocky [Horror Picture Show"] for you!
But some of the most wonderful responses have come from queer folk a little older than me. I got a lot of hope from a man in his 70s who said he laughed until he cried watching the video. We like to think we've come so far but it's clear we've actually become very ashamed of the word "pride." Remember that? Pride? Pride for everyone? Pride for the those of us who aren't "the right kind of gay"? Pride for the gays who don't fit in at the office Christmas party? Where did that go?
Were you surprised the video stayed up on YouTube as long as it did?
Oh my god, I thought it'd be up for an hour. So while the Helen Lovejoy's of the world are throwing themselves a little tupperware celebration at it getting taken down, 10 days and a million views across Vimeo and YouTube has me pretty stoked.
What do you want non-queer viewers to understand about and take away from the video?
You know I get so many kind messages from heterosexuals saying, "Hey! I don't think this was made for me but it was kind of amazing!" That's heartwarming. But most of all, just in case anyone forgot, it's just a reminder that queers exists and we're still fighting, we still hurt and we won't be going anywhere anytime soon.
What's next for you?
Back to touring my record funbang1 (which features "House of Air"). The video has been getting a lot of love from film festivals so it's probably time for me to get my butt back over to New York and San Francisco, my favorite places in the world, and whore it out some more. In the mean time, I have one more music video to make so every song on the album has a clip and otherwise, back home in Australia I've been cast in a television show called "F*cking Adelaide." If you've seen "Please Like Me," think that but with more me having sex with bears.
This interview was edited for length and clarity.
REAL LIFE. REAL NEWS. REAL VOICES.
Help us tell more of the stories that matter from voices that too often remain unheard.
BEFORE YOU GO
PHOTO GALLERY
Celebrity News & Photos: 2017