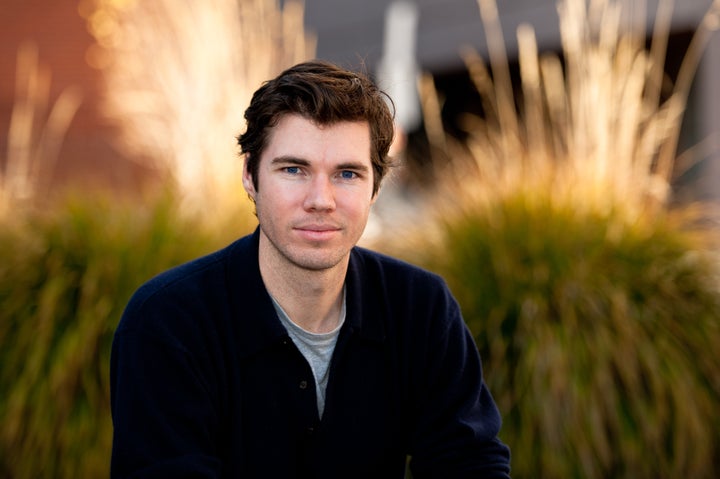 Who: Investment banker turned foodie start-up genius Brendan Marshall.
Current Gig: A former investment banking prodigy (he was the fifth employee at asset management giant Perella Weinberg Partners when he was 22), Marshall left his suit in New York for the Stanford Student Startup Accelerator program. Since graduating seven months ago, Marshall has co-founded Kitchit with classmates Ian Furgeson and George Tang, and has been named one of Forbes' 30 Under 30. Now, Marshall spends days making business deals in a hoodie, nights partying with chefs and weekends wooing his girlfriend (he calls her his muse), AirBnb Project Manager Jessica Semaan. (Best. Life. Ever.)
What's a Kitchit? A bespoke private dining company, Kitchit hires well-known local chefs to moonlight at your house. A far reach from a catering company, the Kitchit stable brings chefs including Daniel Patterson, Josh Skenes, Corey Lee, Chris Kostow, Elizabeth Falkner and Traci Des Jardins into your kitchen for the dinner party of your dreams. (Quick! Hide the George Foreman Grill!) And they can provide everything -- the food, the tools, the dishes and the decor -- so even your studio apartment will work just fine.
The cost of such luxury? Your mortgage? Initial stock in Facebook? Try dinners that start at $50 a head.
According to rumor, such parties have always been common amongst the super-rich and well-connected. (Our invitation must have been lost in the mail.) But Kitchit aims to bring the experience to everyone. "We're democratizing private dining," explained Marshall.
The end goal? "For Kitchit to be a verb in the Oxford dictionary," said Marshall. "I hope they still have print editions in ten years so I can frame it."
The Huffington Post caught up with Marshall to talk about Kitchit, his new life and why one should never enter into a drinking contest with chefs.
So investment banking to private dining -- that's a pretty big switch. How did that happen? With investment banking and entrepreneurship, I was taking my vitamins, so to speak. But I knew I always wanted to do something creative. I had to get out of there.
Obviously your experience at Stanford helped launch Kitchit, but do you think being in Bay Area contributed to its success? The Bay Area community is all about innovation and I would argue that's particularly true for tech and food. Kitchit is all about bridging these two worlds together so we couldn't imagine a better community in which to start. We definitely attribute much of our success to the Bay Area's ability to grasp new concepts and share ideas.
You made the Forbes 30 Under 30 list this year. Tell us what that phone call was like. That was a bit surreal. It came out almost exactly a year after we started building the site so it's going to be hard to top that this year.
What's your favorite restaurant in San Francisco? Are you trying to get me in trouble? They can be found on Kitchit!
I'm sure you've gotten to know quite a few chefs over the past seven months. Have you learned anything? They often remind me that I should never enter into a drinking contest. The problem is, they remind me the morning after the contest.
Any Kitchit horror stories or crazy demanding clients? It's weird saying this, but we want our members to be more demanding. The chefs on Kitchit are not simply people with good recipes. They are artists who see food and the dining experience as art. We encourage our members to request the extraordinary and give our chefs the opportunity to show them what's possible.
Describe Brendan's dream Kitchit party. When I was growing up, I lived in Hawaii for a year on Oahu island. Hawaii has so many traditions and amazing food I have yet to find back in the continental states. Just thinking about spam musubis and malasadas makes me want to go back. I also have a lot of fond memories of luaus and something I havent experienced outside of Hawaii. My dream Kitchit party is an authentic luau with poi, fresh fish and kalua pig, which is cooked in the sand. It would be on the beach and I would invite all of my friends to learn some hula. Jack Johnson would be jamming on the ukulele. That would be amazing.
Tell us about your hands-down favorite dinner party memory ever. I loved having time to travel while I was an undergrad. I studied a lot of theology and have always been fascinated by Hinduism since it's a "living religion", which among other things, means their gods can take the human form and are called Avatars. After some exploring, I found an Avatar outside of Chennai and decided to go experience it firsthand. It was definitely an adventure.
There were people from all walks of life and each representing a different country. Everyone was trying to figure out why everyone else was there; we all seemed so different. My first night we had a big dinner party. Us tourists/visitors went to the kitchen to learn how everything was being cooked and helping out with the small stuff. That was the first time I made a dosa, which is this huge pancake. By the time we all sat down for dinner, everyone had let their guard down and started telling their stories and sharing glimpses of their own worlds back home. This dinner had a profound impact on me because I saw how food connects people. It's a common bond that we all share, no matter which part of the world we are from or what we believe.
New Year Lobster Bake
Chef Kelley Heldt
Bisque of roasted cauliflower, potato and celery root garnished with warm herbed dungeness crab
Maine Lobster, steamed and presented whole for personal cracking with drawn butter and meyer lemon slices on the side
Griddled corn on the cob
Succotash of cranberry beans, green beans, grilled red onions
Roasted white and purple fingerling potatoes with baby leeks
Pear tart with brown-butter-rum custard filling
Chocolate and hazelnut terrine with raspberry sauce
Farmers Market Tour and Dinner
Farmers Market trip with Chef Ryan Baker, followed by dinner party with purchased ingredients
Heirloom carrots and tops, asian pear, buttermilk, chicory root
Warm soup of harvest greens and wild mustard flower cream
Alaskan sea scallop, puntarelle, tardivo, exotic citrus
Prather ranch lamb, purple broccoli, fingerlings, black kale
Pink lady apple tart tatin, Humphrey Slocomb vanilla ice cream
Dinner Party in Tahoe
Dinner by Chef Kelley Heldt at host's Tahoe vacation house
Salad of romaine hearts, avocado, grapefruit segments, herbed dungeness crab, creamy lemon vinaigrette
Rotisserie Chicken Au Jus coated in Kelley's Orange Spice roasted and sliced
Pan seared wild Alaskan Halibut filets
Gold quinoa steamed in saffron broth
Gratin: sliced Yukon gold potatoes, garnet yam and celery root
Steamed blue lake green beans tossed with meyer lemon olive oil
Succotash with edamame, fava beans, corn, asparagus, English peas, cherry tomatoes, caramelized sweet onions and baby shimeji mushrooms
Hazelnut chocolate terrine with raspberry sauce
Related
Popular in the Community