Brendan Witt knew one of the Philadelphia Flyers would approach.
After all, the bruising fourth liners tended to drop the gloves. Slightly after the six-minute mark of the first period, on March 9, 1997, the "Dan Line" -- consisting of Dan Kordic, Daniel Lacroix and Scott Daniels -- hoped to send a message to Witt's Washington Capitals.
"Philly put these guys out," says Witt. "So you knew something was about to happen. The puck dropped and all three of those guys were coming at me. Lacroix didn't get to me quicker than Kordic. Kordic beat Daniels by a hair. That's how that happened. A lot of people forget that."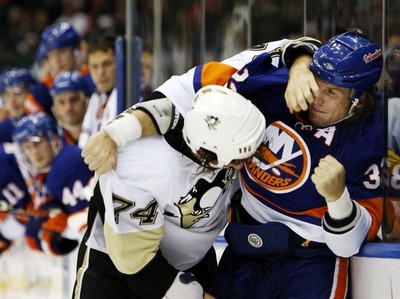 Witt, an adherent to old-school hockey's philosophy of shedding the mitts and playing to the final buzzer each night, piled up 1,424 penalty minutes in 890 career regular season games. In his 14 years in the NHL, his exceptionally spirited bout with Dan Kordic stands out in the annals of hockey tussles.
Younger brother of legendary enforcer John Kordic, Dan spent the full 1996-97 and 1997-98 seasons with the Flyers, recording a career high in games (75 in 1996-97) and penalty minutes (210, two years in a row to lead the team in 1997-98). His NHL career was over come 1999.
Noted primarily for his unrestrained abandon, dishing out of body checks and general stinginess in front of his own net, Witt chucked the knuckles, too, when needed. A vanishing fusion in today's game -- he could fight, play and turn the goal crease into his personal battlefield. The Witt-Kordic fight was, in the words of Washington Capitals announcers, "a beauty" and "a great battle." As far as who lost the decision: Kordic ended up with a cut nose -- and an extra 12 minutes in penalties.
"You know you've had a good fight when you receive a standing ovation from the Philly crowd," says Witt, who lives on a 100-acre ranch south of Missoula, Montana. "I love Philly fans. They are very passionate. To get that applause, I loved it."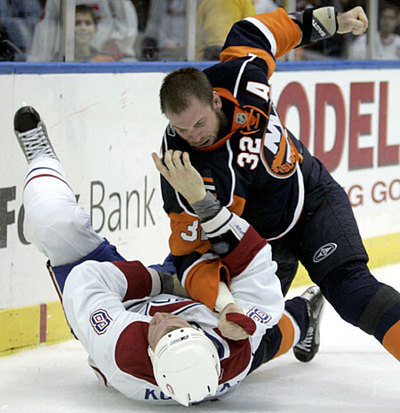 Witt says that in addition to the Kordic altercation, his most memorable scraps came against Chicago Blackhawk Ryan VandenBussche (March 12, 1997), and twice in the same contest versus New Jersey Devil Randy McKay (December 1, 1998).
"You know who gave me the most trouble was Scott Daniels, who played for Hartford, New Jersey and then Philly. I had also had a hell of a fight with Jason Wiemer in juniors, too. It's on YouTube."
Witt's long, stretched hair, hippyish winter knit and multihued tattoos give him the appearance of a rockstar-hipster hybrid, but the facial scars and blemished knuckles reveal the hazards of his chosen mode of play.
"Playing with the Capitals, it was great to have guys like Dale Hunter and Craig Berube around," says Witt. "They taught me to play hard, check hard and sweat it out. They were guys from a different era."
Witt, 38, says he is still good friends with Chris Simon and Craig Berube -- a veteran enforcer who served first as an opponent, then mentor and buddy, and once even an accidental casualty.
"In training camp, I broke Berube's jaw when I hit him along the boards. I was so scared because his wife was very upset. She gave it to me when I came over to their house. He had to take out his teeth and drink protein shakes through a straw for three weeks."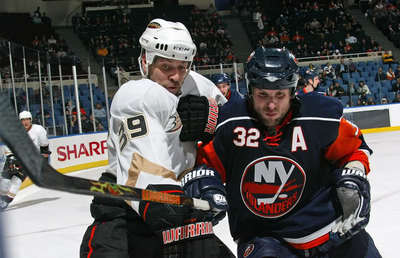 One of Witt's most unforgettable moments came in 1995, when he had the opportunity to pin Cam Neely against the boards in Washington. He showed no pity for even his childhood hero when the Bruin's power forward dared enter his territory.
"Since I was thirteen," says Witt, "a lot of my friends were Edmonton Oilers fans, but I loved Boston. I always carried a Cam Neely card in my wallet. He was tough. He didn't take any crap. He was in your face. I loved that style of hockey.
"So, I'm cross-checking him and challenging him. Well, Ray Scampinella, the longtime linesman, says, 'Hey, kid, what are you doing?'. I said, 'I'm trying to fight my idol.' I thought that was pretty cool. Playing against great players like Mark Messier was pretty awesome, too."
Beneath Witt's 6-foot-2, 223-pound exterior is a garden of compassionate and grateful seeds. In 2002, his wife, Salima, experienced severe hemorrhaging and mysterious complications eight days after giving birth to their second child. Salima developed a life-threatening blood infection that left her suffering in intensive care for months. Even though she made a full recovery, it shook Witt deeply and instilled in him a greater appreciation of the fragility of life.
"We travel and spend as much time together as we can," says Witt. "We were in Morocco and Ethiopia recently."
In October 2005, Hurricane Wilma swirled around the Witts' Jupiter, Fla., home as the family of four huddled inside. While the structure endured without major damage, the fear and worry were suitably distressing.
"That was another scary thing," says Witt, a native of Saskatchewan, Canada. "You know, one of the benefits of retirement is that I get the chance to spend time with my daughters. When I was playing, I was an enigma to them."
Witt played A-League junior hockey in Seattle and he would often drive to Montana to hike in Glacier National Park and scope out communities.
"I thought about buying property in Missoula in 1998," says Witt. "There wasn't much there, a Red Lion Inn and a grocery store."
Three years ago, Witt, who says "he didn't like the behaviors he saw in his children's middle schools in Florida," looked south of Missoula and "found a real nice place."
"I love to hunt," says Witt. "I love it."
On this Saturday morning, Witt is at Glacier Ice Rink chumming around with Missoula Youth Area Hockey Association beginners. Witt and the National Hockey League Players Association gifted 25 sets of new hockey equipment to the "Learn to Play Hockey" program. It's his first organized contact with the sport since retirement.
"Honestly, I've been playing hockey since I was a kid, so I've been taking a break. I don't miss the travel. I never had a lot of time to heal my body when I was playing and there were not many days off."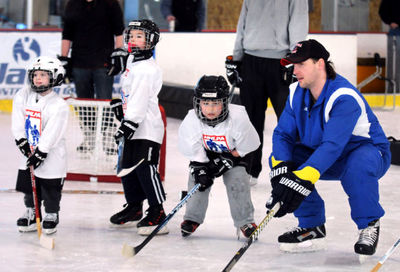 That's not to suggest Witt doesn't cherish the opportunities he has had -- only that he's not the kind of guy who will wax on nostalgically or sink too deeply into the past. He sums up his playing style in one word: proud.
"At the end of the day, you're playing a kid's game," says Witt. "You're living the dream. You're getting paid well. It's like my dad always said, 'Take pride in your work.'"
Witt says that the powering passion for which he is reputed -- a mixture of hard skating, snarl, and physicality -- is absent on the ice and in the lineups these days.
"You can't finish a guy at the blueline like you used to because of concussions," says Witt. "A guy like Bob Probert was honest. You could run him, but if it was legal, he was cool with that. Dave Brown was like that. Joel Otto was like that. I love that. There was a respect there. The game has changed that way. Today, you've got a bunch of wimps."
Brian D'Ambrosio's interviews with 30 former NHL tough guys about the gradual removal of fighting in the game, 'Warriors on the Ice,' will be available this week.
REAL LIFE. REAL NEWS. REAL VOICES.
Help us tell more of the stories that matter from voices that too often remain unheard.