Recently minted Super Bowl champion Brendon Ayanbadejo has been a pioneer for gay rights and marriage equality as it relates to the NFL. The 36-year-old linebacker, who was recently released by the Baltimore Ravens, is a guest editor for the Washington Blade and an activist for the lesbian, gay, bisexual, and transgender (LGBT) community. Ayanbadejo caught up with The Huffington Post to talk about his mission, its biggest challenges moving forward and why he wants to "make America better."
Tell me what you are doing this summer and what else is in the pipeline?
This summer, I think the most monumental thing we're waiting for is the Supreme Court hearing results of Proposition 8. In the interim, I've partnered up with Washington Blade and I also write for Foxsports.com, and there two different cross sections of America. You know, writing for Blade, my objective is, if I can just help one child and I support one person from the LGBT community, maybe if they're having a hard time, let them know that there's straight allies like me that support and love you.
Guys that played professional football, African-Americans, to support them if they're being bullied at school, that I can be a positive role model. And then on the flip side, Foxsports.com is different and we don't have a lot of support in that community, and we're trying to just educate people and build awareness. If I can change one person's mind, if I can make one person side on the side of equality, acceptance and love, then I feel like I would have done my job.
What was the reaction from your teammates when you came out with your support? NFL locker rooms, as we know, can be a very challenging hurdle to overcome.
Well in 2009, a lot of guys started snickering and making comments and saying Brendan's coming out, and I'd say, yeah, Brendan's coming out in support of marriage equality and equality for all. They kind of threw me in the category where a lot of guys thought I was gay. In 2011, '12 and '13, it became a more accepted idea and guys wanted to talk about it and see why I was so passionate about it. It went from something that was really polarizing and people maybe distanced -- well, I wouldn't say they distanced themselves -- but they did definitely throw some comments out there that were inappropriate. It really brought us together and we had tons of conversations in the locker room. Fans really want to talk about it, so it's brought a lot of positive attention to the cause.
Have you always felt a connection to this specific cause?
Ever since high school I've been aware of human rights and political issues. It started with the first war in the Middle East. I remember the entire school did a march to protest the war. Even before that, I grew up in the era of movies made like "Malcolm X." I just carried on through my adulthood and now whether it's marriage equality, the wars in Afghanistan or Iraq, or immigration, medicinal marijuana, I've always been concerned with issues that America is involved in and how to help make America better for our kids.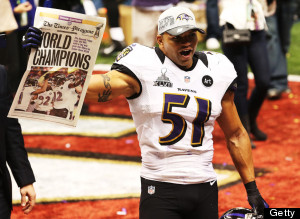 Super Bowl champion Brendon Ayanbadejo tells HuffPost that "It was huge when Obama stepped on board [for marriage equality) and it's going to take the federal laws to do it as well." (Getty Images)
Do you ever feel like your support of gay rights impacted your release from the Ravens, or former Minnesota punter Chris Kluwe as well?
No, I don't think so. Not for myself, for Kluwe yeah. Kluwe's arguably the best punter in Vikings history, so it just doesn't make sense that you'd let go of a guy of that caliber. For me, the Ravens connected me with all of these different advocacy groups. They could have easily not allowed me to establish those relationships. They filter the requests and they always say they give us about one-fifth of the requests depending on who the player is, and they could have kept me helping out with kids, doing NFL Play 60 type of stuff, but they let me connect and great things happened.
Moving forward, what is the hardest thing for you in trying to continue your work making progress on such an important issue?
I think the biggest challenge is when we have people as intelligent as Matt Birk that don't side on the side of equality or love. How do you convince such a smart, intelligent man, that's an amazing father that's been the NFL Humanitarian of the Year, how do you convince him to join the cause. But also just as important, and the country doesn't support the LGBT community because you can be fired in 29 states for being LGBT. You're going to see comments being made when guys make homophobic comments. The biggest role model we have is the government. It was huge when Obama stepped on board and it's going to take the federal laws to do it as well.
You've talked about potential NFL players coming out. What do you think the reaction would be from the league itself though?
I'd have to say there would be league-wide support. You've seen all the damaging stuff that can happen with coaches at the [NFL Scouting] Combine to players making homophobic comments. In any other corporate setting, it's not like anybody's going to care what your sexual orientation is as long as you perform. One of the things I was trying to do is get several players together across different sports so it wouldn't be one Super Bowl type of media frenzy in one city. I think it's going to be a great thing. What are the fans going to be like? But from just the league itself, I think it's ready to start taking on this issue and start being proactive instead of always being in a damage control state.
This interview has been edited and condensed for clarity.
Email me at jordan.schultz@huffingtonpost.com or ask me questions about anything sports-related at @Schultz_Report.
Calling all HuffPost superfans!
Sign up for membership to become a founding member and help shape HuffPost's next chapter