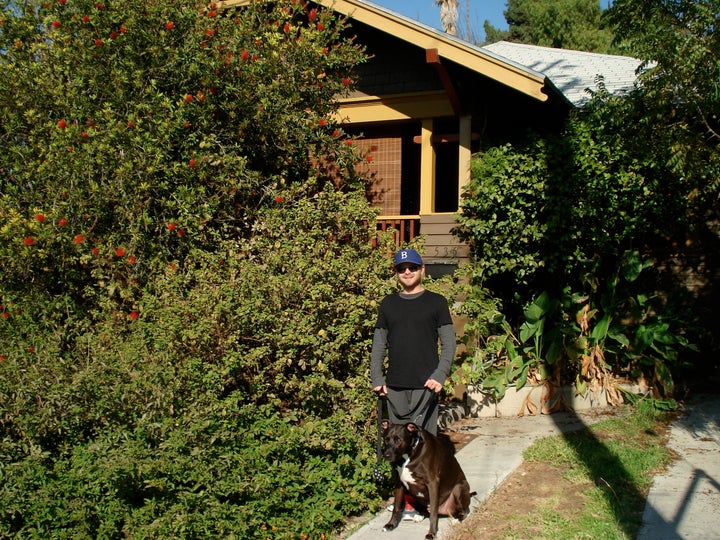 This story has been updated to include a response from Bank of America.
Banks are poised to repossess approximately 800,000 homes this year, but with the help of an online petition and about 14,000 new friends, Southern California man Brendon Mendoza is avoiding the same fate.
Mendoza challenged Bank of America to save his home in a petition on Change.org about two months ago. And, since it gathered over 14,000 signatures from across the country, Bank of America called Mendoza on Friday to relay that his foreclosure has been temporarily halted.
Mendoza told the Huffington Post, "Since I've been contacted by Bank of America, I am at a loss for words. I really wasn't sure if [the petition] was going to work. It was really moving to have so many people side with me." Mendoze added, "I think the banks are finally listening to the people."
In a press release, Change.org reports that Mendoza's campaign is one of almost three dozen anti-foreclosure campaigns on the web site. Other campaign successes similar to Mendoza's include the nonprofit New Bottom Line halting a foreclosure on a 71-year-old cancer survivor and a Seattle homeowner, Vera Johnson, halting a foreclosure by Bank of America on her home and business.
Here's how Mendoza explained his predicament in his petition:
I, like many of you, am a victim of the bank-caused recession. The housing crisis caused the value of my home to plummet. Soon after, I lost my job, and ran out of savings trying to make ends meet. It was clear, the mortgage on my home of 6 years would be next to suffer, so I contacted my bank for some assistance. I legally qualify for a loan modification, but Bank of America has refused to work with me. They have misplaced documents related to my application for a loan modification. They have failed to return several of my calls. And they refuse to provide me a single point of contact.
Mendoza went on to say that he has done everything the bank asked of him, including getting a roommate and "consulting every housing counseling agency you can think of."
Each of these success stories come alongside nation-wide Occupy movements and individual campaigns directed towards big banks. Over the weekend, 27-year-old Kristen Christian's campaign Bank Transfer Day resulted in Americans across the country transferring their money from banks to credit unions. A week earlier, 22-year-old Molly Katchpole's Change.org campaign against Bank of America's $5 debit fee resulted in 300,000 signatures and the bank cancelling its controversial fee.
On Tuesday, about 80 Occupy LA protestors marched to a downtown Bank of America branch and set up a tent in the doorway. Southern California Public Radio reports that the bank locked its doors to the protestors, who chanted "shame, shame, shame" and other slogans.
UPDATED -- In a statement to HuffPost, Bank of America representative Jumana Bauwens wrote:
The loan is not in foreclosure therefore there was no postponement of a foreclosure sale date. As with any customer in need of assistance, we want to provide Mr. Mendoza with an opportunity to stay in his home if he has the means to make an affordable mortgage payment. We have already been reviewed [sic] Mr. Mendoza for the Making Home Affordable program and were unable to qualify him under the program guidelines. We will review his current financial situation to determine his eligibility for the other programs that are available for his loan.
In response to this statement, Mendoza told HuffPost that he received a letter from Bank of America in August 2010 saying that his house could be foreclosed on at any time; since then, Mendoza claimed, "I've been getting calls referring to the letter saying they can foreclose on me at any time." According to Mendoza, Robert Young of Bank of America said in a phone call last Thursday that "foreclosure proceedings are on pause at this point" and that an agent would be in touch with Mendoza in three to five days to discuss an "in-house solution."
Since Mendoza said he has been trying to get a point of contact from the bank for two years, he thinks this promise of an agent and paused proceedings is a "big victory."
Popular in the Community