Numbing, Brown says, is a type of armor that comes in many forms. Her numbing drug of choice is food. Drugs, gossip and social media are other ways we numb ourselves, she says.
"A lot of people are numbed out with social media now," Oprah says.
"It's so bad," Brown agrees. "You know why? Because if I get laid off at work and I post that on Facebook, and I get 20 responses like, 'I've got your back' or 'I'm sorry,' it feels great. But it's different than if I called you and said, 'Hey Oprah, its Brené . I got laid off today. Do you have 10 minutes?'" Brown says.
"Because in that real-person request is a very vulnerable bid for connection," she explains. "I'm asking you, can you put everything down and hold space for me for the next 15 minutes? I'm in some pain."

Also in the video, Brown explains another form of armor she calls "foreboding joy."
"Joy is the most vulnerable emotion we experience," Brown says. "And if you cannot tolerate joy, what you do is you start dress rehearsing tragedy."
Dress rehearsing tragedy, she explains, is imagining something bad is going to happen when in reality, nothing is wrong. "How many of you have ever stood over your child while they're sleeping and thought, 'Oh my God, I love you' -- and then pictured something horrific happening?" Brown asks. "Or woke up in the morning and thought, 'Oh my gosh, job's going great. Parents are good. This can't last."
During her research, Brown says she met people who had a profound capacity for joy. The difference, she says, is that when something really blissful happened to them, they felt grateful. "Instead of using it as a warning to start practicing disaster, they used it as a reminder to practice gratitude," Brown says.
Related
Before You Go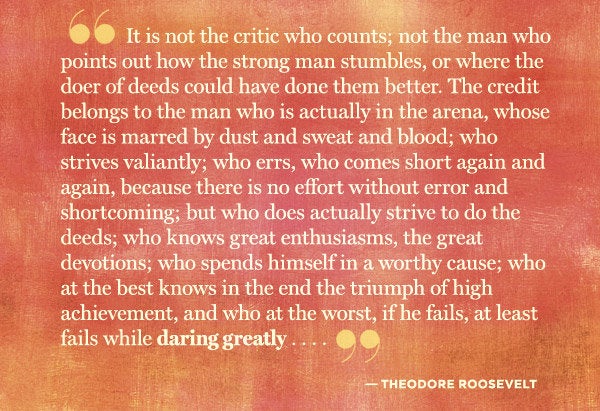 Dr. Brené Brown (and Teddy Roosevelt's) Top 21 Tweet-Tweets