Dr. Brené Brown is all about living bravely. Inspired by a Theodore Roosevelt quote -- "It is not the critic who counts… The credit belongs to the man who is actually in the arena... who at the worst, if he fails, at least fails while daring greatly" -- Brown has spent years conducting research about bravery and vulnerability, and encourages everyone to also "dare greatly." But before jumping into the proverbial arena, Brown says there are two important things you need to have on hand.
"Two things you have to have when you go in the arena: somebody who's willing to pick you up and dust you off when you get your butt kicked, which you will," Brown says on an episode of "Oprah's Lifeclass." "And the second thing is absolute clarity of values. You have to be sure what your value is."
Brown stresses that this may require you to make a tough choice in prioritizing what's important to you, especially since some values cannot coexist with courage. "You can choose courage or you can choose comfort," she says. "You cannot have both."
The reason that being clear about your value is important, Brown says, is because it gives you unwavering perspective, even when life in the arena gets the best of you. "If you choose courage... even if you get your butt kicked -- you fail, you get pushed to the ground in the arena -- you'll still understand why you're there," Brown explains.
Oprah recalls a sentiment from Dr. Maya Angelou that supports this idea. "Maya Angelou says courage is the most important of all of the values because without courage, you can't practice any of the other," Oprah offers. "You can't be truthful, you can't be gracious, you can't be anything without courage."
"I have two quotes on my bulletin board at home. One from Maya Angelou about courage and the other one is from you," Brown tells Oprah. "It says, 'You get from this life what you have the courage to ask for.'"
Related
Before You Go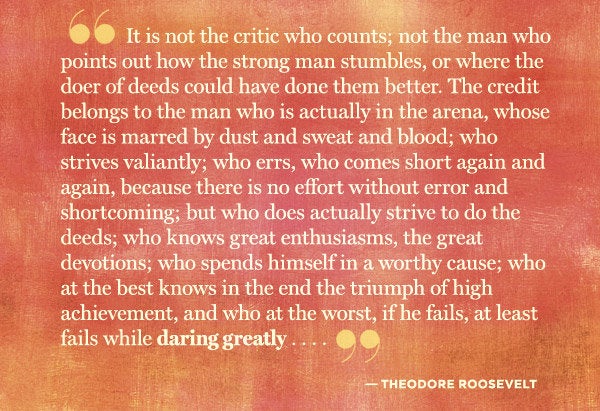 Dr. Brené Brown (and Teddy Roosevelt's) Top 21 Tweet-Tweets