What is perfectionism really about? Dr. Brené Brown, a research professor and bestselling author who has studied shame and vulnerability for more than a decade, says perfectionism is nothing more than a form of armor we use to protect ourselves from being judged.
"So here's the secret," Brown says in the above clip from "Oprah's Lifeclass." "When perfectionism is driving, shame is always riding shotgun -- and fear is the annoying back seat driver."
"We struggle with perfectionism in areas where we feel most vulnerable to shame," she further explains. "So we're all comfortable saying, 'I'm a little perfectionistic,' which is code for 'I do things really well' -- but I'm not comfortable saying I have shame."
"But perfectionism, what is that?" Brown says. "I call it the 20-ton shield."
Brown breaks down what perfectionism really is. "It's a way of thinking that says this: 'If I look perfect, live perfect, work perfect, I can avoid or minimize criticism, blame and ridicule,'" she says.
"All perfectionism is, is the 20-ton shield that we carry around hoping that it will keep us from being hurt," Brown says.
Related
Before You Go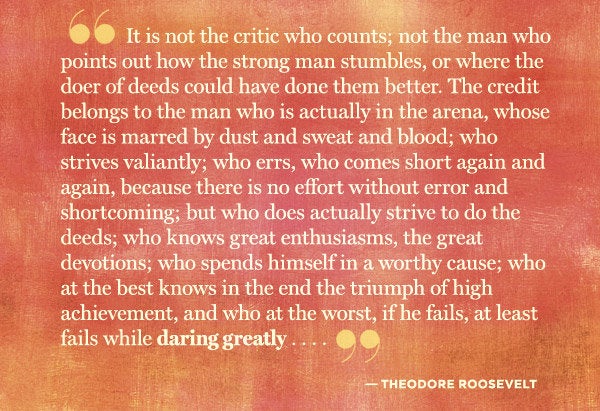 Dr. Brené Brown (and Teddy Roosevelt's) Top 21 Tweet-Tweets