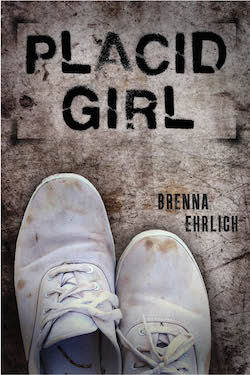 November is finally here, which means National Novel Writing Month (NaNoWriMo) is in full swing, and Book Awareness Week is right around the corner. So with writing and reading on the brain, what better time to get the scoop on an awesome upcoming book and an exclusive look at the cover?
MTV music journalist and Stuff Hipsters Hate co-creator Brenna Ehrlich, recently launched an amazing project called All Ages Press -- a small printing press/label putting out books, tapes and zines for teens (but adults are welcome too). "I wanted to create something that caters to teens but that adults can enjoy as well," Brenna says, "stuff that can appeal to people of all ages." Pretty awesome, right?
And on top of that, Brenna is also gearing up for the release of her young adult debut Placid Girl. Dubbed as a "punk-rock" version of "Catfish," Placid Girl is a contemporary thriller which follows a 16-year-old drummer who starts talking to her favorite masked punk musician on social media, and chronicles her journey when she goes to meet him in real life.
While searching for an agent for Placid Girl, Brenna decided she wanted to publish on her own. "I knew it would take so long to go the traditional route, plus, I wanted to do things that I probably wouldn't have gotten permission to do from a publisher," she explains. "I started to feel like I just wanted to do it myself. So I decided to start my own press -- both to release my own book and also other projects."
Gritty. Mysterious. Totally eerie. Brenna's cover (pictured above), designed by Ashley Halsey, fits perfectly for this contemporary thriller, and lucky for Brenna, she had lots of control. "I made a Pinterest board that I sent her beforehand, and we also met and talked over the cover before she dove in," Brenna explains. "I loved this one, initially, because I think it really captures the book -- as it is about social media and how people perceive you there. It's also ultra-dark, which I like. I worked with Ashley to pick the right font -- which is modeled on graffiti ads for bands that people spray on sidewalks in the city -- and the whole grainy feel of the cover. I also love that the shoes are empty. It's just creepy."
Placid Girl won't be available until the Spring/Summer 2015, but in the meantime, Brenna's All Ages Press has already released Smaller Town, the first in the zine series which features a collection of stories and pictures all dealing with suburban dreams and nightmares. And in addition to the zine, the first All Ages Press tape has been released called "Motel TV" (the self-titled debut solo project of Dave Otto, formerly of Slam Donahue). Both are available now.
Related
Popular in the Community