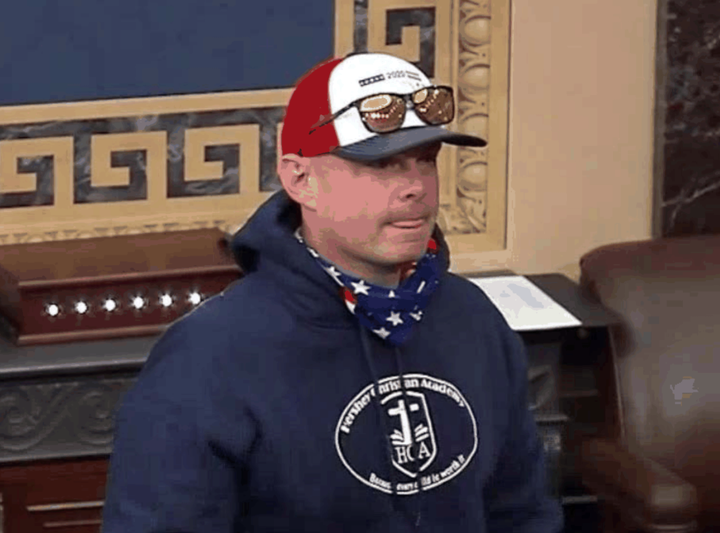 Leo Brent Bozell IV, the son of conservative activist L. Brent Bozell III, was captured on video inside the Senate chamber during the attack on the U.S. Capitol and has been charged with three federal offenses, according to a federal criminal complaint unsealed on Tuesday.
Bozell is charged with obstructing an official proceeding, entering a restricted building, and disorderly conduct. The complaint features several images of him on the floor of the Senate, where he was wearing a sweatshirt featuring the name of a Christian school. Online sleuths focused in on him because of that sweatshirt and posted videos of his activity online. They also found photos of him serving as a girls' basketball coach at another school in Hershey, Pennsylvania.
Bozell is the son of L. Brent Bozell III, a major conservative political figure who founded a number of organizations aimed at countering "liberal media bias," including the Media Research Center and NewsBusters. He is himself the son of L. Brent Bozell Jr., who worked as a speechwriter for Sen. Joseph McCarthy (R-Wis.) and as the ghostwriter for Republican presidential candidate Barry Goldwater's book "The Conscience of a Conservative." Bozell Jr. was a key player in the creation of the mid-20th-century conservative movement, alongside National Review founder William F. Buckley, that ultimately took over the Republican Party. He later abandoned the United States, conservatism and democracy for Francisco Franco's pro-Catholic, anti-communist dictatorship in Spain.
Bozell IV can be seen in multiple videos both inside and outside the Capitol building on Jan. 6. In one video, shot by The New Yorker, he is on the floor of the Senate with other insurrectionists. Another video on YouTube shows him exiting the Capitol while talking on his cellphone. The security camera footage presented during former President Donald Trump's second impeachment trial also shows Bozell among the group of insurrectionists led away from the Senate floor by Capitol Police Officer Eugene Goodman.
The arrest of Bozell IV, who reportedly goes by "Zeek" or "Zeeker," comes after his father denounced the Jan. 6 invaders.
"You can never countenance police being attacked. You cannot countenance our national Capitol being breached like this. I think it is absolutely wrong," Bozell III said on a Fox Business show on the day of the siege. He added, "I am heartsick about that element that has been so destructive and has done so much damage to a very noble cause, but the damage they have done to conservatives like me is profound."
Despite his denunciation of the insurrectionists, Bozell III also claimed that the media stole the 2020 election by failing to cover controversies related to Hunter Biden, the son of President Joe Biden ― a failure that he said was exacerbated by social media suppression of those controversies. Bozell III had previously accused the media of stealing the 2012 election for then-President Barack Obama.
Read the FBI affidavit below.
CORRECTION: In an earlier version of this article, Bozell IV was identified as a girls' basketball coach at Hershey Christian Academy, the school whose logo was on his sweatshirt. He was a coach at another unnamed school in Hershey.
Popular in the Community