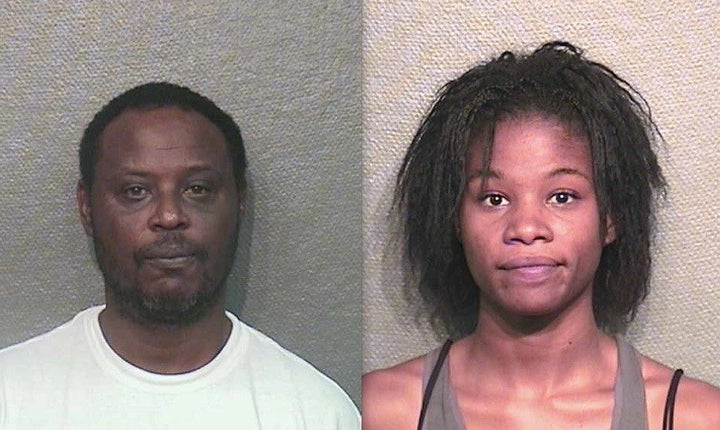 A man and a woman are accused of torturing animals with kitchen cutlery, household tools and shoes in footage sold to sexual fetishists.
Brent Justice, 51, and Ashley Nicole Richards, 21, appeared in a Houston court on Monday to face charges surrounding the alleged animal cruelty caught on camera.
Justice and Richards allegedly tortured a puppy, kittens, a rabbit, mice, a pigeon, fish, lobsters, crabs, and other animals using high heeled shoes, a meat cleaver, knives, screwdrivers, pliers, and other devices, the statement said. As many as 27 videos were seized.
Known as 'crush videos,' the movies "depict women stomping animals to death to satisfy the sexual fetishes of those who watch them," according to a statement from PETA.
The Harris County magistrate judge reportedly "halted the reading of court documents" during proceedings last week because the details were too gruesome, The Houston Chronicle reports.
"Both have been charged with a felony cruelty case, specifically torturing a dog and a cat," prosecutor Belinda Smith said on Monday, according to KENS5. "Ms. Richards stated she made these videos at the request of customers."
According to the PETA statement:
Richards reportedly admitted to killing countless animals—up to two per day—over the years. She faces felony cruelty-to-animals charges: one for a video made in 2010 in which she binds and gags a kitten with masking tape and then stomps and crushes the animal, including putting her high-heeled shoe through the kitten's eye, and for another video in which she kills a pit bull puppy by using a meat cleaver to hack off his leg and tail and a knife to slash his neck and cut into his leg. Justice faces a felony cruelty-to-animals charge for filming Richards as she killed the puppy with a knife.
Each suspect faces a maximum of two years in prison for alleged cruelty to non-livestock animals.
Related
Popular in the Community