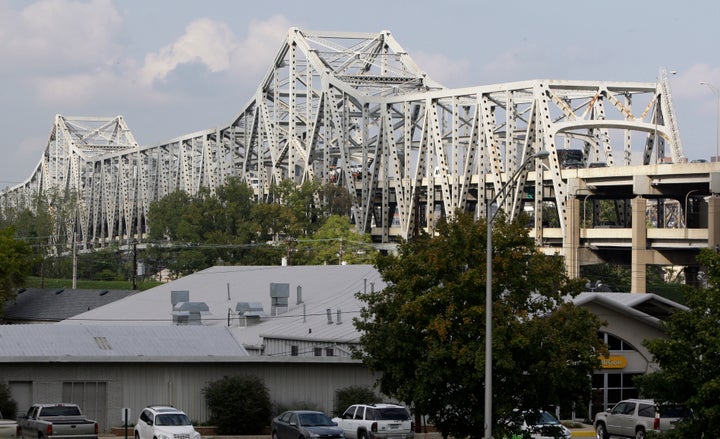 Today, President Barack Obama is travelling to Ohio to tout his plans to create jobs through infrastructure spending. He will be appearing in front of the Brent Spence Bridge, which connects Ohio to Kentucky and, symbolically, House Speaker John Boehner to Senate Minority Leader Mitch McConnell. Here's a problem, however: the work that needs to be done to bring the Brent Spence Bridge span out of obsolesence is not "shovel-ready." So the GOP is trying to lead a media freak-out chorale over this, the reasoning being that since this particular bridge is two years away from being able to foster infrastructure jobs, no one can have any infrastructure jobs at all.
However, ready for shovels or not, the Brent Spence Bridge is a fitting place to make the case that the nation is in desperate need of infrastructural investment. Overburdened and rendered dangerous because of the short-cut fixes deployed to repair it, the Brent Spence Bridge is an example of what could be prevented, if the manpower currently sitting idle because of unemployment were allowed to start bringing projects that are shovel-ready into the 21st Century.
The bill itself contains no mention of the Brent Spence bridge, or any other specific projects. Even if the bill is passed, it's not clear funding included in the bill for stimulus or the creation of a national infrastructure bank would ever reach the bridge.

That's because if the point of the jobs bill is to create jobs now, then the Brent Spence Bridge may make a nice backdrop for a speech, but it's not the best example of a shovel-ready project.

According to highway officials in Ohio and Kentucky, the bridge is still in the preliminary engineering and environmental clearance phase. In a best case scenario, the earliest that workers would be hired would be in 2013, but more likely 2015.
So, the bridge is neither named in the bill, nor is it ready to immediately benefit from the bill as written. This would tend to indicate that there may be better bridges to stand in front of to make the case for the American Jobs Act. On the other hand, if you want to stand in front of a bridge and tout infrastructure improvements in general, the Brent Spence span is an excellent choice, because as it happens, it is going to require substantial improvements. Here's John Merline, at Investor's Business Daily:
Although some press accounts have described Brent Spence as "crumbling," and the White House says it's an example of "urgently needed" repairs, the bridge isn't falling apart. In fact, it's designed to last for decades more.

It is, however, "functionally obsolete," which in this case means it's too small to handle the daily traffic load. While designed to handle 85,000 cars and trucks, it now carries more than 150,000, leading to regular backups.

So the plan isn't to do extensive repairs on the bridge, but to build an entirely new one right next to it and keep the old one in use.

The problem is that construction work on the $2.3 billion bridge isn't scheduled to start for three or four years, according to the project's official website.

That would appear to put it outside the "immediate" timetable in Obama's jobs bill, which requires the Transportation secretary to "obligate" all the highway funds "not later than two years after enactment" of the bill.
So, we have a bridge that needs to be built, in order to bring this critical shipping lane into the 21st century. However, the construction work will fall outside of the timetable that's specified in the Jobs Act. But what is the problem that the Jobs Act seeks to address, in terms in infrastructure improvement? To put it simply, America is running high unemployment at the moment. Among the unemployed are highly skilled construction workers. However, there's lots of construction work that they could be doing, so rather than keep those resources idle in perpetuity, the bill seeks to match the skills of sidelined workers to projects on which they could be working.
And while the Brent Spence Bridge isn't the most fitting backdrop for a presentation of the American Jobs Act, it would seem that there are a lot of good reasons for the President to stand in front of it anyway -- the situation with that bridge span is dire enough to command immediate attention. Just ask the Cincinnati Enquirer!
• It ranks No. 7 among those bridges for highest crash rate, although deaths are few.

• Motorists are five times more likely to have a wreck on the bridge than on the interstate systems of Ohio, Kentucky or Indiana. About eight bridge accidents a month are bad enough to require police presence.

• Big trucks running side by side on the bridge have less than a yard of space between them. Remarkably, the big rigs account for just 11 percent of vehicles involved in reported accidents.

• Even minor mishaps can back up traffic for seven miles or more each way.

"If you are claustrophobic or worried about getting hit, you'll have a problem driving on that bridge," says David Lewin of Edgewood, who commutes across the Brent Spence at least twice a day. "There are some days that I just feel that it's too dangerous and want to get the hell off of it, and I take another route."
What makes this bridge so dangerous is that in order to max out its capacity, it no longer has emergency breakdown lanes. They were done away with in 1985 in order to provide an extra driving lane to handle the overload. When timely infrastructural improvements don't happen, these are the kinds of shortcuts that local officials have to take. And here are the results of those shortcuts:
The most dangerous design fault of all is the lack of emergency lanes, say police officers, highway officials and commuters.

Last January, a 41-year-old father of three was killed when his car stalled on the bridge. The car was demolished when it was hit from behind by a truck loaded with garbage. The truck dragged the dead man's car 500 feet before it could stop.

"That could have been you or me," says Covington Police Spc. George Russell, who investigated the crash. "It's amazing that this doesn't happen more often." Only two other fatalities resulted from bridge accidents between 1995 and 2002.

Chris Smith, morning supervisor for ARTIMIS, the area's traffic management system, recalls a bridge wreck last summer. A woman was standing by her disabled car, in the path of another car whose driver didn't veer until the last second.

"That person swerved, lost control and hit the side wall," Smith says. "No one was hurt, but I remember it to this day as a perfect example of what happens on that bridge every day."
So, slow-footing infrastructure spending causes decay, delay, and death. You know, maybe this presidential visit doesn't relate in any direct way to the infrastructural spending in the American Jobs Act. Except for the fact that the infrastructural spending in the American Jobs Act may help prevent the next American highway deathtrap from occurring. (Also, people can have jobs again.)

Popular in the Community