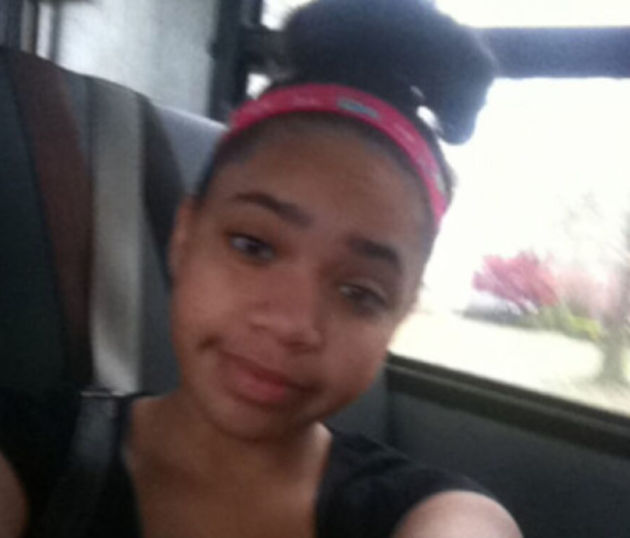 It was midsummer when 14-year-old Bresha Meadows picked up her father's gun and allegedly shot him in the head, killing the man who she said brutally beat her mother and terrorized her family for years.
Almost four months later, she remains in pretrial detention at Trumbull County Juvenile Detention Center in Warren, Ohio, charged with aggravated murder in the death of her 41-year-old father, Jonathan Meadows.
On Tuesday, there was supposed to be a court hearing for Bresha, an opportunity for her lawyer to advocate for her release before trial. Instead Bresha's hearing was postponed until January 20. By then, she will have spent almost six months locked up, missing a large chunk of the school year.
The #FreeBresha campaign, a group of individuals and organizations raising awareness about her case and the intersection of domestic violence, race and incarceration, released a statement on Tuesday blasting the decision to delay the hearing:
"As of today, Bresha has already spent 117 days in jail. By the time January 20th comes around she will have spent over 175 days in a cell. This is truly unconscionable and we are furious. Bresha should NOT have to spend Thanksgiving and Christmas away from her family in a jail cell. Bresha should be home for the holidays … Rather than support Bresha with resources to recover from her experience of extensive violence, prosecutors continue to punish and incarcerate her for defending her life."
As she sits behind bars, a national movement to free Bresha has slowly gained steam. Over 100 domestic violence organizations have endorsed a call to drop the charges against her and grant her an immediate release. A petition with the same request has over 23,000 signatures. A fundraising site has raised over $50,000 for her and her family.
On average, pretrial detention for juveniles in Ohio is about 10 to 12 days, according to Erin Davies, executive director of Juvenile Justice Coalition, an organization advocating for youth involved in Ohio's juvenile justice system.
Detentions can have long-term effects on young people's mental and physical well-being, she said, explaining that kids may be more likely to engage in self-harm, and can face serious challenges going back to school afterward.
"Detentions can be really damaging to kids," she said. ''It should be used as a last resort."
But she noted that Bresha's case is unusual and may take more time to process. Because Bresha was 14 at the time of her arrest, she said, the case may still be transferred to adult criminal court.
"Six months is long but this case is more complicated than the average case," she said.
Prosecutors have not yet decided whether they will try Bresha as a child or an adult. If she is charged as an adult, she could face a life sentence. She has pleaded "not true" to the charge of aggravated murder, which in juvenile court is equivalent to a not guilty plea.
The prosecutor's office did not return a call for comment.
Mariame Kaba, an organizer and founder of Project NIA, which works to decrease the number of children and youth in Chicago who are arrested and incarcerated, said she was livid about the lack of urgency in the teen's case.
"The longer she stays in jail the worse it is for her," she said.

Bresha's lawyer, Ian Friedman, said he would request her release at the Jan. 20 hearing.
"We want her out as quickly as possible, but we have to give compelling information to the court that convinces them that her release, whether it be home or to some other facility, is appropriate and in her best interest," he said. "There is a lot of work behind the scenes that the public will eventually see."
Mike Brickner, senior policy director for the ACLU of Ohio, explained that the juvenile justice system is supposed to have different goals than the adult system. Children are supposed to be rehabilitated ― not punished, he said.
"When we keep kids in this kind of a limbo status, it's negative," Brickner said. "The quicker we can resolve these issues, the sooner we can move them towards treatment and reestablishing a normal sense of life."
For Bresha, re-establishing any semblance of normalcy will take time.
Friedman said the young teen witnessed her father kicking and stomping her mom, Brandi Meadows. At times, Friedman said, the beatings left her mother unconscious. The gun that Bresha allegedly used to kill her father was the same one her father used to terrorize the family, he said.
"She took the only step that she could, in her mind, to save her mother's life and that of her siblings," he told The Huffington Post in a previous interview.
In 2011, Brandi Meadows went to police, telling them that her husband was capable of extreme violence and that he threatened to kill her and their three kids. In a request for a civil domestic violence protection order, she described in detail the violence she said he inflicted on her.
"In the 17 years of our marriage, he has cut me, broke my ribs, fingers, the blood vessels in my hand, my mouth, blackened my eyes. I believe my nose was broken," she wrote. "If he finds us, I am 100 percent sure he will kill me and the children … My life is like living in a box he created for me, and if I stepped out of that box, he's there to put me back in that box."
In the months leading up to the shooting, Bresha ran away from home multiple times. She confided in her aunt, Martina Latessa, a Cleveland police officer, about what was going on behind closed doors.
"The nightmare she was born into had a profound impact on her, to the point where she was suicidal," Latessa told The Huffington Post.
As many as 10 million children in the United States are exposed to domestic violence each year. Experts say that witnessing abuse against a parent can be profoundly traumatic for a child, and can lead to depression, anxiety and suicide attempts.
Kids who grow up in violent homes are also more likely to end up in the justice system: 84 percent of girls in the juvenile justice system have experienced domestic violence.
In the aftermath of the shooting, Brandi Meadows publicly called her daughter a hero. Now, she just wants her home for the holidays.
"I am so sorry she had to go through this," she said at the time. "She helped me; she helped all of us so we could have a better life."
______
Melissa Jeltsen covers domestic violence and other issues related to women's health, safety and security. Tips? Feedback? Send an email or follow her on Twitter.
______
Related stories:
Popular in the Community