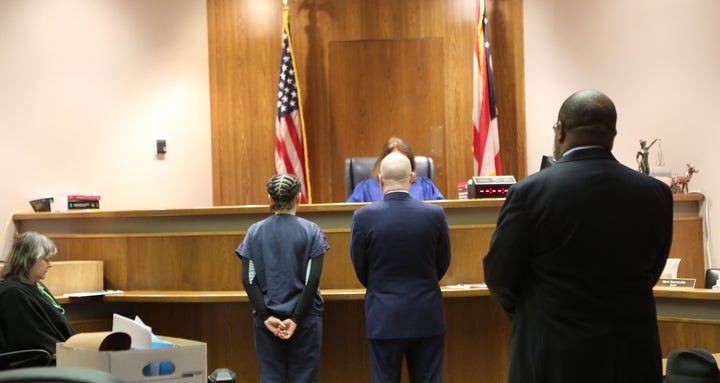 WARREN, Ohio ― For almost six months, Bresha Meadows has been locked up inside a juvenile detention facility, accused of killing her allegedly abusive father. She will soon get to leave jail, although she won't be going home.
On Friday, Trumbull County Juvenile Court Judge Pamela Rintala said Bresha, 15, will be transferred to an adolescent treatment facility for a mental health evaluation. Bresha's lawyer, Ian Friedman, said that the transfer would happen "very soon," and that he was pleased with the decision.
"I think this will be good for her, and instrumental in bringing this case to a conclusion," he said.
A trial date was set for May 22, where Bresha will face a charge of aggravated murder. She has pleaded "not true," which is equivalent to a not-guilty plea.
The courtroom was packed with Bresha's supporters and family members, many wearing bright purple shirts with #StandWithBresha printed on them. Her older sister, Brianna, handed out tissues as they awaited the judge's decision.
While many of her family members said they wanted her home as soon as possible, they expressed optimism that she will be out of jail and able to access mental health care.
"I'm ecstatic because she's going to finally get the help she needs," said her mother, Brandi Meadows. "It's gotta be a better place; she will finally start healing."
Scant details are known about the events immediately preceding the fatal July 28 shooting, when police say Bresha shot her father, 41-year-old Jonathan Meadows, in his sleep. But Bresha's mother has plainly stated what she believes drove her daughter to pick up a gun: She was trying to save the rest of them from his abuse.
"She is my hero," she said in an interview with Fox 8 Cleveland days after her husband's death, describing him as a violent and controlling man who terrorized his family. "I wasn't strong enough to get out and she helped us all."
Jonathan Meadows' family has denied that the killing had anything to do with abuse, and opposed Bresha's release from custody.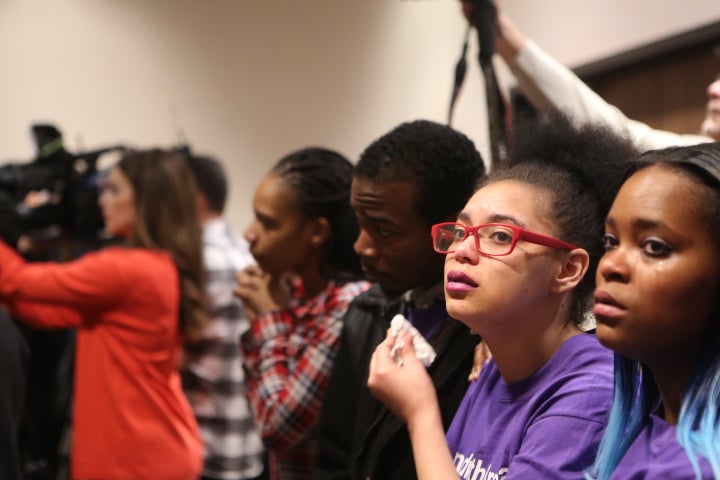 Bresha's case has garnered national attention, with anti-domestic violence and criminal justice reform advocates rallying to her side under the #FreeBresha campaign. They say her case is an example of the justice system punishing black girls and women for protecting themselves from abuse, and have compared her to Marissa Alexander, a Florida woman who was originally sentenced to 20 years in prison for firing a warning shot at her abusive husband.
"Short of this, she should at least be released from all forms of detention while awaiting trial," they wrote. "Bresha is a traumatized child survivor of domestic violence and her trauma has been compounded by her jailing for 175 days and counting."
"It's easy for a person who is incarcerated to feel disconnected from the world and to lose hope," he told The Huffington Post on Wednesday during an interview at his Cleveland law office. "Here, people from around the world have made sure to let her know that she's not forgotten."
In December, prosecutors announced that they would not try her as an adult, removing the threat of a life sentence if convicted. If Bresha is found guilty of aggravated murder in juvenile court, she can only be held until she turns 21. She would also remain in a juvenile facility for the remainder of her sentence.
Friedman maintains his client was acting in self-defense to protect herself and her family.
"A 14-year-old was put into an impossible situation," he said. "She witnessed a lot of hardcore abuse against her mom. That's no way for anyone to grow up, and there was no end in sight."
Brandi Meadows reported her husband's alleged abuse to authorities on at least one occasion, according to court records and police reports obtained by HuffPost.
In July 2011, she told Warren police that her husband was physically abusive, and that he threatened to kill her and their three children. (Bresha also has an older brother, Jonathan Jr.) She described him as being "capable of extreme violence," and said she had been planning on leaving for weeks, but only recently got the courage after her kids' lives were threatened.
Three days later, she filed a domestic violence order of protection, writing that she was afraid for her life.
"In the 17 years of our marriage he has cut me, broke my ribs, fingers, the blood vessels in my hand, my mouth, blackened my eyes. I believe my nose was broken," she wrote. "If he finds us, I am 100 percent sure he will kill me and the children."
The protection order was voluntarily dismissed two months later, and the couple got back together. "He made me drop it,'' she told Cleveland.com.
"These are kids who've endured years of abuse, they've tried to get away, they may have attempted or thought about suicide, and they've enlisted the help of others, often to no avail," she said. "They get to a point where they are either terrified and they react accordingly to protect themselves or others, or they get so desperate because they think there is no other way to end the abuse."
Martina Latessa, Bresha's aunt and a Cleveland police officer, said Bresha ran away from home twice in the months before the shooting. She was scared that her dad would kill the whole family, Latessa said, and begged her for help.
"The nightmare she was born into had a profound impact on her, to the point where she was suicidal," she told HuffPost in an earlier interview. "Every single wall had to be collapsing in on her at that moment for her to do what she did."
Bresha's next pretrial hearing is scheduled for April 17.
Popular in the Community