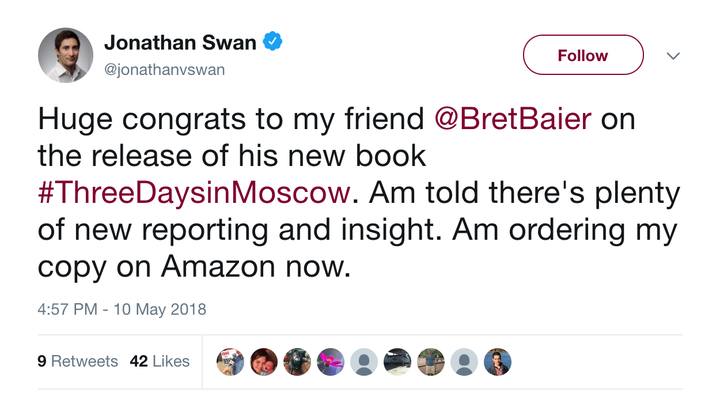 Last Thursday, an assistant to Fox News anchor Bret Baier spammed a number of media figures and Fox News employees with the following email. Its subject was Baier's new book about former President Ronald Reagan.
From: [Redacted]

Date: Thursday, May 10, 2018 at 4:53 PM
To: [Redacted]
Subject: Tweet Request for Bret Baier's new book

Good afternoon—

Bret Baier's new book is set to be released on Tuesday, May 15. Three Days in Moscow: Ronald Reagan and the Fall of the Soviet Union, reveals as never before President Ronald Reagan's battle to end the Cold War, framed around the historic, three-day 1988 Moscow Summit. You can find more information here: https://www.bretbaier.com/books/three-days-in-moscow/ [bretbaier.com]

We are asking for your help in spreading the word about the book via Twitter. If you feel inclined, we would be so grateful if you would consider sending out a tweet to your followers encouraging them to check out the book website and sharing your thoughts. We would love to get the word out Monday and Tuesday (May 14 and 15) especially, but anytime you can send one in the next week would be greatly appreciated!

I have scripted a few sample tweets below, but feel free to write and send your own. I have also attached a few quote cards we had made up if you want to share a photo as well.

TWEET SAMPLE 1:

Congratulations to @FoxNews anchor @BretBaier on his new book #ThreeDaysinMoscow out this week! For more information or to find out where you can meet Bret during his book tour, head over to www.bretbaier.com [bretbaier.com] and click on the 'Books' tab! #bookbuzz #history

TWEET SAMPLE 2:

Looking for a great Father's Day gift? @BretBaier's new book #ThreeDaysinMoscow hits stores this week—pick up a signed copy for dad here: https://bit.ly/2Iwc3Dv [bit.ly] #bookbuzz #history

TWEET SAMPLE 3:

Shout out to my friend and colleague @BretBaier on the release of his new book #ThreeDaysinMoscow. If you love history this book is a must read—a lot of interesting, never before reported nuggets in this one! Pick it up wherever books are sold or online via @amazon, @BNBuzz or @booksamillion #bookbuzz #history #FoxNews

Thank you so much for your help! If you have any questions please feel free to contact me.
It's certainly not unusual for journalists to receive PR emails promoting books. What's different about this one is that Baier's assistant was specifically asking some of the people who go on Baier's show for a favor.
This was an invitation to a logrolling.
The majority of people who seem to have obliged the request for a little #bookbuzz work directly for Fox News in some capacity.
The rest appear to come from people who appear regularly on "Special Report with Bret Baier," like Tom Rogan of the Washington Examiner and the relaunched "McLaughlin Group."
Or like Mollie Hemingway of The Federalist, who was kind enough to use one of the quote cards from the assistant's email in her tweet.
Or even like Axios' Jonathan Swan, who we learned today from BuzzFeed News isn't usually so cheaply bought off. (BuzzFeed reports that Swan makes about $25,000 per speech.)
Extra points to Swan for getting his tweet out just five minutes after the email hit his inbox.
Bret Baier will surely be eager to have Rogan, Hemingway and Swan back on his show soon for their sound independent perspectives. It's nice to do favors for your friends.
Related
Popular in the Community