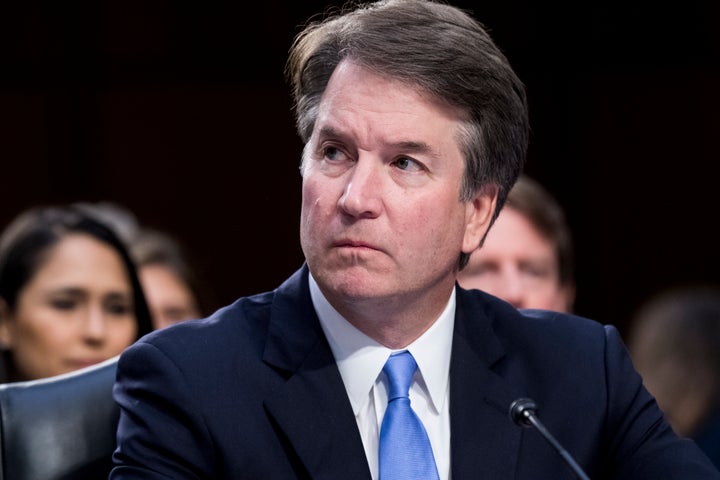 During his confirmation hearing on Wednesday, Kavanaugh called Roe v. Wade, the landmark abortion rights decision, "settled" and an "important precedent of the Supreme Court that has been reaffirmed many times."
Yet in an email written in March 2003, Kavanaugh, then an official in the George W. Bush White House, questioned whether the decision was the "settled law of the land." The email had been deemed confidential by Republicans on the Senate Judiciary Committee but was provided to The New York Times by an anonymous source on Wednesday. 
"I am not sure that all legal scholars refer to Roe as the settled law of the land at the Supreme Court level since Court can always overrule its precedent, and three current Justices on the Court would do so," Kavanaugh wrote 15 years ago.
Republicans had deemed that email, as well as nearly 190,000 other documents from Kavanaugh's time in the Bush White House, "committee confidential," meaning they could only be viewed by members of the Senate Judiciary Committee in private. On Thursday, Democrats released the email, as well as others detailing the nominee's views on racial profiling, despite loud protests from Republicans.
"He's hoping that [his Senate testimony] will fool women across the country into thinking their rights and freedoms are safe," said Sen. Patty Murray (D-Wash.) at a press conference on Thursday. "A ruling, even one as important as Roe, is settled law and precedent only until someone like Judge Kavanaugh and four other ideological justices on the Supreme Court come along to overturn it."
Asked about the 2003 email before the Judiciary Committee on Thursday, Kavanaugh downplayed its significance by saying he was simply "overstating" the opinions of legal scholars about Roe.
Sen. Richard Blumenthal (D-Conn.) expressed skepticism about that explanation, saying he believed Kavanaugh had been offering a personal opinion as to whether Roe could be overturned. 
"He's talking about himself," Blumenthal said at the press conference, referring to the Kavanaugh email's citing of "legal scholars."
The senator added later: "It's like Trump saying, 'People say I'm a great president.' He doesn't mean people are saying it; he means he believes it. It's the same principle." 
Calling all HuffPost superfans!
Sign up for membership to become a founding member and help shape HuffPost's next chapter