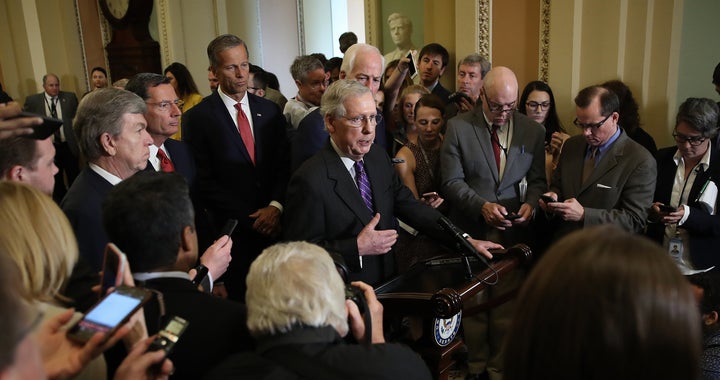 WASHINGTON ― Republican leaders are ready to confirm Brett Kavanaugh to the Supreme Court regardless of what professor Christine Blasey Ford testifies Thursday about her allegation that he sexually assaulted her in high school.
Senate Majority Leader Mitch McConnell (R-Ky.) has called Ford's allegations "unsubstantiated smears" and vowed to "plow right through" on Kavanaugh's nomination. He declared Tuesday, surrounded by his GOP leadership team, that he is "confident we are going to win," though it's not clear whether he has the votes already.
So if most Republicans have already made up their minds, what does it say about how they view the allegation by Blasey? They either believe her claims ― that Kavanaugh drunkenly pinned her down, groped her and covered her mouth so nobody would hear her scream ― and don't think they matter for putting Kavanaugh onto the Supreme Court, or they think she's lying.
HuffPost spent Tuesday asking GOP senators if they think Kavanaugh's accusers, Blasey and Deborah Ramirez, are telling the truth. Most of them avoided the question entirely. (Ramirez has accused Kavanaugh of shoving his penis in front of her face while they were freshmen at Yale University.)
"I think we ought to take everyone seriously," said McConnell, despite already dismissing the women's claims as smears. "We're going to have the hearing on Thursday that should give us enough evidence of a way to evaluate the two people who could be the only people who apparently know anything about this, listen to the evidence, evaluate the evidence and then vote."
Kavanaugh and the California psychology professor, who goes by Christine Blasey professionally, are set to testify before the Senate Judiciary Committee on Thursday, and McConnell is on track to rush through a confirmation vote as soon as early next week.
Sen. Roy Blunt (R-Mo.), a member of the Republican leadership team, thought for a few seconds before answering if he thought Blasey and Ramirez were lying. "I think the fact that nothing is confirmable is interesting," he said.
"I have no way of knowing that yet," said Sen. David Perdue (R-Ga.). Asked if there's any reason to believe Kavanaugh's accusers are lying, Perdue appeared taken aback. "I have no comment on that comment."
It's possible that nobody is lying, said Sen. James Lankford (R-Okla.), since maybe Blasey and Ramirez have misremembered their distant pasts. "The event happened in their life, but whether Kavanaugh was the one who was even physically there or not is a great unknown because we've got a very strong denial from Kavanaugh," Lankford said. "It's 35 years ago with alcohol, and with everything else it's very difficult to be able to say it was definitely this person."
The "somebody else" theory has been tried. Ed Whelan, president of the Ethics and Public Policy Center ― and a close ally of Beltway Republicans ― claimed last week that Blasey may have mixed up Kavanaugh with another student, suggesting a specific classmate of Kavanaugh's. Blasey responded that she remembered both of them and would never have mixed them up; Whelan subsequently said he'd made an "appalling mistake" and took a leave of absence from his job.
Senate Minority Leader Chuck Schumer (D-N.Y.) said McConnell owes an apology to Blasey for the way he's characterized her claims. "It's absolutely galling for leader McConnell, Republican senators and the White House to call Dr. Ford's allegations against Judge Kavanaugh a smear job," he said Tuesday.
Some Republicans, such as Sens. Jon Kyl (Ariz.) and John Barrasso (Wyo.), straight-up ignored HuffPost's question on whether they think Kavanaugh's accusers are telling the truth. Those on the Senate Judiciary Committee, like Sens. Tim Scott (S.C.) and John Kennedy (La.), said they wanted to hear directly from Blasey before deciding if they believed her.
"I haven't met her. Have you met her?" asked Kennedy. "Nobody has met her except The Washington Post."
Others suggested she may be a liar.
"People lie all the time," said Sen. Lindsey Graham (R-S.C.). "People don't report things that happen to them all the time. There are millions of women who were abused that never come forward. There are accusations made against men that are not true."
The bottom line with Kavanaugh, he said, is that it would be "bad and wrong to ruin somebody's life who has led I think a noble life."
Asked about the idea that it was Blasey's life that was ruined by Kavanaugh's alleged assault, Graham framed the Supreme Court confirmation process as a court trial and said it's not fair to "convict" people based on accusations.
"All I can tell you is this accusation by Dr. Ford against Judge Kavanaugh doesn't meet the basic standards of legal reliability," he said. "If this becomes it, just an accusation, and you can't tell the person when it happened and where it happened, God help the rest of the [president's] nominees."
Igor Bobic contributed reporting.
Popular in the Community