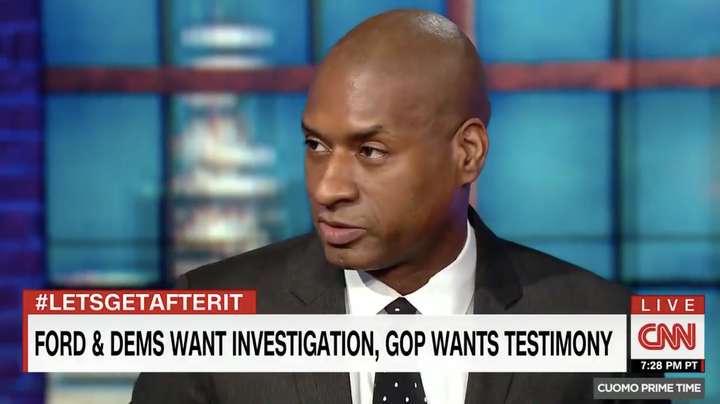 A commentator just made a powerful plea to the Senate Judiciary Committee concerning the sexual assault accusation made by Christine Blasey Ford against Supreme Court nominee Brett Kavanaugh.
"We have to all take a step back and be respectful of Professor Ford. This is not only, if it is true, it is not only a sexual assault ― it's a childhood sexual assault," New York Times columnist Charles Blow said on a Wednesday night segment of CNN's "Cuomo Prime Time." "And if you have never been the victim of a childhood sexual assault, everybody needs to calm down and take a step back. Stop asking why she didn't say anything."
The conversation, which included CNN anchor Chris Cuomo and two other commentators, surrounded the recent accusation of the professor, who goes by Christine Blasey professionally. She publicly accused Kavanaugh on Sunday of sexually assaulting her in 1982 when the two were at a high school party. 
"The first time I told somebody was 17 years later, a stranger. Next time I told somebody was two years after that. Next time I told somebody was eight years after that. It was 37 years before I told everybody in the world in a book," Blow continued, referring to his 2014 book Fire Shut Up in My Bones. 
Blasey had initially resisted going public with her story because she believed speaking up about Kavanaugh could ruin her life and have little effect on his confirmation. After attempting to speak anonymously to lawmakers and, later, media leaking her story, she spoke on the record to The Washington Post in a story published Sunday. 
Although she remembers the specifics of the alleged assault, Blasey has said she has trouble remembering how she got to the house where she says the assault happened and the exact time frame. Blow said the things Blasey remembers and doesn't remember are understandable. 
"I understand how if this happened to her and she can remember everything in that room and not the day," he said.
If you have never been the victim of a childhood sexual assault, everybody needs to calm down and take a step back.

Charles Blow
"For us, it is a living thing that lives in our bodies. You wrestle with it all the time. I can't say that I thought about [my assault] every day but I thought about it all the time. It was a living memory," he continued. "It didn't move like other memories in my brain where it starts to fade. You're thinking about it all the time, so all of that minutiae — he stood there, they turned the music on — all of that is alive in you."
Blow called for a trauma-informed investigation and backed up Blasey's request for an FBI investigation into her claim.
"Is this her first time ever going to be in a room with this man if in fact he did what [she said] he did?" he asked. "I just find that all of our discussions around this are all about politics and all about whether or not people are making the moves ― and none of it is about whether or not, in fact, this was a childhood sexual abuse."
Kavanaugh has agreed to testify in front of the Senate Judiciary Committee on Monday, but Blasey has yet to commit to testify. Kavanaugh's hearings before the committee concluded last week, but its vote was postponed to schedule a hearing on Blasey's accusation. 
Calling all HuffPost superfans!
Sign up for membership to become a founding member and help shape HuffPost's next chapter