WASHINGTON ― Democrats succeeded in delaying a vote on Supreme Court nominee Brett Kavanaugh's confirmation last week after Republicans reluctantly agreed to a limited investigation of allegations of sexual assault leveled against the appellate court judge, a move that put his bid to the high court in serious jeopardy.
However, if the weeklong investigation proves inconclusive and fails to reveal more substantive information about incidents that Kavanaugh was allegedly involved in decades ago while he was a student in high school and college, it could give some uncommitted senators who were already facing a tough decision on the nomination an excuse to vote for President Donald Trump's high court pick this week.
"I worry that the FBI report will come back without a definitive conclusion, and that may give cover to some people who want to vote yes," Sen. Chris Murphy (D-Conn.) told HuffPost on Monday. He said senators should also examine if Kavanaugh misled the Senate Judiciary Committee in a hearing last week, as well as whether he has the temperament to serve on the Supreme Court.
Sen. Mike Rounds (R-S.D.) similarly acknowledged Monday that an inconclusive FBI investigation into the allegations could help alleviate pressure on a handful of uncommitted senators, who will "be able to say that they've done the extra due diligence that some people wanted them to do."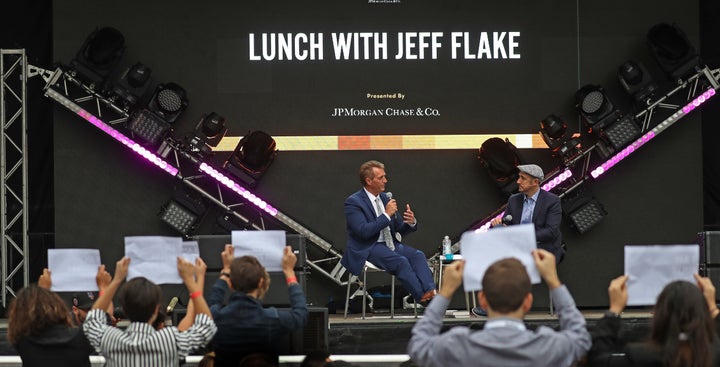 The White House on Monday authorized the FBI to interview any witnesses it deems necessary in its probe of the allegations, reversing course after previously placing restrictions that barred certain witnesses from being interviewed. The move seemed to be the result of pressure from several moderate Republicans, including Jeff Flake of Arizona and Susan Collins of Maine, who initially pushed for a delay to the Kavanaugh confirmation process on Friday after listening to the testimony of Christine Blasey Ford. The Northern California research psychologist claimed Kavanaugh sexually assaulted her when they were teenagers. The judge has denied the allegation.
"It does no good to have an investigation that just gives us more cover, for example. We actually need to find out what we can find out," Flake said at an event in Boston on Monday, adding that the probe the FBI conducts ought to be "fulsome."
The FBI moved quickly to question a number of people, including several of Kavanaugh's friends from high school, on Monday. It's unclear, however, how extensive of an investigation it can accomplish in a week's time. A number of the witnesses Blasey named in her account of the alleged assault said they have no memory of the events she described taking place. Most Republicans, including Flake, have said that they will support Kavanaugh's nomination short of corroborating evidence.
"We have to be serene with the idea that if there's a thorough but expeditious investigation, that that in itself is a good thing," Sen. Brian Schatz (D-Hawaii) cautioned Monday, noting he had spoken to his colleagues about the possibility of the FBI returning an inconclusive report on the nominee. "We can't be cheering for a particular outcome. Part of what we're trying to do is make sure that, win or lose, this process has some semblance of fairness."
"Some of his statements about his yearbook are so deeply questionable I have trouble understanding how he could have made them under oath," Sen. Richard Blumenthal (D-Conn.), who sits on the committee, told reporters on Monday.
Kavanaugh's temperament to serve on the court has also come under question. Last week, he angrily accused Democrats during the hearing of engaging in a "calculated and orchestrated political hit" by bringing up allegations that he said were motivated by animus toward President Donald Trump ― some of the most partisan language a Supreme Court nominee has used in the modern era.
But even Flake, who joined with Democrats in calling for the FBI investigation, said he could understand Kavanaugh's outburst given the seriousness of the accusations.
"Boy, I had to put myself in that spot. You know, I think you give a little leeway there," Flake said Sunday in an interview on CBS' "60 Minutes."
Senate GOP leaders, meanwhile, accused Democrats of prematurely conceding the fight over the allegations against Kavanaugh by bringing up other matters, like the veracity of his statements before the committee.
"If you listen carefully... you can practically hear the sounds of the Democrats moving the goal posts," Senate Majority Leader Mitch McConnell (R-Ky.) said on the Senate floor on Monday, predicting that Democrats won't be satisfied by the FBI investigation if it turns up nothing new.
Popular in the Community