David Brock built his career as a conservative journalist in the early 1990s with a book smearing law professor Anita Hill as "a little bit slutty and a little bit nutty." He switched political sides in 1998 and later apologized to Hill, who had accused Supreme Court nominee Clarence Thomas of sexual harassment, for printing false rumors about her.
Now Brock warns that the Republican Party is moving to deploy a strategy similar to counter the allegation by California research psychologist Christine Blasey Ford that Supreme Court nominee Brett Kavanaugh sexually assaulted her in the 1980s.
They'll Paint Her As Confused And Crazy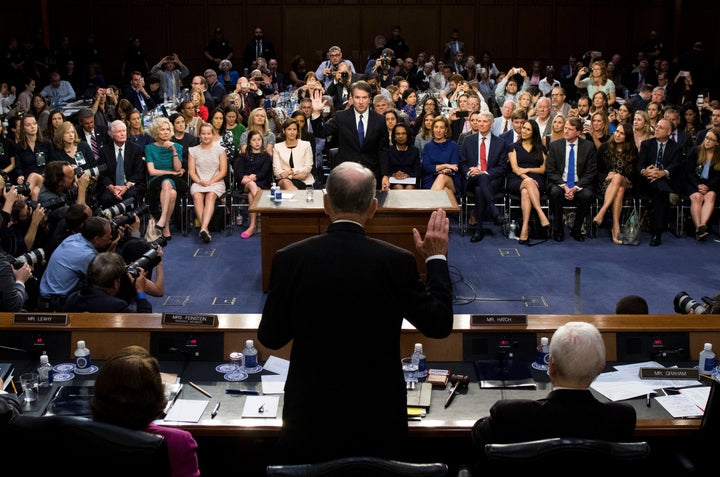 "What they'll cook up is that she's confused," Brock told HuffPost. "She's misremembered. That sort of leads you to the idea that she might be a little crazy. And that certainly was put out there, including by me, about Anita Hill.
Blasey and Kavanaugh are both expected to testify in a hearing before the Senate Judiciary Committee on Thursday. Republicans will likely let the psychologist, who goes by Christine Blasey professionally, tell her side of the story without any aggressive rebuttal, Brock predicts. They will simply argue that they believe her assertion that she was harmed at some point but that she has misremembered the incident and mistaken her assailant's identity.
Several senators have already expressed sympathy for Blasey while leaving open the possibility that she may be mistaken about what transpired 35 years ago. "I don't doubt that she believes what she says," Sen. Chuck Grassley (R-Iowa), chairman of the committee, said Wednesday. "I believe we should attempt to make this as comfortable a process for her as possible," Sen. Susan Collins (R-Maine) said Friday.
Meanwhile, Kavanaugh supporters took up the argument that Blasey is mistaken about who assaulted her. In an editorial titled "The #MeToo Kavanaugh Ambush," The Wall Street Journal editorial board argued that this "old and unprovable" accusation should be ignored, although adding, "This is not to say Christine Blasey Ford isn't sincere in what she remembers." Kavanaugh ally Ed Whelan advanced this argument by positing a theory on Twitter, with Google Maps coordinates and floor plans of homes in Maryland, to argue that Blasey was assaulted by a totally different person ― publicly named by Whelan ― who attended Kavanaugh's high school. Whelan ultimately deleted his thread and apologized for defaming someone based on his amateur internet sleuthing.
They'll Try To Respectfully Undermine Her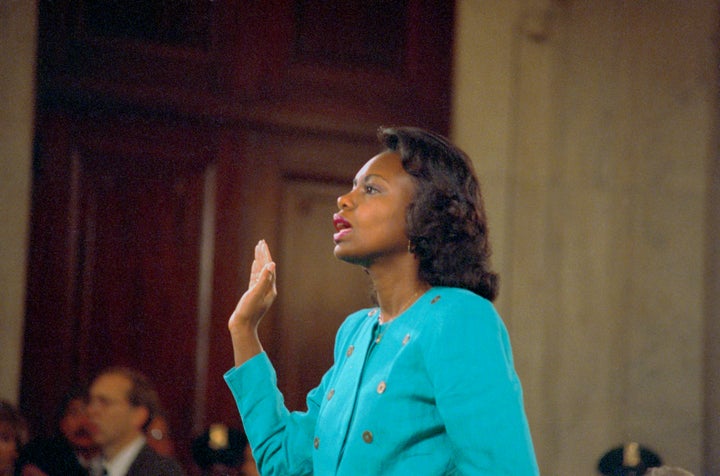 Though the GOP's tactics against Blasey may resemble those against Hill, the tone adopted by Republican lawmakers has significantly changed. Unlike in 1991, Blasey's allegations come amid a national conversation about how men abuse their power, position and privilege to harass, harm and hamper the careers of women. Notable figures from Hollywood, Congress and the press have resigned or been fired, indicted or sentenced as women, and men, have begun to tell long-hidden stories about their treatment at the hands of these powerful perpetrators.
Instead of being "overtly aggressive and prosecutorial to her," Republicans will "adopt a respectful stance" while simultaneously working to "undermine her credibility." The 1991 questioning of Hill, by both Republicans and Democrats, was considered, even then, over the top. Sen. Arlen Specter, a Pennsylvania Republican in 1991, reportedly voiced regret over the way he went after Hill's credibility before he died of cancer in 2012.
Committee Republicans have also decided that they will not be asking Blasey questions on Thursday. They will instead defer to an as-yet-unnamed female lawyer who is being brought on to question Blasey in place of the all-white male cast of Republicans on the committee. Hill, an African-American woman, faced an all-white and all-male committee, Republicans and Democrats, in 1991.
Democrats In A Better Spot Than In 1991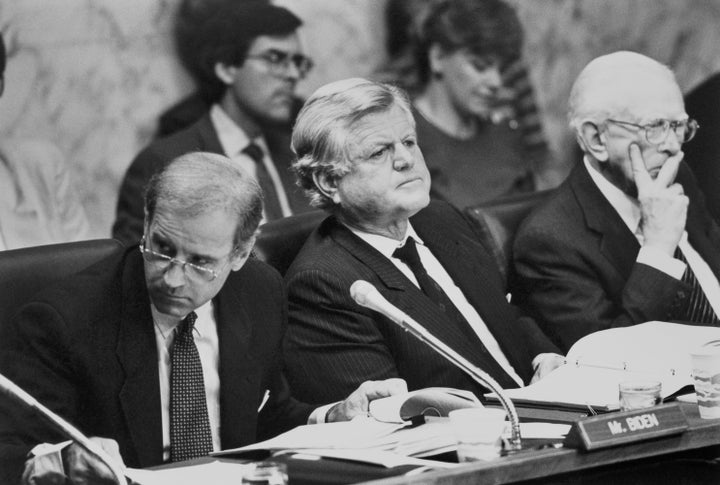 Democrats will handle this hearing differently from how they handled the Hill-Thomas hearings, Brock believes.
Thomas called that hearing a "high-tech lynching for uppity blacks who in any way deign to think for themselves" in his testimony. This statement effectively "muted the Democrats," according to Brock. Public opinion polls found Americans believed Thomas more after his testimony by a two-to-one margin with little difference between white and African-American and male and female respondents. African-American respondents were more likely to agree with Thomas' assertion that he was treated differently because of his race.
Kavanaugh is not African-American. He would be the court's fifth white male, sixth Catholic and ninth graduate of either Yale or Harvard law schools. He comes from a privileged background in suburban Maryland, where he attended an all-boys private prep school. Any assertion of victimization would fall on deaf ears to Democrats in Kavanaugh's case.
The committee's demographics present another change that will affect how Democrats respond to allegations of sexual misconduct. In 1991, during Thomas' hearings, there was not even a women's restroom in the Senate, let alone a woman on the judiciary committee. Today there are four Democratic women on the judiciary committee, a record high.
There are also no Democrats on the committee with histories of mistreating women. During the Thomas-Hill hearings, Sen. Ted Kennedy (D-Mass.), the main congressional opponent to Judge Robert Bork's 1987 Supreme Court nomination and a well-publicized womanizer, was notably withdrawn when questioning both Thomas and Hill.
"You've got a new crop of Democrats on that committee, and I think they'll be more aggressive than the Democrats who were pretty sheepish during the Clarence Thomas hearing," Brock says.
The GOP Strategy May Land Kavanaugh In Trouble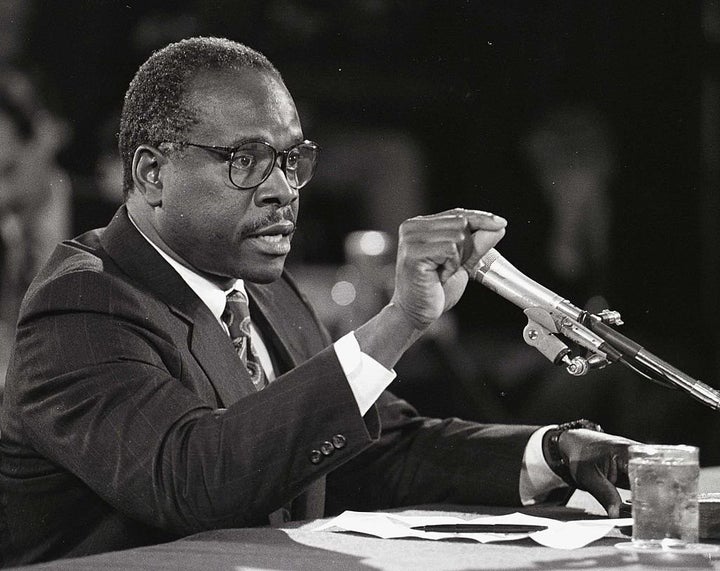 Though it may seem effective, the GOP strategy to declare Blasey to be confused and Kavanaugh to be innocent may create a dangerous problem for themselves ― and their nominee ― in the future.
"What they're really doing is hatching a plot for Kavanaugh to commit perjury," Brock argues.
If more information emerges later or if Kavanaugh repeats his Fox News attempt to paint himself as a choir boy, which numerous people who knew him in college and high school have already rebutted, the decision to have him testify without any prior investigation by the FBI or another outside observer could cause him to perjure himself.
Brock believes this is exactly what Thomas did in his testimony.
"We've been living with somebody who almost certainly committed perjury on the Supreme Court for like 25 years now," he says. "And I don't think we can afford another one."
Popular in the Community