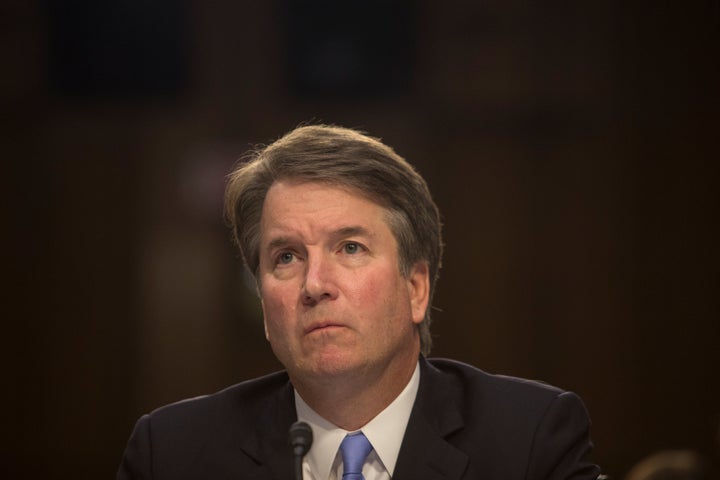 If you're following the allegations against Brett Kavanaugh, President Donald Trump's Supreme Court nominee, you could, for a moment, lose track of who the victim is.
To recap, Kavanaugh is the federal appeals court judge who is accused of drunkenly sexually assaulting a 15-year-old girl when he was 17, allegedly pinning her down on a bed with his body weight, groping her, attempting to rip off her clothes and stifling her screams with his hand to the point where she says she couldn't breathe.
Christine Blasey Ford is the psychology professor at Palo Alto University who reluctantly came forward to share what she said was a violent, terrifying attack that altered the trajectory of her life ― knowing that speaking out would expose her to a barrage of harassment.
"I thought he might inadvertently kill me," Ford said of the alleged assault.
They will both publicly testify on Monday. Kavanaugh flatly denies the allegations.
Listening to Kavanaugh's defenders, one gets the impression it is his life that is being annihilated. He is in danger of being "brought down" by accusations, according to a lawyer close to the White House. Democrats want to "destroy the life of a distinguished public servant for the sake of appeasing their base," the conservative Judicial Crisis Network said. He was just a teenager, Minnesota state Sen. Scott Newman (R) wrote on Twitter. Even if Ford's allegations are credible, he should be judged by his character now, said Sen. Orrin Hatch (R-Utah). He is a "really good man," Hatch added.
Yes, we have arrived at the stage where people are hyperbolically lamenting the apparent destruction of a powerful man's life, while ignoring the potential consequences of the alleged assault on the victim herself. To be clear, Kavanaugh is not facing criminal charges or prison time. No one is saying he should disappear from public life. At most, some are wondering if a person who may have tried to rape a young girl should not get the privilege of a lifetime appointment to one of the country's most powerful institutions. He is not entitled to a Supreme Court seat; this is, in essence, a job interview.
But you know what can be completely life-changing? Experiencing sexual assault as a teen.
"The research is very clear," said David Finkelhor, director of the Crimes against Children Research Center at the University of New Hampshire. "It is one of the most predictive variables in looking at later life adversities ― things like alcohol and drug abuse, subsequent victimization, domestic violence, depression, anxiety disorders."
I think it derailed me substantially for four or five years.

Christine Blasey Ford on the alleged sexual assault
Besides associating sex with fear during a formative phase of one's life, one of the most insidious ways sexual violence affects teen victims is by making them feel powerless, Finkelhor said.
"Adolescence is an important period in formulating your view about how and whether to plan for a future, based on a sense of how able you will be to control what happens," he said. "When bad and unexpected things blindside you, it can disrupt your sense of your ability to control, and create pessimism and apathy."
In other words, victims can lose faith in their ability to create a positive future for themselves. If terrible things are going to happen anyway, why bother?
By Ford's account, her life was dramatically altered by the alleged assault. She told The Washington Post that she struggled academically and socially afterward. She experienced post-traumatic stress disorder and anxiety. And it interfered with her relationships with men.
"I think it derailed me substantially for four or five years," Ford said.
Ford has come forward, with full knowledge that she is likely to experience threats, smears, the usual gamut done to women who speak out against men in power. Kavanaugh might ― maybe ― just lose a job.
So, wait, who is the victim here?
Calling all HuffPost superfans!
Sign up for membership to become a founding member and help shape HuffPost's next chapter
BEFORE YOU GO