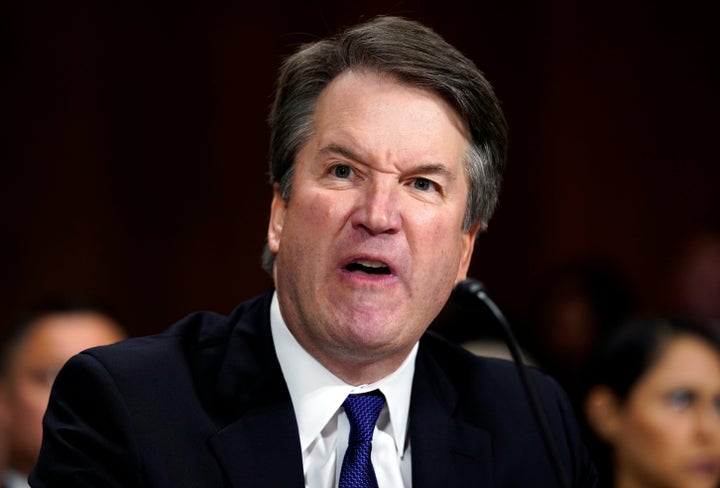 WASHINGTON ― Two former law school classmates of Brett Kavanaugh's who previously vouched for him wrote to the Senate Judiciary Committee on Tuesday to say they are withdrawing their support for him because of "the nature" of his recent testimony.
"Under the current circumstances, we fear that partisanship has injected itself into Judge Kavanaugh's candidacy," Michael J. Proctor and Mark Osler say in a letter to Sens. Chuck Grassley (R-Iowa) and Dianne Feinstein (D-Calif.), the committee's chairman and ranking member, respectively. "That, and the lack of judicial temperament displayed on September 27 hearing, cause us to withdraw our support."
Proctor and Osler were among 23 classmates of Kavanaugh's at Yale Law School who signed a letter in August pledging their support for his confirmation. At the time, they cited his "exemplary judicial temperament" as a reason for their support. But after watching Kavanaugh's explosive behavior in his confirmation hearing as he addressed the sexual assault allegation against him by Christine Blasey Ford, the two former classmates say they can't stand by him in his Supreme Court bid.
"The reason for our withdrawal is not the truth or falsity of Dr. Ford's allegations, which are still being investigated, but rather was the nature of Judge Kavanaugh's testimony," they write. "In our view that testimony was partisan, and not judicious, and inconsistent with what we expect from a Justice of the Supreme Court, particularly when dealing with a co-equal branch of government."
Here's a copy of their letter:
Meanwhile, three of Kavanaugh's former clerks who had written a letter supporting him told the Senate Judiciary Committee on Monday that they want to clarify that they are "deeply troubled" by the sexual assault allegations against him.
"We write to clarify that, like many Americans, we have been deeply troubled by those allegations and the events surrounding them and were encouraged by the initiation of a formal FBI investigation, which we believe is warranted," reads a letter signed by Will Dreher, Bridget Fahey and Rakim Brooks. "We hope, for the good of everyone involved, that this investigation will be independent and thorough."
Here's a copy of their letter:
The FBI is investigating Blasey's allegations that a drunken, high-school-age Kavanaugh pinned her on a bed at a party, groped her and covered her mouth when she tried to scream. He has denied her allegation, along with allegations of sexual misconduct by him from two other women. Republicans gave the FBI one week to look into these claims.
Senate Majority Leader Mitch McConnell (R-Ky.), who is eager to put Kavanaugh on the court, regardless of the allegations against him, said Tuesday that he's aiming to hold Kavanaugh's confirmation vote this week.
CORRECTION: A previous version of this story misstated part of the allegation from Christine Blasey Ford. Her testimony indicated she couldn't see who pushed her into the room in which she says Brett Kavanaugh assaulted her.
Popular in the Community