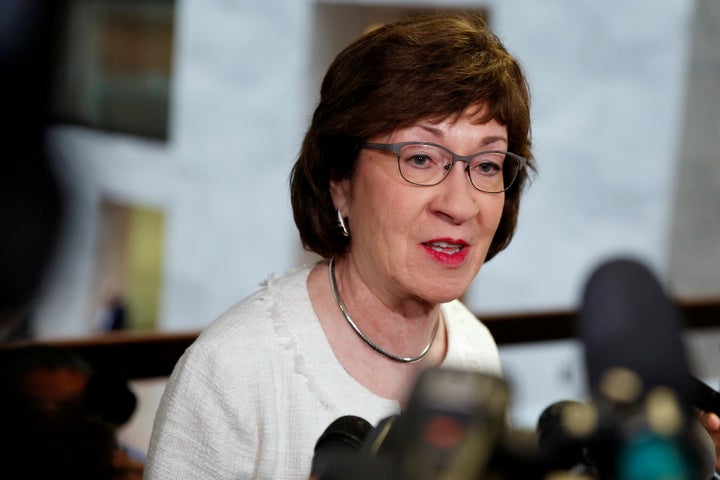 WASHINGTON ― Sen. Susan Collins (R-Maine), a moderate GOP senator who remains undecided on Judge Brett Kavanaugh's Supreme Court nomination, said Tuesday she doesn't need to see more documents relating to his time in the White House under former President George W. Bush.
Senate Judiciary Committee Chairman Chuck Grassley (R-Iowa) had earlier dismissed demands from Democrats for records relating to Kavanaugh's job as White House staff secretary. He called that request a "fishing expedition" and a stalling tactic that is meant to derail the nomination. Over the weekend, Grassley announced he would only retrieve documents from the National Archives that pertain to the Supreme Court nominee's tenure in the White House Counsel's Office under President Bush.
Collins told reporters on Tuesday that she sided with Grassley amid the escalating fight over the judge's documents.
"I don't see a need for those. The document request that Senator Grassley has made is very comprehensive," Collins told HuffPost.
Kavanaugh served as White House staff secretary from June 2003 until May 2006, a position in which he acted as a gatekeeper of all information that reaches the president's desk. He also likely had substantial influence over internal White House deliberations and the policymaking process. The conservative jurist may have, for example, authored or edited documents relating to the Bush administration's enhanced interrogation and warrantless wiretapping programs ― memos that could be highly relevant to his nomination to the Supreme Court.
"You have to wonder: what are the Republicans hiding about Judge Kavanaugh's record?" Senate Minority Leader Chuck Schumer (D-N.Y.) asked on the Senate floor Tuesday, noting that Republicans made a similar request the about Justice Elena Kagan's time in the White House under former President Barack Obama.
Republicans dismissed the comparison to Kagan's nomination, however, arguing that her White House records were necessary because she had no written judicial trial record. Kavanaugh, they noted, has written over 300 legal opinions during his 12 years as an appellate judge on the U.S. Court of Appeals for the District of Columbia Circuit ― enough for senators to get a sense of how he would rule on the Supreme Court. 
"For anybody to suggest that Senator Grassley is not making an extraordinary amount of information available about this judge, I don't think that they're looking at the facts," Sen. Lisa Murkowski (R-Alaska) told reporters on Tuesday.
Democrats are also watching the Alaska Republican, another moderate GOP senator, in the debate over Kavanaugh's nomination. Murkowski says that she has been "impressed" by the number and scope of documents and emails that have been produced about Kavanaugh's record ― which are said to number over one million.
"I know that Democrats basically said, anything he has ever touched ... needs to be produced. I think there comes a point where the request is no longer reasonable," Murkowski said.
Calling all HuffPost superfans!
Sign up for membership to become a founding member and help shape HuffPost's next chapter