Republicans on the Senate Judiciary Committee said Thursday that they'll move forward with the confirmation process for Brett Kavanaugh, President Donald Trump's pick to the Supreme Court, even if they will not have time to review documents pertaining to his work in the George W. Bush administration.
Republicans asked the National Archives and Records Administration last week if it could release thousands of documents relating to Kavanaugh's time in the White House Counsel's Office for Bush by Aug. 15. That would give Senate Judiciary Committee members enough time to review the documents ahead of a likely hearing in September and allow for a final confirmation vote by the start of the new Supreme Court term on Oct. 1.
The National Archives indicated that the timeline was not realistic.
The agency, which is tasked with preserving and documenting government records, said Thursday in a letter that it would not be able to comply fully with the request from Senate Judiciary Committee Chairman Chuck Grassley (R-Iowa) until the "end of October." It cited the sheer number of documents and emails relating to the D.C. Circuit Court judge's work in the Counsel's Office, which "could be more than 900,000 pages." Grassley did not request any additional documents pertaining to Kavanaugh's time as Bush's staff secretary.
"We estimate that we can complete our review of the textual records and the subset of White House Counsel Office emails 'from' Kavanaugh (approximately 49,000 emails)-totaling roughly 300,000 pages - by approximately August 20, 2018, and currently expect to be able to complete the remaining 600,000 pages by the end of October 2018," National Archives general counsel Gary Stern wrote in the letter addressed to Grassley.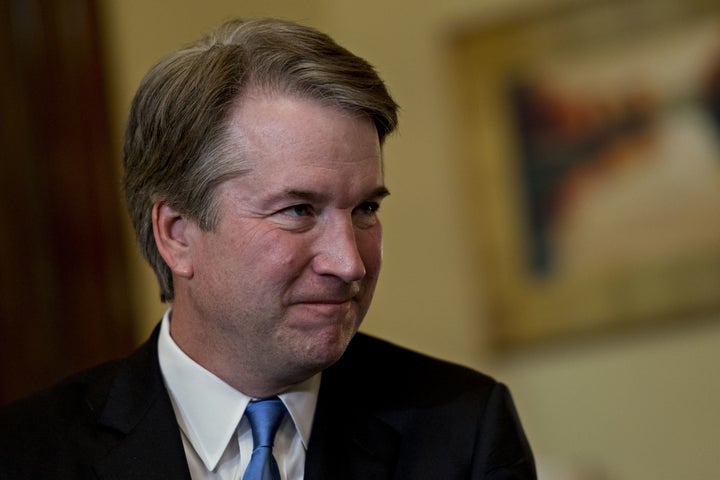 A Republican Judiciary Committee aide said the letter would not alter the timeline Grassley has set forth, however, and that he still expected to hold a confirmation hearing "sometime in September." The aide noted that a separate document review being conducted by a group of Bush lawyers had already given 125,000 documents relating to Kavanaugh's record to the committee on Thursday.
Democrats slammed the decision to press forward with a review of documents they say had been "pre-screened by a political operative and attorney for George W. Bush."
"This unprecedented process appears to be designed intentionally by Republicans to deny the Senate and the American people the information they need to evaluate this critically important nomination," Senate Minority Leader Chuck Schumer (D-N.Y.) said in a statement on Thursday.
A delay in the confirmation process would give Democrats more time to hammer Kavanaugh, a conservative jurist they fear could swing the high court to the right for decades and imperil landmark cases like Roe v. Wade. Kavanaugh already has the lowest initial net support for confirmation compared with other recent Supreme Court nominees, according to several public opinion polls.
Senate Majority Leader Mitch McConnell (R-Ky.) foreshadowed the escalating document fight over Kavanaugh's record in June, after Justice Anthony Kennedy announced his retirement. "Mr. McConnell made clear in multiple phone calls with Mr. Trump and the White House counsel, Donald F. McGahn II, that the lengthy paper trail of another top contender, Judge Brett M. Kavanaugh, would pose difficulties for his confirmation," The New York Times reported.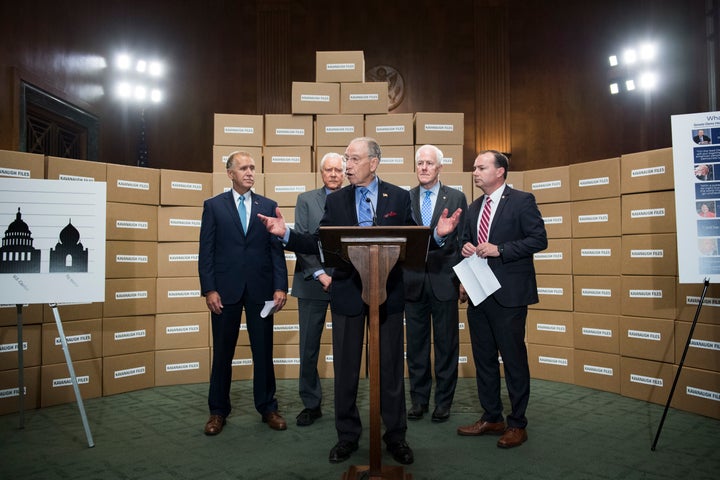 Democrats also want the National Archives to release documents relating to Kavanaugh's job as White House staff secretary, a position in which he acted as a gatekeeper for all information that reached Bush's desk. They are particularly interested in whether Kavanaugh authored or edited documents relating to the Bush administration's controversial enhanced interrogation and warrantless wiretapping programs.
Republicans have been hesitant to request those records, however, and have accused Democrats of engaging in stalling tactics. They said Grassley's initial request was sufficient and that senators would have hundreds of thousands of records to review on the nomination even without the staff secretary documents.
"I'm tired of partisanship and frankly, we didn't treat their candidates for these positions the way they're treating ours," Sen. Orrin Hatch (R-Utah) said at a Capitol Hill press conference on Thursday. He further complained about what he called "dumbass" partisanship over Kavanaugh's nomination.
Standing in front of rows of empty boxes labeled "Kavanaugh files," Hatch and other GOP members of the Senate Judiciary Committee argued that their request to the National Archives would give the Senate more than enough material to adequately evaluate the judge's record in what Grassley called a "fair and thorough process."
This article has been updated with comment from the Judiciary Committee.
Popular in the Community