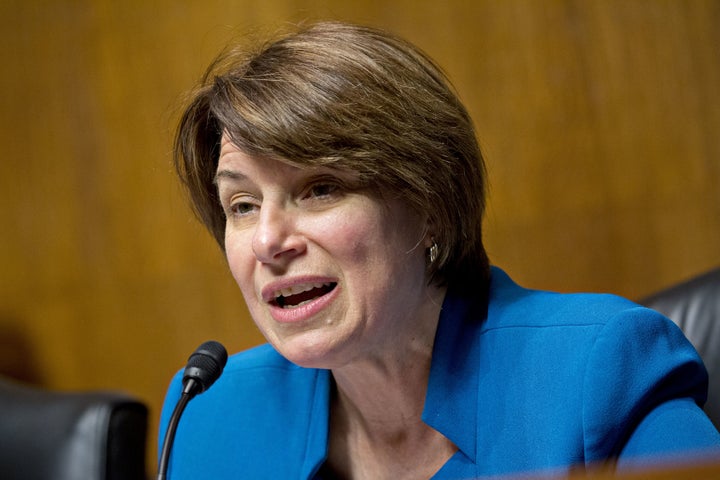 Sen. Amy Klobuchar (D-Minn.) criticized Republicans on Sunday for the unprecedented way they are conducting the confirmation process for Brett Kavanaugh, President Donald Trump's nominee to the Supreme Court.
Klobuchar complained about decisions that have blocked access to or shielded use of documents concerning the several years Kavanaugh spent as a White House aide in President George W. Bush's administration.
Klobuchar, a member of Senate Judiciary Committee that begins Kavanaugh's confirmation hearings on Tuesday, expressed frustration over the Trump White House's Friday night announcement that it is withholding more than 100,000 pages of Kavanaugh's records from his time working for Bush. The Trump administration cited presidential privilege as the basis for its decision.
"It's not normal because we are not able to see 100,000 documents because the administration has said we can't see them, exerting their executive power," Klobuchar said on NBC's "Meet the Press."
She aired similar concerns about "148,000 documents that I've seen that you cannot see because they will not allow us to make them public so I can't even tell you about them right now on this show," referring to additional material that only members of the Senate Judiciary Committee are being allowed to view.
Klobuchar argued that the documents stemming from Kavanaugh's time in the Bush White House could "strongly bolster the arguments that I could make" on whether the appellate court judge is qualified to serve on the Supreme Court.
"I think that you could ask some very interesting questions about these documents that I'm unable to even say," she said.
In Kavanaugh's case, Republicans are circumventing the normal vetting process for Supreme Court nominees by in order to have him confirmed by Oct. 1, the start of the court's new term. Rather than wait on the National Archives to produce the millions of documents relating to Kavanaugh's record, Republicans have relied on a group of lawyers for Bush to review documents ― a parallel and partisan effort that a National Archives official has described as "something that has never happened before."
Democrats want to know whether Kavanaugh, as a former staff secretary to Bush, authored or edited any documents concerning that administration's torture and warrantless wiretapping programs. Republicans have dismissed demands for more documents as a fishing expedition and a stalling tactic.
Senate Minority Leader Chuck Schumer (D-N.Y.) blasted the Trump administration's decision to withhold some of Kavanaugh's records, referring to it as a "Friday night document massacre."
Trump's decision "to step in at the last moment and hide 100,000 pages of Judge Kavanaugh's records from the American public is not only unprecedented in the history of Supreme Court nominations, it has all the makings of a cover-up," Schumer said in a statement on Saturday.
He said Senate Republicans and Trump "are colluding to keep... Kavanaugh's records secret, and trying to hide their actions from the American people by doing it on the Friday night of a holiday weekend. What are they trying so desperately to hide?"
REAL LIFE. REAL NEWS. REAL VOICES.
Help us tell more of the stories that matter from voices that too often remain unheard.