WASHINGTON ― Senate Democrats said they filed a series of Freedom of Information Act (FOIA) requests seeking documents tied to Supreme Court nominee Brett Kavanaugh's work as staff secretary for George W. Bush, calling the effort "unprecedented" and a "last resort."
Republicans have dismissed demands for thousands of the documents, which correspond to Kavanaugh's time in the Bush White House, as a "fishing expedition" and a stalling tactic. They maintain that documents from Kavanaugh's later work in the White House Counsel's Office for Bush, as well as his lengthy trial record as a D.C. appellate court judge, will allow senators to sufficiently evaluate the Trump nominee's suitability for the high court.
"The number of pages would range in the millions, an unprecedented document dump that would take well into next year to review," Senate Judiciary Committee Chairman Chuck Grassley (R-Iowa) wrote in The Wall Street Journal this week. "And that's exactly what Democratic leaders want and have wanted all along."
As White House staff secretary from 2003-2006, Kavanaugh acted in a powerful position as a gatekeeper for all information that reached Bush's desk. Democrats are particularly interested in whether he authored or edited any documents relating to the Bush administration's controversial enhanced interrogation and warrantless wiretapping programs.
The voluminous record request, however, would almost certainly delay Kavanaugh's confirmation till the end of the year ― past the Oct. 1 goal set by Senate Republicans.
Sen. Richard Blumenthal (D-Conn.), who sits on the Senate Judiciary Committee, said Wednesday that he and other Democratic members of the committee had petitioned the National Archives and Records Administration, the Department of the Justice, Department of Homeland Security and the Central Intelligence Agency via an expedited FOIA request to produce documents relating to Kavanaugh's documents as staff secretary.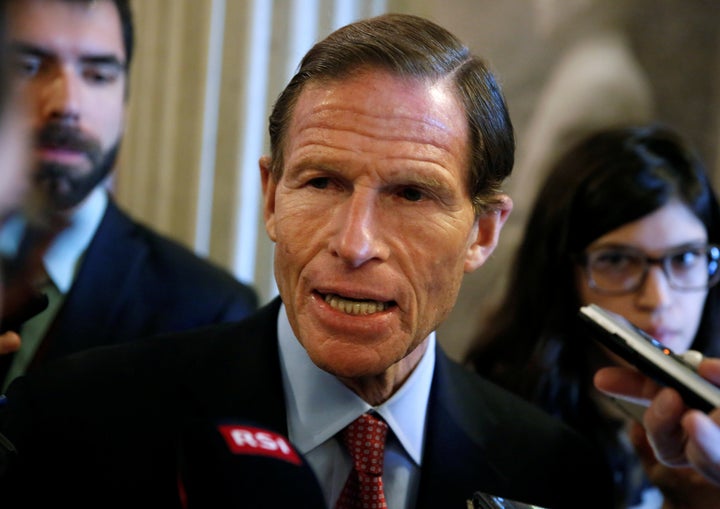 "This extraordinary step is really a last resort ― unprecedented and unfortunate ― but necessary to fully review Judge Kavanaugh's nomination," Blumenthal said on a call with reporters. "I regret that Chairman Grassley has left us no other choice."
Blumenthal added that Democrats may take legal action if the government does not respond to the expedited FOIA request within 20 days as required by law. Such a lawsuit, however, may take even longer to wind its way through the courts.
Last week, the National Archives, which is tasked with preserving and documenting government records, said that it would not be able to comply fully with Grassley's document request ― which did not include the staff secretary records ― until the "end of October." But Republicans said they would press forward with the confirmation process anyway, relying on a separate document review being conducted by a group of Bush lawyers. Grassley said he still expected to hold a confirmation hearing "sometime in September."
Democrats are also angry that their separate request for Kavanaugh's staff secretary documents has been denied by the National Archives. The agency's general counsel said that, under the Presidential Records Act and a separate Office of Legal Counsel memo, it may only respond to document requests made by chairmen of congressional committees. Sen. Dianne Feinstein (D-Calif.), the senior Democrat on the Senate Judiciary Committee, complained in a letter to the National Archives this week about its "overly restrictive reading" of the law governing presidential records.
Asked Wednesday by a reporter if Democrats planned to take legal action to challenge the National Archives' interpretation of the law, Blumenthal demurred.
"If necessary, we need to avail ourselves of every tool under the Constitution to seek these documents," he said.
Popular in the Community