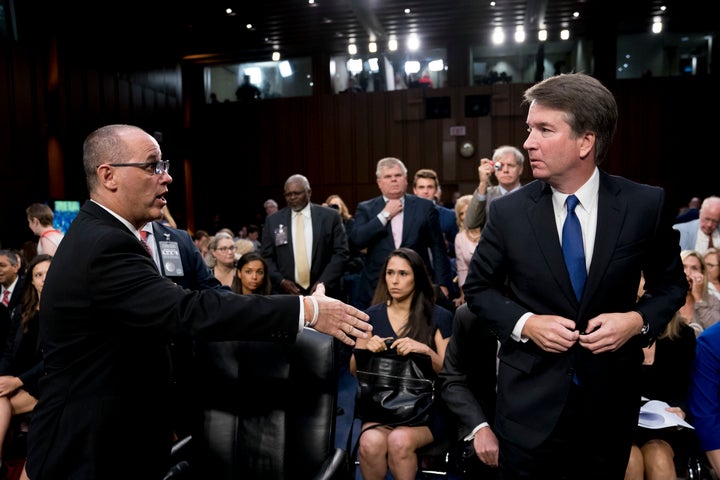 Judge Brett Kavanaugh, President Donald Trump's latest nominee to the Supreme Court, on Tuesday declined to shake hands with Fred Guttenberg, whose daughter died in a mass school shooting in Parkland, Florida, earlier this year.
A fiery confirmation hearing took place for Kavanaugh on Tuesday, marked by periodic interruptions from protestors. Democratic lawmakers called for the hearing to be delayed, pointing out that senators had received 42,000 pages of documents from the judge's time working with President George W. Bush just hours before.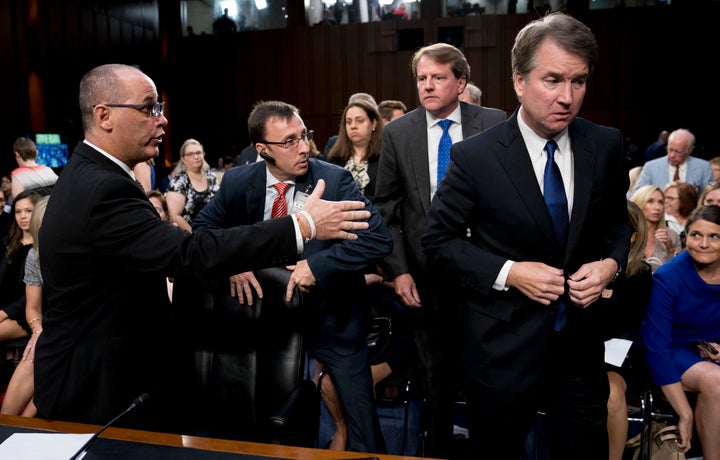 Guttenberg's daughter Jaime was 14 when she was killed by a gunman who opened fire at Marjory Stoneman Douglas High School in February. Seventeen people were killed in the shooting, and more than a dozen others were injured. Since Jaime's death, Guttenberg has been a vocal proponent of gun control.
As Tuesday's morning session ended, Guttenberg said he approached Kavanaugh for a handshake.
"Put out my hand to introduce myself as Jaime Guttenberg's dad," he wrote on Twitter. "He pulled his hand back, turned his back to me and walked away. I guess he did not want to deal with the reality of gun violence."
Photos and video of the incident show Kavanaugh looking at Guttenberg, who has his hand outstretched. Kavanaugh then turns his back on him.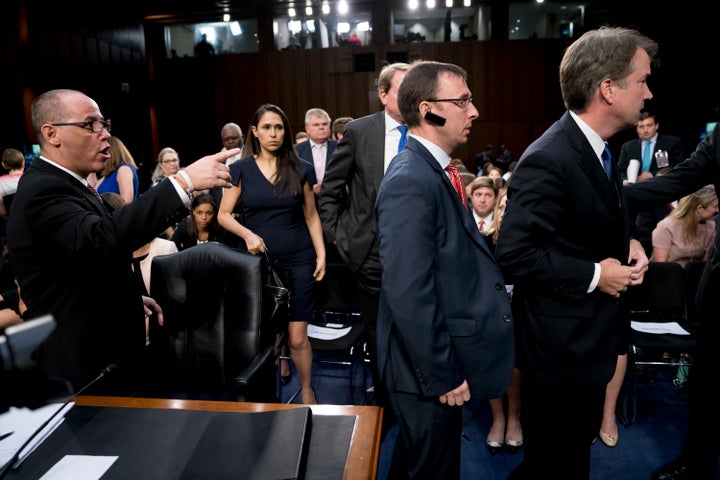 Sen. Dianne Feinstein (D-Calif.), who invited Guttenberg to the hearing, later responded in her own tweet to thank Guttenberg for honoring Jaime.
"He knows firsthand how Brett Kavanaugh's extreme views on guns could lead to more massacres," Feinstein wrote. "Thank you Fred, for honoring your daughter."
In a tweet, White House deputy press secretary Raj Shah described the encounter this way: "As Judge Kavanaugh left for his lunch break, an unidentified individual approached him. Before the Judge was able to shake his hand, security had intervened."
But Guttenberg said that was "incorrect."
Guttenberg told CNN on Tuesday night that he was at the hearing all day and was speaking to someone near Kavanaugh before approaching the Supreme Court nominee. The father of the Parkland victim said he was introducing himself but Kavanaugh turned to walk away as soon as he said his daughter was "murdered in Parkland."
"He also went to security afterward. What happened after lunch is I got back in the room and sat down and security came back a couple of minutes later and pulled me out of the room," Guttenberg said on CNN, "and said that they thought, or Judge Kavanaugh thought, that I may have crossed a boundary."
Guttenberg claimed he was certain it was the judge that asked he be escorted out because he described to authorities the bracelets the father wears to commemorate his slain daughter.
This story has been updated with Feinstein's tweet and Fred Guttenberg's interview with CNN.
Doha Madani contributed to this report.
Popular in the Community