Whitehouse asked Kavanaugh about his debts, whether he reported any gambling debts to the Internal Revenue Service and whether he had sought treatment for a gambling problem.
"Have you ever sought treatment for a gambling addiction?" Whitehouse asked in his written inquiry.
Kavanaugh responded, "No."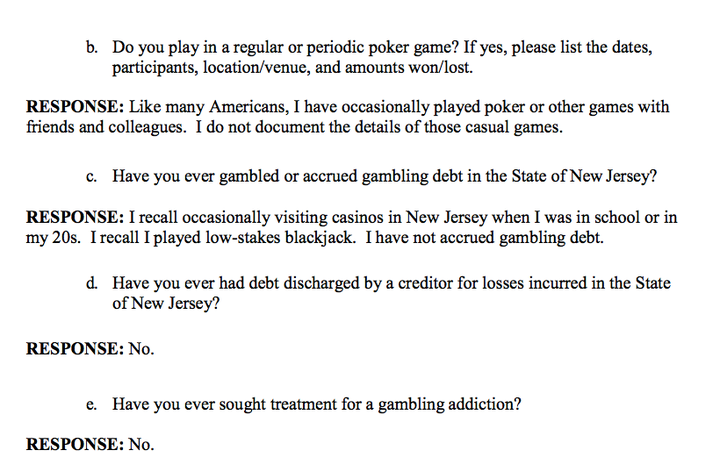 When asked by Whitehouse to detail poker games he's participated in, the Supreme Court nominee stated, "Like many Americans, I have occasionally played poker or other games with friends and colleagues. I do not document the details of those casual games."
Whitehouse inquired whether Kavanaugh had any gambling earnings or debt reported to the IRS. He answered "No." The senator also asked whether he gambled or owed gambling debts to the state of New Jersey.
"I recall occasionally visiting casinos in New Jersey when I was in school or in my 20s," Kavanaugh responded. "I recall I played low-stakes blackjack. I have not accrued gambling debt."
In 2016, Kavanaugh reported credit card and personal loan debts of between $60,000 and $200,000. Kavanaugh explained that the dollar amount of the debt "was not close to the top of the ranges listed on the 13 financial disclosure reports." He added that much of the debt was spent on a series of home improvements and on season tickets to the Washington Nationals baseball team, an expenditure that attracted attention from the media.
When asked to get into specifics on games, including friends who also attended and the amount they paid for a ticket, Kavanaugh did not directly answer. He explained that he and "a group of old friends" would split the tickets. They would divide the tickets at a "ticket draft" at his house. "Everyone in the group paid me for their tickets based on the cost of the tickets, to the dollar," he wrote. "No one overpaid or underpaid me for tickets. No loans were given in either direction."
Whitehouse had also asked why Kavanaugh claimed that he was "exempt" from reporting gifts on his financial disclosures. In his reply, Kavanaugh implied that he and his wife received financial gifts from family members, which are exempt from reporting requirements. "We have not received financial gifts other than from our family which are excluded from disclosure in judicial financial disclosure reports," he wrote.
Read Kavanaugh's 263-page response to the Senate Judiciary Committee here.
Popular in the Community