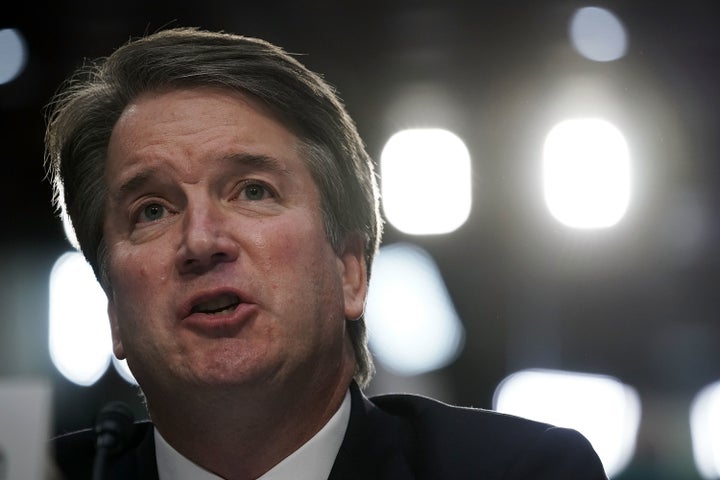 WASHINGTON ― The Senate is rushing to address a sexual assault allegation against a Supreme Court nominee but is not rushing, at all, to finish a bill that would address sexual harassment by members of Congress.
Next Monday, the Senate Judiciary Committee may hear from Christine Blasey Ford, a psychology professor who has accused Judge Brett Kavanaugh of holding her down and attempting to rape her when they were both teenagers. He has denied the allegation and is expected to testify as well.
Meanwhile, Congress still hasn't finalized legislation aimed at harassment committed by its own members and staff, even though the House passed a bill in February and the Senate passed a measure of its own in May. The long-overdue reforms originated as a systemic response to the Me Too movement, which also led to the resignations of several lawmakers earlier this year.
The monthslong delay could mean that Congress fails to come to a deal before the end of the session, forcing them to start over next year ― or perhaps drop the matter completely.
Sen. Roy Blunt (R-Mo.), who helped negotiate the Senate version of the bill alongside Sen. Amy Klobuchar (D-Minn.), said that attempts to resolve differences between the two measures will "probably" have to wait until after the November midterm elections. Blunt, who is the No. 3 Republican in the Senate, also expressed confidence that members of the Judiciary Committee will appropriately handle Monday's hearing with Kavanaugh and his accuser.
"There's never been a senator involved in a settlement," Blunt told HuffPost on Tuesday, when asked whether the Kavanaugh allegation is putting new pressure on lawmakers to finish the sexual harassment legislation. (There have been House members who reached settlements over harassment claims.)
Blunt added that it was important senators have a "continued awareness [that] the behavior does matter and there are long-term consequences for that."
The House and Senate bills both aim to crack down on sexual harassment and abuse in Congress. In a 2016 CQ Roll Call survey, 1 in 6 female staffers said they had been sexually harassed, while 4 in 10 said they believed it was a problem on Capitol Hill. Multiple lawmakers have stepped down over sexual harassment allegations in the last year, including Sen. Al Franken (D-Minn.) and Reps. Blake Farenthold, John Conyers (D-Mich.), Patrick Meehan (R-Pa.) and Trent Franks (R-Ariz.).
The current law allows members of Congress to use taxpayer funds, rather than their own money, to pay settlements to staffers who allege harassment or discrimination. It also has a series of hoops that staffers must jump through before they can go to court over such allegations, including mandatory counseling, arbitration and a 30-day "cooling off" period.
The House and Senate proposed reforms differ in key ways. The Senate bill would not require lawmakers' settlements to be disclosed in all circumstances; the House bill would. The Senate legislation would launch investigations under the Senate ethics committee that might lead to settlements in individual cases, whereas the House bill would create a third-party process. Unlike the House bill, the Senate bill would not require lawmakers to pay for any sexual harassment or discrimination settlements from their own funds in all cases.
House staffers involved in negotiations expressed frustration in July with the fact that some female Democratic senators supported the Senate's weaker bill, arguing that the senators' position weakened House lawmakers' hand and made it harder to keep strong language in a final bill.
Republicans said Tuesday that Ford's attorney had not yet responded to multiple inquiries as to whether she will attend Monday's Judiciary Committee hearing. The lawyer, Debra Katz, said last week that Ford would be willing to testify before the panel, however.
"I don't really see it related to what's going to happen on Monday, but I just feel like workplace standards need to be clear and they're not clear yet here," Sen. Shelley Moore Capito (R-W.Va.), who was involved in drafting the Senate bill, said Tuesday.
Democrats, meanwhile, said that Monday's scheduled hearing with Kavanaugh and his accuser highlighted the need to update Congress' own policies on sexual harassment. But when asked why lawmakers of both houses have struggled to reach agreement on the matter, they suggested approaching members of the opposite party.
"You'll have to ask Republicans. They're the ones in charge," said Sen. Tammy Duckworth (D-Ill.).
Calling all HuffPost superfans!
Sign up for membership to become a founding member and help shape HuffPost's next chapter