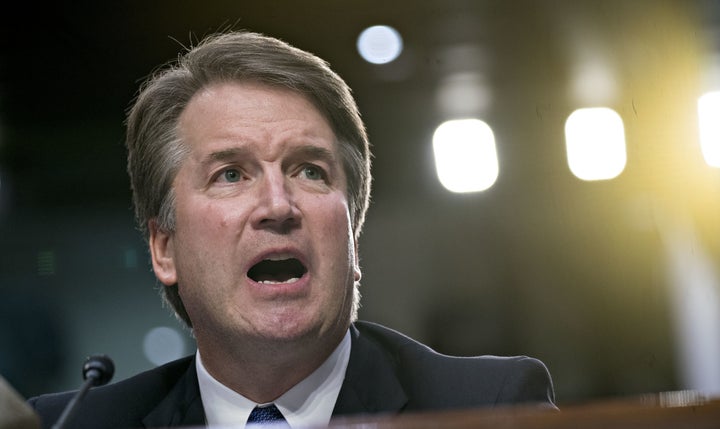 Four Harvard Law students are calling on their school to reconsider whether Brett Kavanaugh is allowed back as an instructor in 2019.
"Unless a full and fair investigation is conducted, Harvard Law School cannot allow Kavanaugh to continue teaching its students and the Senate cannot confirm him to the Supreme Court," write Molly Coleman, Vail Kohnert-Yount, Jake Meiseles and Sejal Singh in a new op-ed in The Harvard Law Record, a student publication.
Kavanaugh has been a lecturer at the law school since 2009, and is scheduled to return in the new year for a course called "The Supreme Court since 2005." Kavanaugh, who is up for consideration for a lifetime appointment to the Supreme Court, is facing sexual misconduct allegations from Christine Blasey Ford.
A number of Kavanaugh's former students signed a letter of support for his confirmation. While many of them still stand by him, at least two have said they no longer do.
Coleman, Kohnert-Young, Meiseles and Singh are part of a group known as the Pipeline Parity Project, which is working to end harassment and discrimination in the legal profession.
Kohnert-Yount told HuffPost that as a woman, she wouldn't be comfortable taking Kavanaugh's class and that by continuing to have him teach at the school, it puts students in a "very uncomfortable position and necessitates that vulnerable people self-select out of a learning opportunity."
Meiseles said Kavanaugh is known as a "feeder judge," meaning getting a position with him or getting him to help can lead to prestigious jobs in the judiciary, often on the Supreme Court. But there would be an "unfair burden on women" who wouldn't feel comfortable being in his class, and they would therefore be losing out on a career opportunity.
Blasey alleges that when they were at a party in high school, Kavanaugh locked her in a room, pinned her to a bed and attempted to remove her clothes ― while covering her mouth with his hand to stop her from screaming. Kavanaugh has denied her claims.
Kavanaugh also allegedly preferred his female clerks to have a "certain look." A student at Yale Law School told HuffPost that she was told by her professors to dress a certain way if she was going to interview for a position with Kavanaugh.
Harvard Law School did not return a request for comment. The students also said that so far, they have not received any word from the school administration.
Popular in the Community