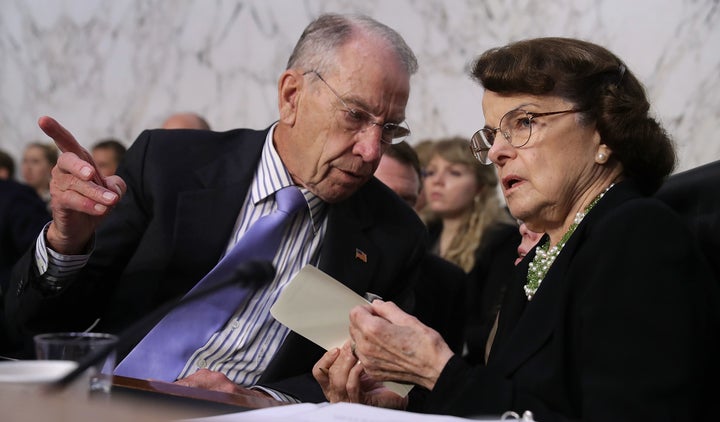 Although Republicans on the judiciary committee hired an outside counsel to do their questioning, the senators are now saying they may jump in and participate as well. Democrats have no idea how it will work when they have only five minutes each to try to get to the bottom of what Kavanaugh did or didn't do.
And it's not clear whether the hearing will reveal everything or nothing at all. Some Republicans said this week that their vote hinges entirely on how the hearing goes. Others have refused to comment on the allegation until they hear from the accuser herself.
"I hope that tomorrow's hearing gives us some guidance on how we vote," Sen. Jeff Flake (R-Ariz.), a key swing vote, said on the Senate floor Wednesday. "But those of us on the committee have to be prepared for the possibility, indeed the likelihood, that there will be no definitive answers to the very large questions before us."
Christine Blasey Ford, a California research psychologist, will testify about her claims that, when they were teenagers, Kavanaugh sexually assaulted her by locking her in a room, pinning her down on a bed and groping her. Democratic senators will have five minutes each to question her. Republican senators will have the same amount of time, but they hired a sex crimes prosecutor from Arizona, Rachel Mitchell, to do the job for them. Kavanaugh will then testify, and the same round of questioning will occur. Written testimony from both Kavanaugh and Blasey has already been made public.
Beyond that, it's anyone's guess how it will go. Capitol Hill staffers had trouble answering questions Wednesday about what they were expecting because, they said, everything was still in flux and unpredictable.
GOP senators are expected to give their questioning time to Mitchell. That means that she will pursue a single line of questioning, if she chooses, and dig in deeper where she sees issues.
But senators may not be able to help themselves and are leaving open the possibility that they will ask questions, too.
"I'm going to wait and see how the staff lawyer does," Sen. John Cornyn (R-Texas) said. "I think a lot of the questions we would ask are pretty obvious. And if she takes care of everything I would ask a question about, I won't, but I reserve the right to ask questions."
Sens. Lindsey Graham (R-S.C.) and John Kennedy (R-La.), who also sit on the judiciary committee, said they, too, reserved the right to ask questions.
In her prepared testimony, Blasey said she hopes Republicans do jump in.
"Because the committee members will be judging my credibility, I hope to be able to engage directly with each of you," she said.
GOP strategists, however, are desperately hoping that the senators stay quiet. One told HuffPost that the last thing the party needs is "11 old white guys questioning a woman about teenage sex."
On the other side, there are real concerns that Democrats will be at a disadvantage by the setup. Five minutes isn't long to pursue a line of questioning. In fact, it could lead to just one question and one answer if Kavanaugh filibusters in his response. Or senators may decide to make a point and just talk themselves for most of the time. But whatever the outcome, it could lead to a disjointed process on the Democratic side.
So far, no senator has indicated that they will cede their time to another member to do more questioning, although there's been a bit of a push to let Sens. Kamala Harris of California and Amy Klobuchar of Minnesota, who have extensive prosecutorial experience, take the lead.
"It's outrageous that Democrats will have only five minutes each to question Kavanaugh, especially given how evasive and dishonest he has been in previous hearings," said Chris Kang chief counsel for the anti-Kavanaugh group Demand Justice. "Clearly, Republicans know that every time Kavanaugh speaks, he's losing, and they want to limit the damage as much as possible."
Democrats also said they have had no coordination with Blasey and her team, while Kavanaugh's confirmation is being handled by the White House, which is in close touch with Republicans on Capitol Hill.
Democrats said Wednesday that, in light of new sexual assault accusations, Kavanaugh should withdraw his nomination. They continued to insist that Senate Republicans should get the FBI to conduct an investigation into the allegations, and they still want Mark Judge ― the booze-loving friend of Kavanaugh's who allegedly witnessed Blasey's assault ― to testify.
"This hearing is being run like a kangaroo court," said Fatima Goss Graves, president and CEO of the National Women's Law Center. "It's been set up without the benefit of a neutral investigation, without experts, and without witnesses (including Mark Judge and the other women who have come forward). There is no judge, only a highly partisan process that includes members of the Senate who have spent the last week rallying around Kavanaugh and discounting Blasey Ford."
She added that she was grateful that Blasey was still going to attend the hearing, and she hopes "that this process doesn't further the trauma she has experienced."
"This hearing is being run like a kangaroo court."
In a Senate floor speech, Senate Minority Leader Chuck Schumer (D-N.Y.) said Republicans were wrong to hold a single hearing before voting on the nominee in committee and on the floor as soon as next week. In the past week, two additional people have accused Kavanaugh of past sexually aggressive behavior, including one woman who came forward Wednesday.
"That is not right. There is no need for such a rush," Schumer said. "These women deserve to be heard, in a fair way, and their claims must be properly investigated."
But even if the committee approves Kavanaugh on Friday, its investigation would continue, Sen. Orrin Hatch (R-Utah) told HuffPost.
"The committee will keep investigating," Hatch said. "Keep in mind when we put this man out of committee, that doesn't mean this is all over."
Jen Bendery and Igor Bobic contributed reporting.
Popular in the Community