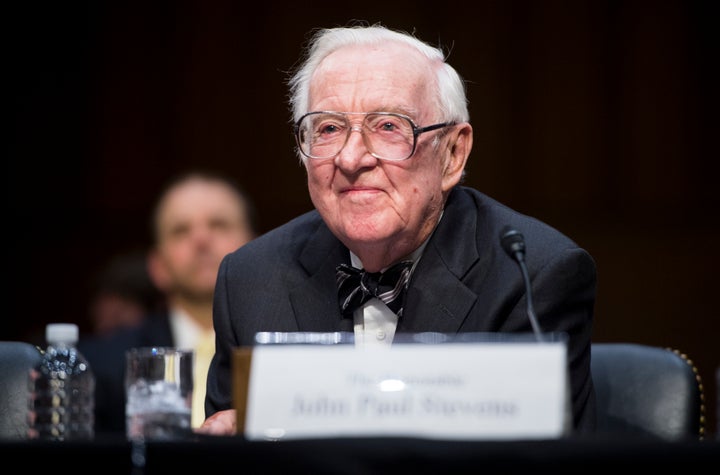 Retired Supreme Court Justice John Paul Stevens said Thursday that he does not support the confirmation of Judge Brett Kavanaugh.
Kavanaugh "had the qualifications" to be a Supreme Court justice but his behavior at a hearing last week ― where he defended himself against allegations of sexual assault by blaming Democrats seeking "revenge on behalf of the Clintons" ― was inappropriate and disqualifying, Stevens said.
"His performance in the hearings changed my mind," Stevens said, the Palm Beach Post first reported. "The senators should pay attention to this."
Former justices do not normally comment on pending Supreme Court nominations, and Stevens is the only living former justice to comment on whether Kavanaugh should be confirmed. Sandra Day O'Connor, David Souter and Anthony Kennedy, whom Kavanaugh was nominated to replace, have not said anything about the nomination process.
Few figures could be more dissimilar from each other than Stevens and Kavanaugh. Stevens was nominated by Republican President Gerald Ford in 1975. He went on to become the most liberal member of a minority bloc on the Supreme Court. He retired in 2010 and was replaced by Justice Elena Kagan.
Kavanaugh has been a partisan political operative, working with Republicans to investigate President Bill Clinton and helping George W. Bush win the Bush v. Gore court case in 2000 before being nominated to a seat on the D.C. Circuit Court of Appeals. (Stevens dissented in Bush v. Gore.) He was chosen to fill Kennedy's seat because conservatives are assured that he will be a reliable conservative vote, unlike Stevens (or Souter).
Stevens also noted on Thursday that the partisan political influence over the high court was "worse" than ever.
"I've never been a political person," he added.
Popular in the Community