If you go to Brett Kavanaugh's official page on the D.C. Circuit website, the first thing you'll see is a photo of the judge staring right back at you, cheeks like Fuji apples, grinning and possibly suffering from mild gastrointestinal pain. And if you look at every other U.S. Court of Appeals website and their corresponding judge bios, you will not find another bio bearing an appellate judge's photo. A handful of U.S. district judges use photos, but out of more than 160 current federal appellate judges, Kavanaugh, President Donald Trump's second nominee for the Supreme Court, is the only one with a photograph of himself on his official court page.
This is curious. There's a reason federal judges tend not to post their photos online. The U.S. Marshals Service, which is charged with protecting the federal judiciary, actually does "discourage the practice," according to a spokesman. "We encourage them to keep a low profile online, and we actually do provide this information during judge orientations." And while there's no formal policy in place, "it's something that we discourage for obvious reasons, just because of our responsibility to protect the judiciary." The final decision on whether to use photos appears to be up to the individual courts.
It seems Kavanaugh or someone working for him decided not too long ago that it was time to ignore the marshal service's guidance. The first photo to make an appearance on his bio page, according to the Internet Archive's Wayback Machine, showed up sometime between August 2016 and October 2016, or right around the time Trump announced his second Supreme Court shortlist. (Kavanaugh wasn't on that list or on the one before it.)
More changes soon followed. Let's follow the evolution of his bio page, shall we?
From Feb. 5, 2012, to at least Aug. 6, 2016: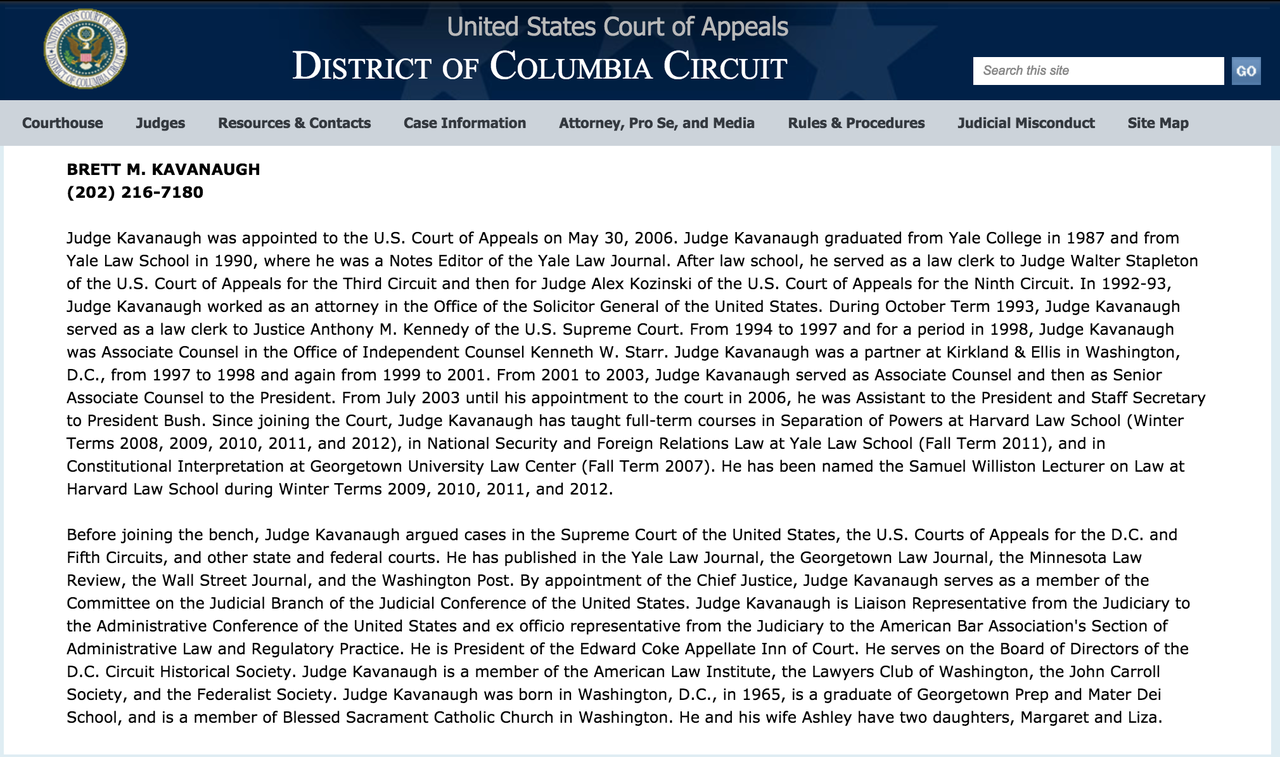 This, at least as far as the Internet Archive is aware, is the very first iteration of Kavanaugh's page on the D.C. Circuit website. It was a bit longer than the other judges' bios but by no means out of the ordinary for a well-shampooed product of the American meritocratic order.
From Oct. 21, 2016, at the latest to Nov. 23, 2016, at the latest: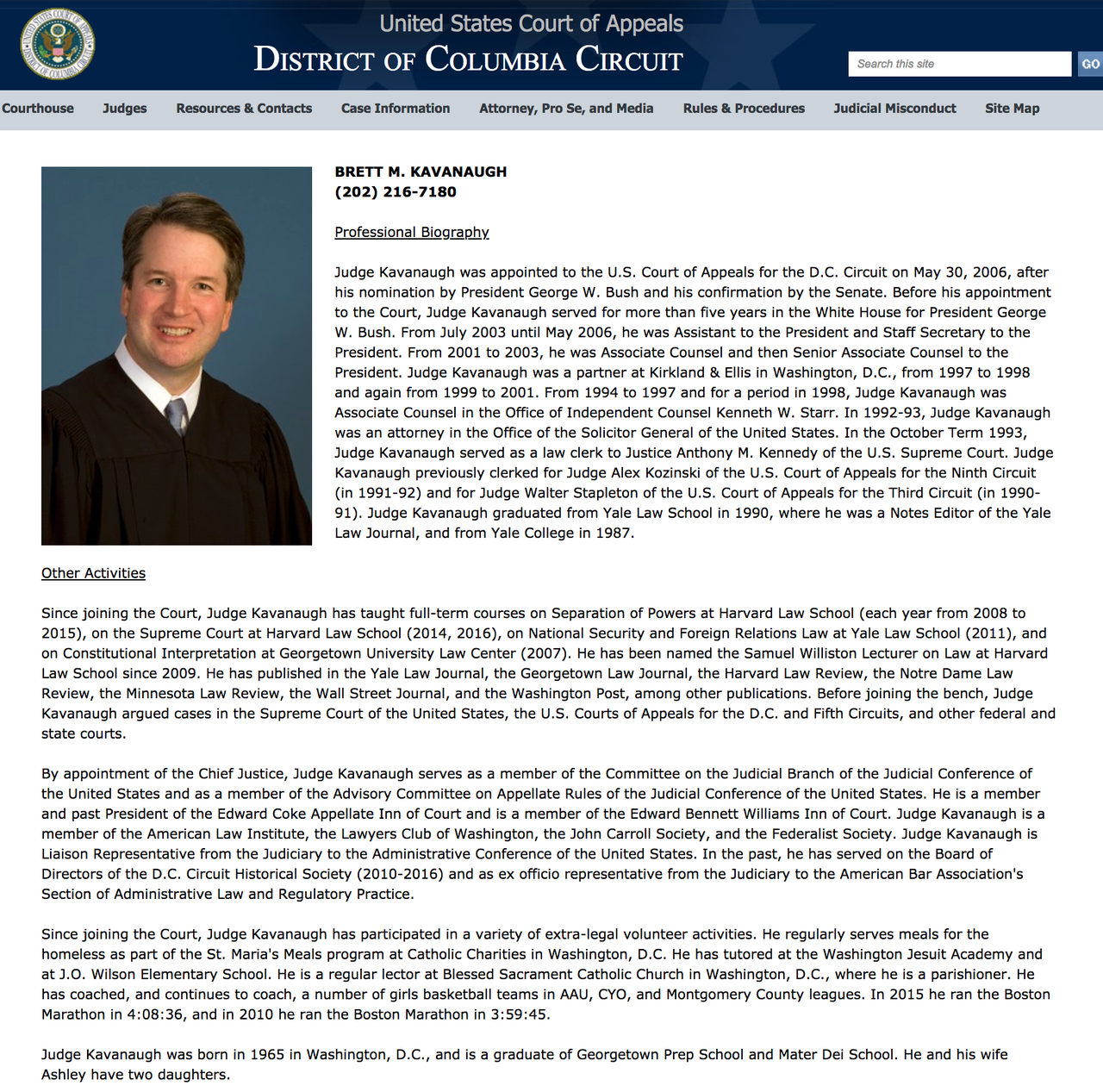 Then, at some point not too long before Election Day in 2016, Kavanaugh — whom we invoke here synecdochically — decided it was time to give his page a makeover. Not only did he completely overhaul the text on his bio page, but his photo made its very first appearance.
You can see how the text was altered below (removals are in red; additions are in green).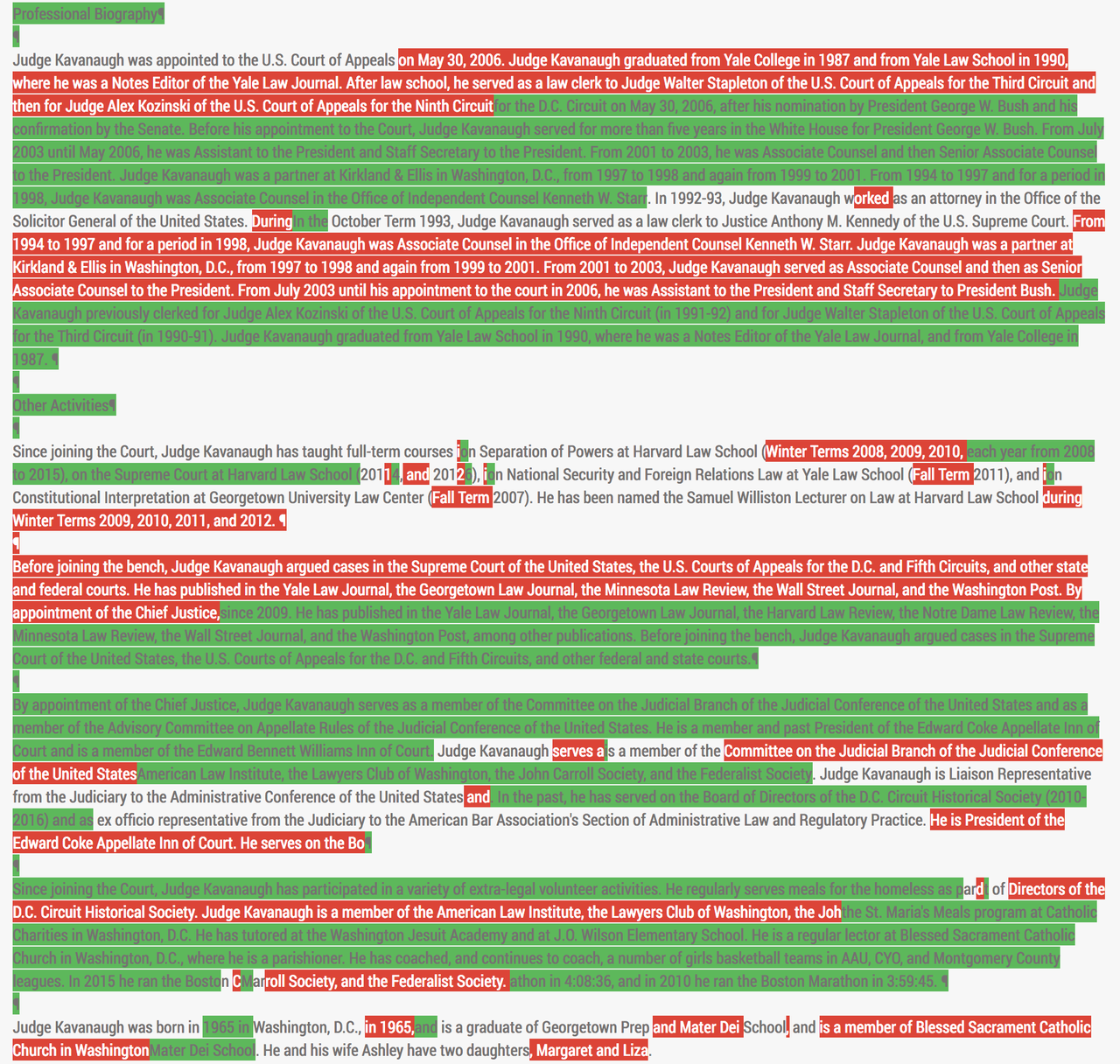 From Nov. 23, 2016, at the latest to at least April 17, 2017: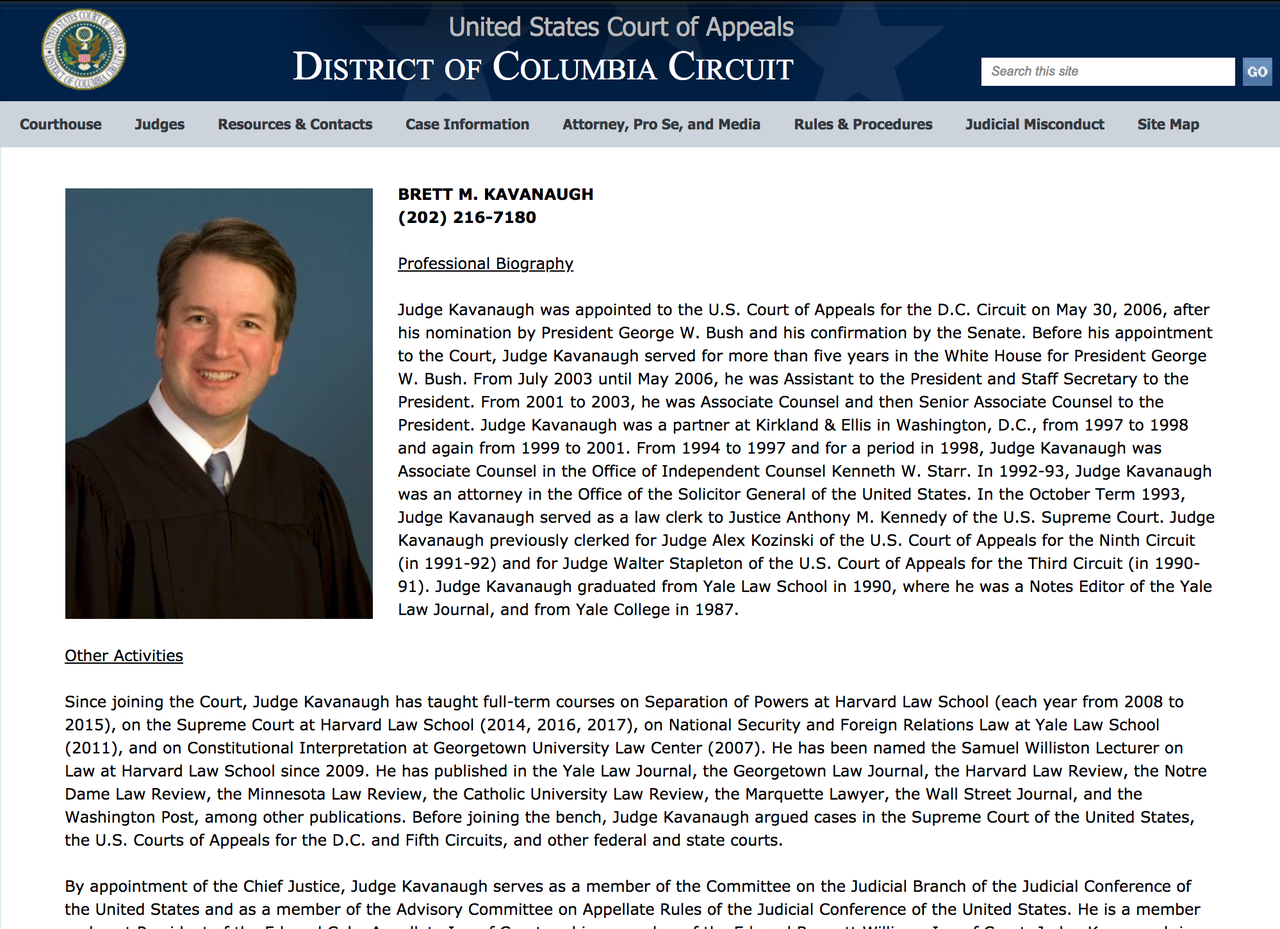 Not long after Election Day, Kavanaugh did a little bit of cleanup. While we didn't get a photo change, he did make a few key additions to his resume.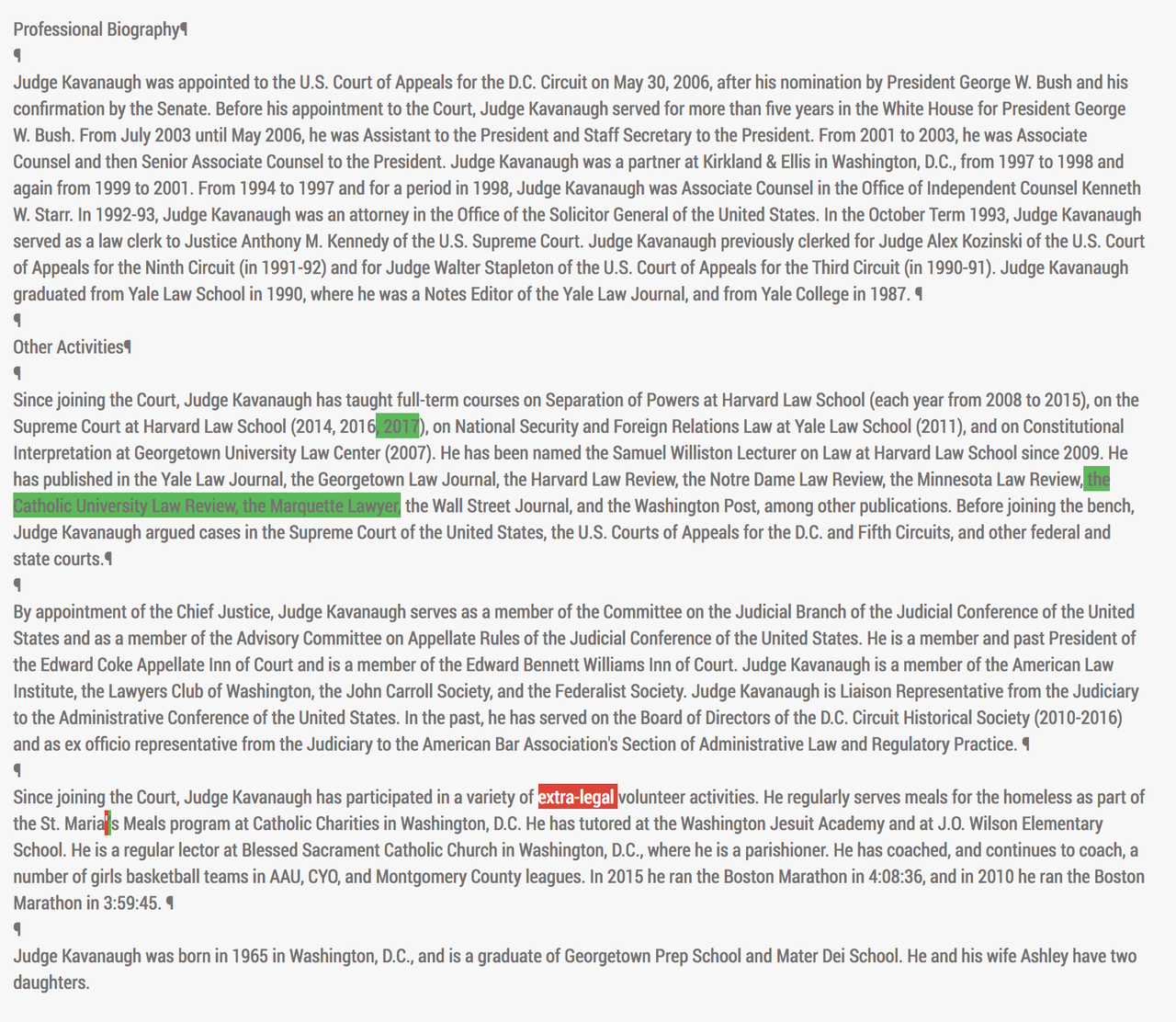 Perhaps most notably in this version, Kavanaugh appears to have realized that "extra-legal" does not actually mean "extracurricular but for judges."
From July 15, 2018, at the latest to the present: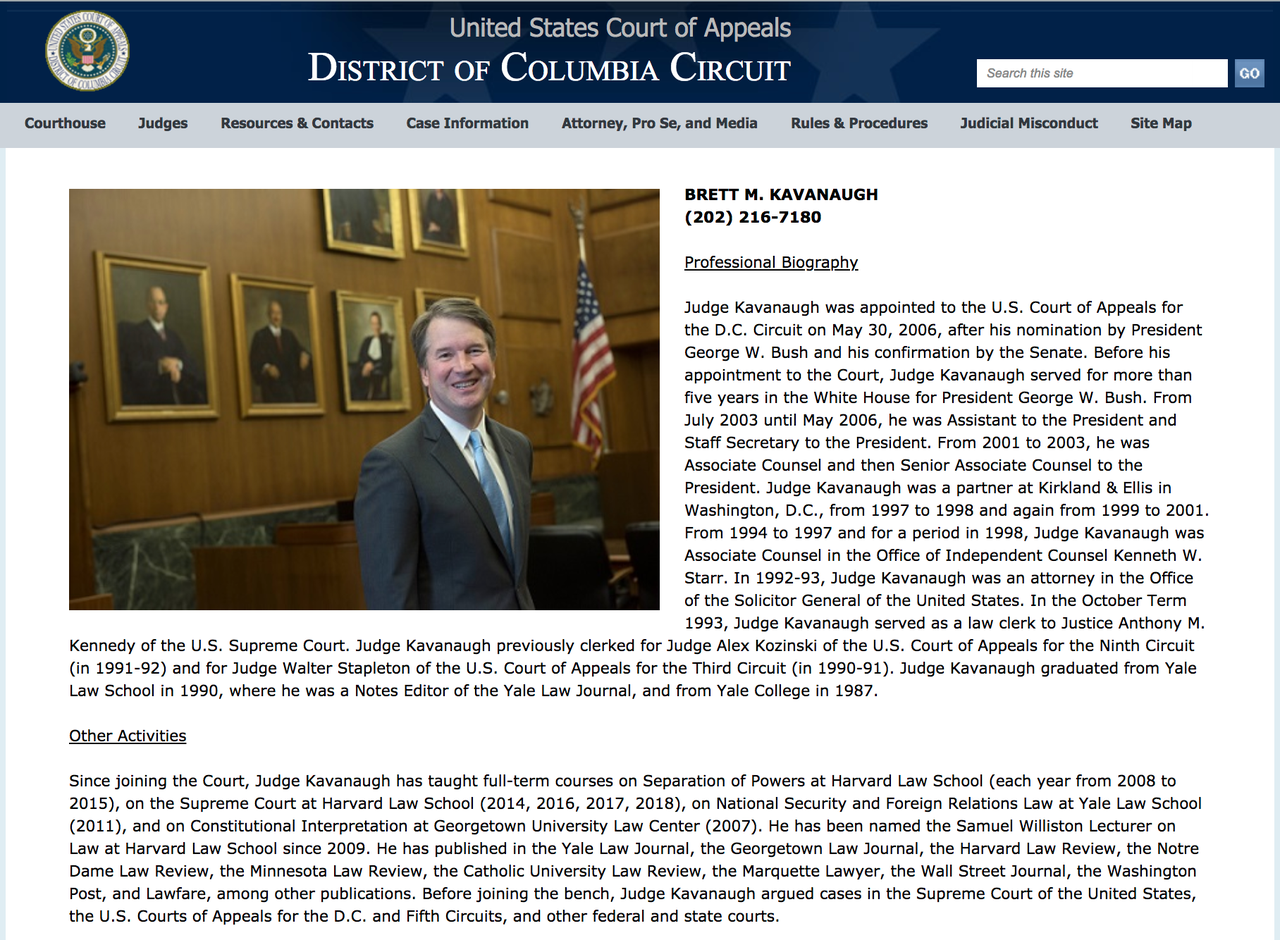 At some point between late April 2017 and mid-July of this year, Kavanaugh seems to have decided that his berobed, yearbook-style mugshot wasn't capturing his full Brett-ness. This was an important period for him. In November 2017, it emerged that he'd finally made Trump's Supreme Court shortlist. Somewhere around this time, the new photo appeared. Kavanaugh had graduated from Jostens to Olan Mills.
The text, too, got a few more updates: a couple of additions to his resume, an unclear tense change on his volunteer work, and the clarification that his wife, Ashley (not me), is serving in a strictly nonpartisan role in her position as town manager of Section 5 of Chevy Chase Village, Maryland.
Untouched is the reference to Judge Alex Kozinski of the 9th Circuit, for whom Kavanaugh clerked earlier in his career. Kozinski quit the bench in December 2017 amid allegations of sexual misconduct involving more than a dozen women, some of them his former clerks. On Wednesday, the second day of his Supreme Court confirmation hearing, Kavanaugh said those allegations were "a gut punch for me," adding that he was "shocked and disappointed. Angry. Swirl of emotions."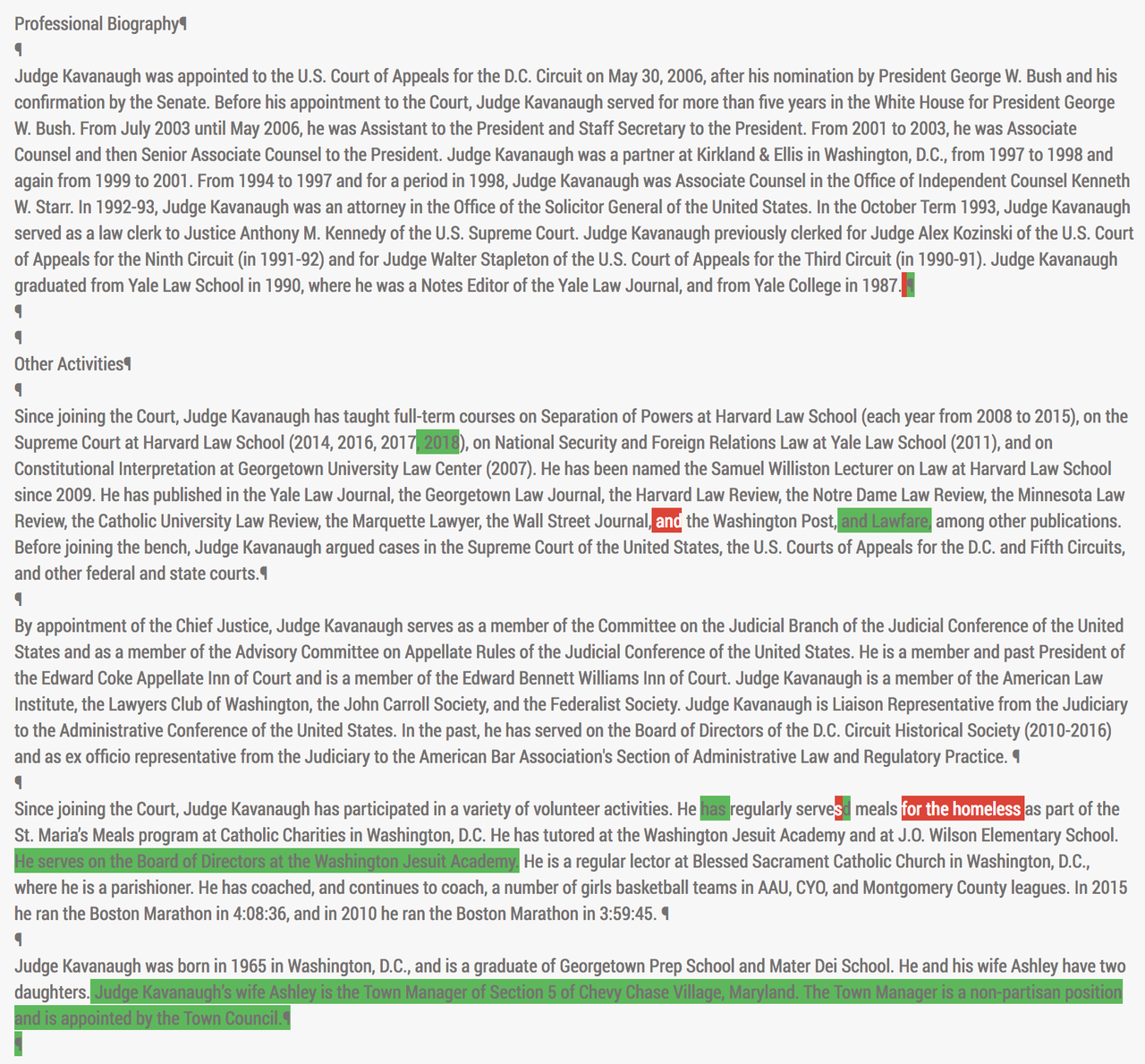 His page has remained static ever since.
So why did Kavanaugh decide — around the time Trump was picking Supreme Court nominees — that he needed to have a photo next to his name, despite the warnings of the U.S. Marshals Service? And why was the text of his page tweaked and polished so often over the past few years, despite the fact that, until August 2016, it appears to have remained untouched?
We also know that Kavanaugh didn't mind making an effort when it came to getting his name onto Trump's list of potential nominees. As Jason Sattler wrote in USA Today last week, "Kavanaugh campaigned for this appointment with a series of speeches in 2017 designed to align himself with former Justices Antonin Scalia and William Rehnquist in a way that elevated him to Trump's list after not making the first two drafts." And the timing of the various changes to his bio page certainly seem to indicate a quieter image-buffing campaign, going at least as far back as 2016.
It's also possible some eager staffer just thought the world could use a little more Brett.
Either way, if you know anything about why Brett Kavanaugh is the only federal appellate judge in the country with a vanity shot, you can shoot me an email here.
Popular in the Community