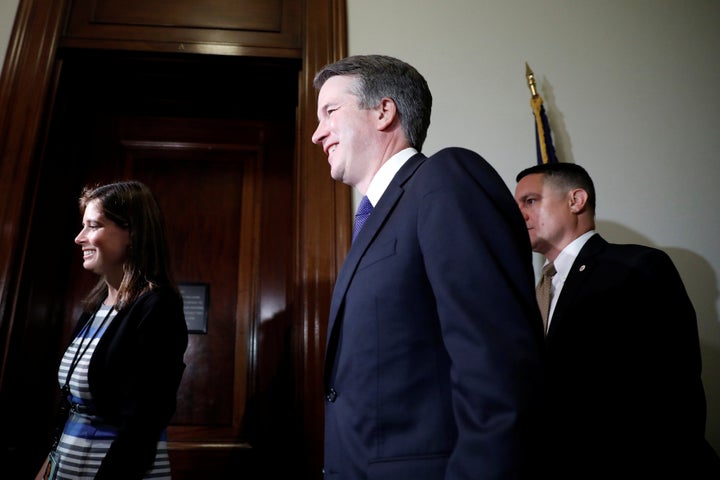 Americans are divided on how they'd like the Senate to handle Kavanaugh's nomination, with 30 percent saying their senators should vote to confirm, 29 percent that their senators should oppose him, and the plurality ― 41 percent ― that they're not sure.
That's similar to the results of the HuffPost/YouGov survey taken just after Trump's July 9 announcement of the nomination, which found Americans split on Kavanaugh ― 33 percent favored his confirmation, 31 percent were opposed and 36 percent were undecided.
The public is also split on the preferred timing for Kavanaugh's confirmation hearings, with 33 percent saying the Senate should consider him this fall, and 31 percent preferring that they wait until after the midterm elections on Nov. 6. The rest are uncertain.
Supreme Court nominees generally start off with little name recognition, then often become more polarizing figures as they gain public attention. With no dates set for the Senate Judiciary Committee hearings on Kavanaugh and the investigation into Russian interference in 2016 election still dominating news from Washington, no movement of that kind has yet to kick in.
Fewer than a quarter of Americans say they're following the confirmation battle very closely, with 30 percent paying somewhat close attention, and 46 percent saying they're not following the story closely or at all.
There've now been at least nine public surveys asking about Kavanaugh, in which support for confirming him has varied between 30 and 41 percent, and opposition between a wider band of 26 and 41 percent.
All but one, from Quinnipiac, find the support for his confirmation outstripping the opposition.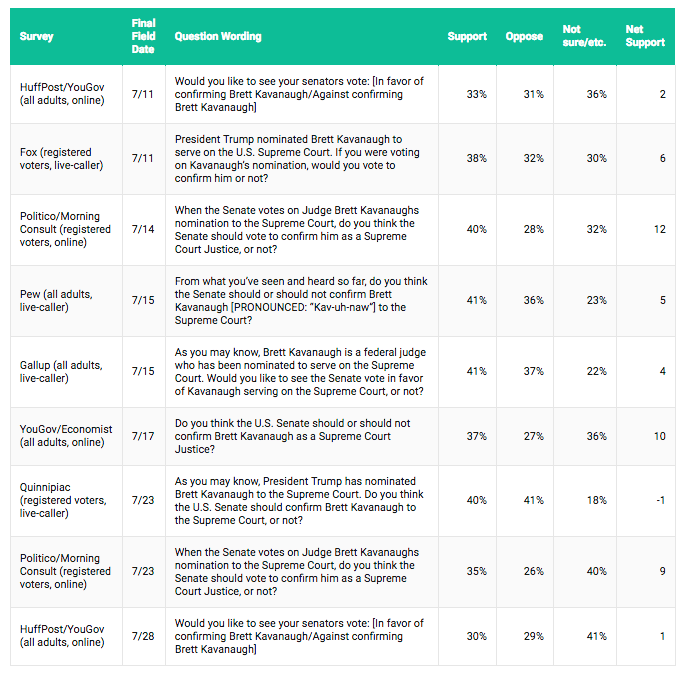 Even so, the surveys suggest that Kavanaugh is starting out from a less popular position than Trump's previous nominee, Neil Gorsuch, who was confirmed in 2017.
In HuffPost/YouGov's polling, net support for confirming Kavanaugh was 13 percentage points lower than net support for Gorsuch; that gap was 6 points in a Fox News survey and 7 points in both Pew Research and Gallup's polling. Gallup, which has tested the reaction to most Supreme Court nominees since the 1990s, found that Kavanaugh's initial support was roughly comparable to that for failed 2005 nominee Harriet Miers.
The future of the Supreme Court has become a talking point ― although not necessarily a top focus ― on the campaign trail. In a poll taken two weeks ago, 20 percent of voters said they'd heard GOP candidates in their state mentioning the Supreme Court, with 19 percent saying they'd heard Democratic candidates mention the topic. (Immigration, the most commonly cited issue, was the only one to break 30 percent among either party.)
In the most recent HuffPost/YouGov survey, a third of Americans say that the Supreme Court will be very important to their vote in the midterms. A 55 percent majority of those who want their senators to vote against Kavanaugh say they consider the issue very important, as do 45 percent of those who favor his confirmation.
Use the widget below to further explore the results of the HuffPost/YouGov survey, using the menu at the top to select survey questions and the buttons at the bottom to filter the data by subgroups:
The HuffPost/YouGov poll consisted of 1,000 completed interviews conducted July 27-28 among U.S. adults using a sample selected from YouGov's opt-in online panel to match the demographics and other characteristics of the adult U.S. population.
HuffPost has teamed up with YouGov to conduct daily opinion polls. You can learn more about this project and take part in YouGov's nationally representative opinion polling. More details on the polls' methodology are available here.
Most surveys report a margin of error that represents some, but not all, potential survey errors. YouGov's reports include a model-based margin of error, which rests on a specific set of statistical assumptions about the selected sample rather than the standard methodology for random probability sampling. If these assumptions are wrong, the model-based margin of error may also be inaccurate. Click here for a more detailed explanation of the model-based margin of error.
Popular in the Community