WASHINGTON ― Progressive groups are launching a new campaign Monday aimed at urging senators to get off the fence and state whether they will support Brett Kavanaugh, President Donald Trump's Supreme Court nominee.
The effort, called #WhipTheVote, is mainly focused on Democrats, many of whom have yet to announce how they will vote on the nomination. Progressives say that Democratic senators are operating under outdated rules by reserving judgment on Kavanaugh's nomination until after his confirmation hearing next week.
The traditional courtesy for Supreme Court nominees, they add, is only giving cover to moderate Republican senators like Susan Collins of Maine and Lisa Murkowski of Alaska to oppose the nominee's bid to the high court.
"We should ask Merrick Garland about standard Supreme Court procedure. That's not what we're operating on," Elizabeth Beavers, an associate policy director at Indivisible, one of the groups behind the effort, said on a Monday phone call with reporters. Garland was nominated to the high court by President Barack Obama in 2016, but Senate Republicans refused to give him a hearing or vote.
The campaign's corresponding website, whipthevote.org, will allow people to see where their senator stands on Kavanaugh's nomination and contact lawmakers' offices via phone or email. As of right now, 24 Democrats ― mostly centrists ― have yet to officially announce their position on the conservative judge's bid to the high court, although most are expected to oppose him.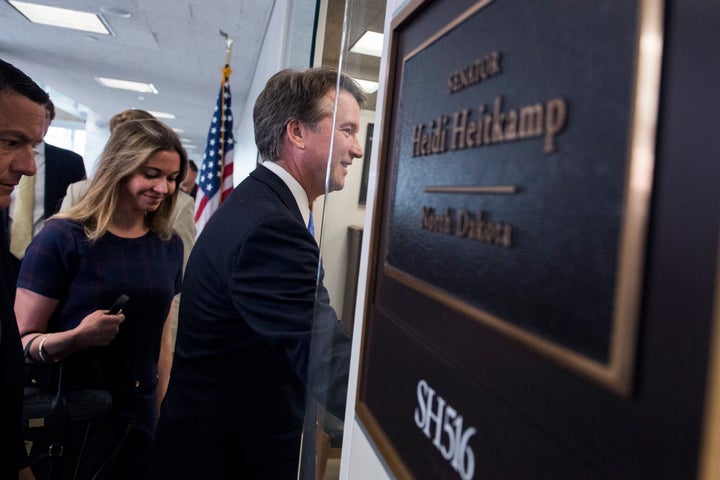 "The fight against Brett Kavanaugh is winnable but only if Senate Democrats quickly unite in opposition so we can focus on pressuring a Republican to break ranks," Brian Fallon, the executive director of Demand Justice, another group backing the effort, said in a statement. "At this point, it is absurd that there are still more than two dozen Democrats on the fence about Kavanaugh. He is the most unpopular Supreme Court nominee in 35 years and it is time to fight his nomination with the urgency it deserves."
Other groups participating in the campaign include some of the most active organizations in the battle over Kavanaugh's nomination: MoveOn, NARAL Pro-Choice America, Color of Change, Progressive Change Campaign Committee, Daily Kos, CREDO, Democracy for America and UltraViolet. The new effort follows a week of protests across the country demanding that the Senate reject Kavanaugh's nomination.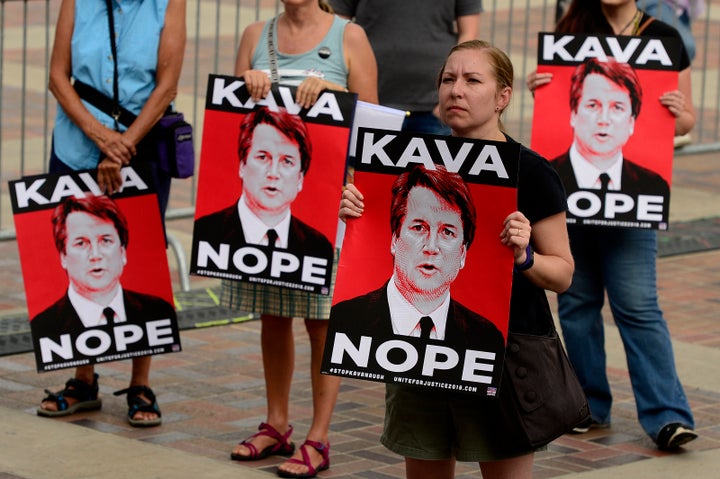 While most Democrats are ultimately likely to oppose Kavanaugh, the toughest targets in the party for progressives hoping to derail his nomination are a trio of vulnerable moderates who are facing tough re-election fights in November: Joe Donnelly (Ind.), Heidi Heitkamp (N.D.) and Joe Manchin (W.Va.). All three supported Trump's first high court nominee, Neil Gorsuch, last year. All three also issued noncommittal statements after meeting with Kavanaugh earlier this month.
Progressive groups have spent millions of dollars on television ads in their home states of Indiana, North Dakota and West Virginia, warning voters that Kavanaugh could participate in court decisions to eliminate health care protections for pre-existing conditions and overturn Roe v. Wade. But those senators are also facing pressure from the right from a trio of GOP challengers who are attacking the senators for failing to immediately support the president's nominee.
Last week, some Democrats called off their meeting with Kavanaugh entirely after the president's longtime personal attorney said that he violated campaign finance laws at Trump's direction prior to the election by participating in a hush money scheme involving two women who claimed affairs years ago with the then-businessman. It's only the latest issue Democrats have seized on to highlight concerns with Kavanaugh's expansive views about presidential power and his decades-old call to shield presidents from criminal investigation.
"Democratic senators should be united in opposition to Kavanaugh, instead of letting Republican senators ram through the confirmation of a nominee who was selected to protect the president from prosecution," reads a statement on the new website, urging people to call their senators to demand they announce how they intended to vote on the nomination.
Popular in the Community