A woman went straight from her wedding to the White House to show her support for the women who have accused Supreme Court nominee Brett Kavanaugh of sexual assault.
"I knew today was a day of solidarity for women who have come forward against Brett [Kavanaugh] and for all the women who have lived out loud or in silence with the experience of sexual assault," wrote Gabrielle McCaffrey, digital director at the progressive organization Demand Justice.
"Even though I was getting married it was really important to me to make the effort to show up. Coming forward is never easy and puts the survivor at such risk and I'm so appreciative of the women who do this work every day, and who tell their story and make other people feel supported to tell theirs."
On Monday, people around the country participated in a national walkout to denounce the backlash women often face when they go public with their accounts of being sexually harassed, assaulted or raped. The two women who have come forward against Kavanaugh ― Christine Blasey Ford, joined Sunday by another woman, Deborah Ramirez ― are facing massive amounts of vitriol for saying the now-Supreme Court nominee victimized them decades ago.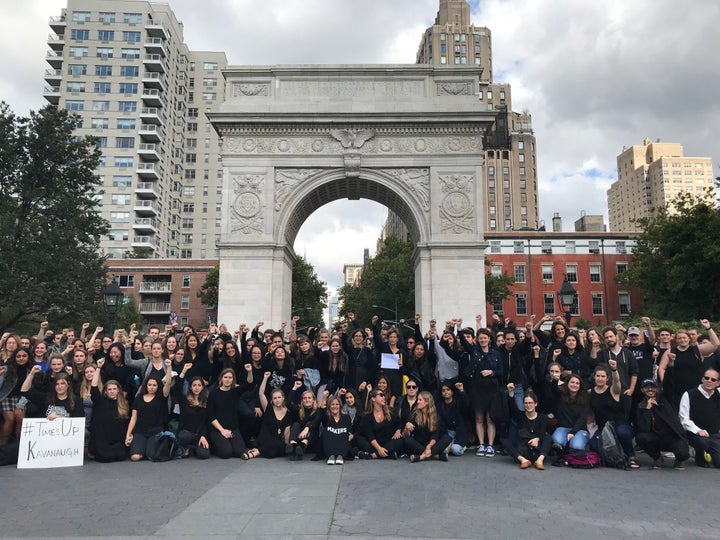 Earlier this month, Ford accused Kavanaugh of sexually assaulting her at a party when they were both in high school in the 1980s. Ford has been receiving death threats ever since and has had to vacate her home. Ramirez told The New Yorker's Jane Mayer and Ronan Farrow that Kavanaugh exposed himself and put his penis in her face at a party when Ramirez and Kavanaugh were both at Yale, also in the 1980s.
Kavanaugh has denied the allegations and has made it clear that he won't withdraw his nomination.
Anti-sexual harassment organization Times Up, which facilitated Monday's walkout, tweeted on Sunday that "WOMEN MUST BE HEARD" in a "MOMENT OF SOLIDARITY" and urged people to wear black.
McCaffrey said she was motivated to attend the walkout, even on her wedding day, because she believes women and thinks that "people need to know that their voices matter."
"I think enough women have come forward that we need to withdraw this nomination," McCaffrey told HuffPost, referring to Kavanaugh. "Republicans in the Senate are trying to push this nominee through for a lifetime position. But this isn't a lawsuit, it isn't a hearing. It's an interview for a lifetime position on the highest court in the land. These brave women should be listened to."
The bride told HuffPost that she wanted to be at the White House promptly at 1 p.m. for the walkout, but her nuptials weren't done by then. So she arrived a bit later because she "still thought it important to go."
McCaffrey said her new husband is "completely supportive and agrees on all points I just mentioned."
"He also knows that there's no where else I'd rather be than doing a little civil disobedience for the sake of solidarity on my Big Day," she wrote.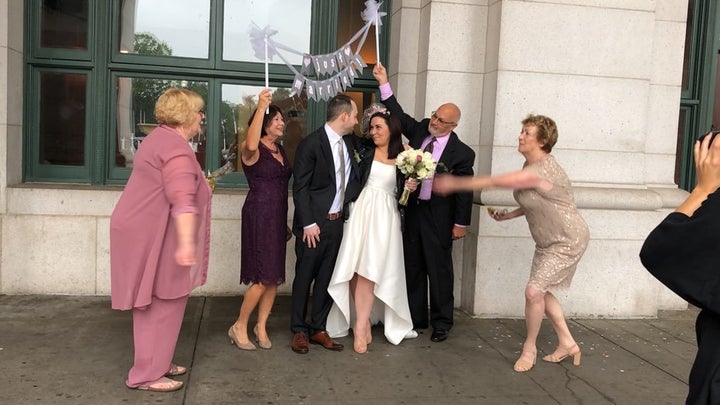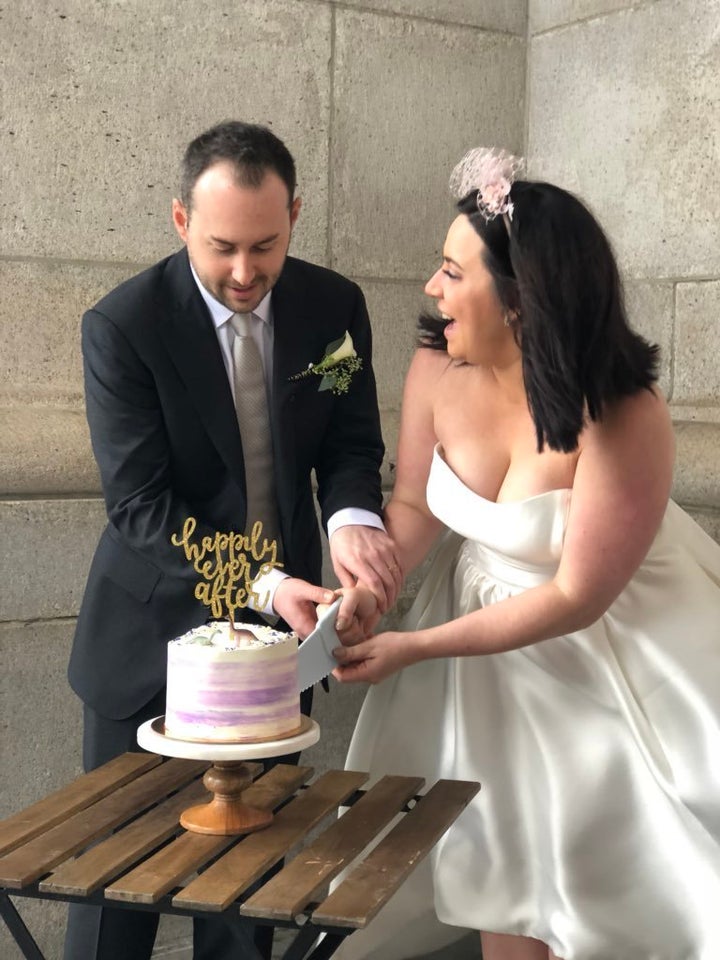 After showing her support for women, McCaffrey said she'll be celebrating her union with "many sweet treats and toasts" and "may or may not" make sure everyone in her family makes a call to Congress as a wedding gift.
Support HuffPost
The Stakes Have Never Been Higher
Related
Popular in the Community