WASHINGTON ― Senate Majority Leader Mitch McConnell (R-Ky.) on Wednesday vowed that the angry protesters who have flooded the U.S. Capitol in recent weeks in opposition to Supreme Court nominee Brett Kavanaugh will not "scare us out of doing our duty."
Hundreds of protesters and activists ― in many cases women who are survivors of sexual assault ― have hounded senators in hallways on Capitol Hill, restaurants and airports over the past few weeks, urging them to oppose Kavanaugh's nomination. The appellate court judge has been accused of sexual misconduct by three women. He denies the accusations, which the FBI is investigating this week.
On Monday, female activists at Reagan National Airport in Washington approached several GOP senators ― including McConnell ― as they returned to the nation's capital after the weekend and asked questions about sexual assault and Kavanaugh. The Kentucky Republican looked straight ahead and kept walking while three women trailed him, attempting to engage him on the issue.
"We would like to know if you believe survivors of sexual violence," Naina Khanna, the executive director of Positive Women's Network USA, said to McConnell in a video posted to Twitter.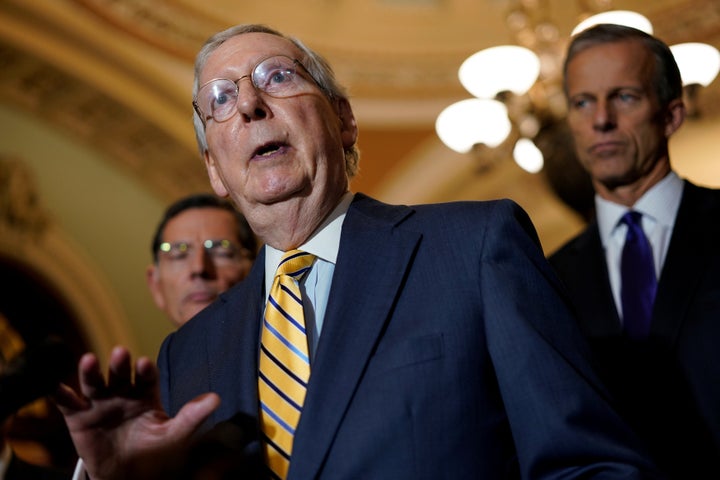 "I'm not suggesting we're the victims here. But I want to make it clear to these people who are chasing my members around the hall here, or harassing them at the airports, or going to their homes. We will not be intimidated by these people," McConnell said on the Senate floor.
The GOP leader pledged that the protesters are not "going to scare us out of doing our duty. I don't care how many members they chase, how many people they harass here in the halls. I want to make one thing perfectly clear: We will not be intimidated by these people." He further accused the demonstrators of engaging in an "organized effort to delay, obstruct and intimidate those of us who will be voting this week."
Sen. Bob Corker (R-Tenn.), another senator who was approached by activists at Reagan National Airport on Monday, grew emotional while discussing the incident with reporters on Tuesday. Unlike some of his other colleagues, he engaged with and answered questions posed by the progressive activists.
"Look, I know a lot about sexual assault," Corker said Tuesday without elaborating. "And so the thought that we don't care about that is ridiculous."
The Tennessee Republican, who is supportive of Kavanaugh's nomination, added that "the way they're going about it is actually hurting the effort" to raise awareness about sexual assault.
Popular in the Community