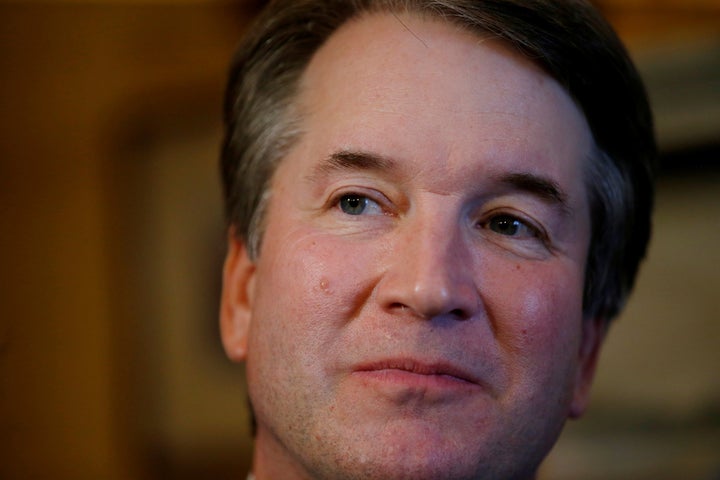 Democrats say Judge Brett Kavanaugh, President Donald Trump's nominee to the Supreme Court, should answer questions about his views on decisions like Roe v. Wade because he has questioned whether several high court rulings were properly decided.
Modern Supreme Court nominees almost never publicly discuss their opinions about specific cases. Liberal Justice Ruth Bader Ginsburg helped set the unwritten rule by declining to answer questions about her views on certain cases during her 1993 confirmation hearing because "that would show not only disregard for the specifics of the particular case, it would display disdain for the entire judicial process." Neil Gorsuch, Trump's first Supreme Court nominee, took the norm to new levels during his confirmation hearing, refusing to share his views on even the most widely accepted landmark cases, like Brown v. Board of Education.
But the possibility that a conservative like Kavanaugh — a judge for the U.S. Court of Appeals for the D.C. Circuit who was tapped to replace former swing Justice Anthony Kennedy and could help repeal the Affordable Care Act, unwind women's reproductive rights and tilt the Supreme Court to the right for decades — has Democrats up in arms. They are pointing to public comments Kavanaugh made during his long involvement in conservative legal circles to insist he go on record and answer questions about how he would rule on major issues like abortion and health care.
Nearly two decades ago, for example, Kavanaugh suggested during a roundtable discussion that the Supreme Court's unanimous ruling in the 1974 U.S. v. Nixon case that forced Richard Nixon to turn over the Watergate tapes ― a landmark case that led to the president's resignation ― may have been wrongly decided. Democrats seized on the comments over the weekend, arguing that they fit a larger pattern that shows that Kavanaugh's preference for a strong executive branch could affect special counsel Robert Mueller's investigation into Russian interference in the 2016 presidential election.
Democratic senators also pointed to Kavanaugh's remarks at a March 2016 event at the American Enterprise Institute, in which he suggested overturning a 1988 high court ruling that upheld the law authorizing an independent counsel prosecutor. The statute, which was used to appoint Kenneth Starr, the independent counsel who probed President Bill Clinton, has since expired. Asked at the event if he could think of a decision that ought to be overturned, Kavanaugh directly named the ruling, Morrison v. Olson, and said he would "put the final nail in" it.
"Because he has demonstrated a willingness to express his views on existing Supreme Court precedents, he must be able to answer direct questions on Roe and health care," Senate Minority Leader Chuck Schumer (D-N.Y.) said in a conference call with reporters on Monday. Kavanaugh's past comments, Schumer added, "undercut any claim that he cannot and should not be able to answer questions about his beliefs in specific cases."
Kavanaugh's views on matters like abortion and health care are under extreme scrutiny. He indicated through speeches and written opinions that he opposes abortion rights and thinks Roe, a decision he described last year as part of a "tide of freewheeling judicial creation of unenumerated rights," was wrongly decided. Two moderate Republican senators who support abortion rights ― Susan Collins (Maine) and Lisa Murkowski (Alaska) ― are facing pressure in their home states to block his nomination. While Collins has said she will not support a nominee who has "demonstrated hostility to Roe v. Wade," she has defended Kavanaugh from criticism.
His views on the Affordable Care Act are also likely to be a flashpoint during his confirmation hearing. In a 2011 dissenting opinion for the D.C. Circuit Court, for example, he declined to uphold the health care law but acknowledged that its individual mandate provision ― the fine people have to pay if they don't buy insurance coverage ― was within the purview of Congress. Republicans repealed the individual mandate in their tax cut law last year, however, raising questions as to how Kavanaugh would rule on cases challenging Obamacare.
Sen. Joe Manchin (D-W.Va.), a vulnerable red-state Democrat up for re-election this year, in a state where Trump is overwhelmingly popular and many residents rely on Obamacare's pre-existing condition protections, said he's planning to question Kavanaugh on whether he believes Obamacare is constitutional.
At a constituent town hall on Friday, Manchin said he planned to ask Kavanaugh, "Now that the individual mandate has been repealed by the tax law ... what's your opinion on the constitutionality of the ACA?"
"I can't give you his answer because I haven't spoken to him yet," Manchin added. "All my legal minds, their brains are twisting and turning right now."
Popular in the Community